3 April 2017 Edition
Strike out! – Media twists on trade union disputes
Unions fought for redundancy payments, a minimum wage, paid sick leave and the right that many workers overlook – paid holidays
TROUBLESOME TEACHERS, militant strikers, demanding workers – any of this sound familiar? It's the standard fare for what's considered reporting on industrial relations disputes in the Irish economy. 
In the last while this has included disputes involving teachers, LUAS tram drivers, doctors, nurses, DART, Bus Átha Cliath and Bus Éireann drivers, City Jet air crews, gardai, and Bausch & Lomb and Tesco workers.
You may notice that unions have controlling "leaderships", and "factions" while employers are, well, just employers. In a public sector strike, ministers get a mention but usually on how "inappropriate" it would be for them to get involved in an area they're being paid by the taxpayer quite handsomely to manage. Take a bow, Ministers Richard Bruton, Simon Harris and Shane Ross.
Industrial disputes are nasty affairs with "threats" and "demands" made by workers while the public are portrayed as the losers as they deal with the loss of service when a work stoppage actually happens, which is rare by the way. And employers are never accused by mainstream media of threatening people's rights, jobs and families' livelihoods or jeopardising the futures of entire communities, especially in areas outside the big cities.
There were 71,647 strike days last year, involving 29,372 workers, according to Central Statistics Office figures. This is fewer than 2.5 days lost work per employee – hardly a mass strike in an economy with 2,048,100 workers in 2016.
So why do the news media write headlines like, "Secondary schools plunged into chaos" or "Traffic chaos looms as DART drivers to vote on strike action", as written in the Irish Times and Irish Independent.
Skewed industrial relations coverage in Ireland goes deeper. There were 35 articles in last year's Irish Times coverage of the dispute between teachers and the Department of Education. In the headlines accompanying the articles, there is not one quote or a teachers' union source named. 
Even in the large pull quotes that stand out beside the main text there are no union sources quoted. We do get quotes from then Education Minister Jan O'Sullivan of the Labour Party, who is replaced later in the year by Fine Gael's Richard Bruton, who gets a pull quote, as do Public Expenditure Minister Paschal Donohoe and Education Department Secretary General Seán Ó Foghlu.
The news media would claim they don't take sides but they use hype, distorting language and focusing on the possible impact of strikes on the public rather than the working conditions that have provoked industrial action in these isolated cases.
In the recent Mandate union members' strike at Tesco, newspapers were wholly unable to call out Tesco, a hugely profitable multinational in Ireland, for seeking to enforce a pay cut on a section of their staff after giving more than 20 years working for the company. Tesco had no problem, though, taking the money for multiple days of two full pages of advertisements during the strike. Balanced coverage? 
In 1764, the Regular Carpenters of Dublin were founded and I think they can claim to be Ireland's first trade union. In 1824, the British Government at Westminster repealed legislation banning unions and in 1894 the first attempt was made to create a national Irish trade union congress.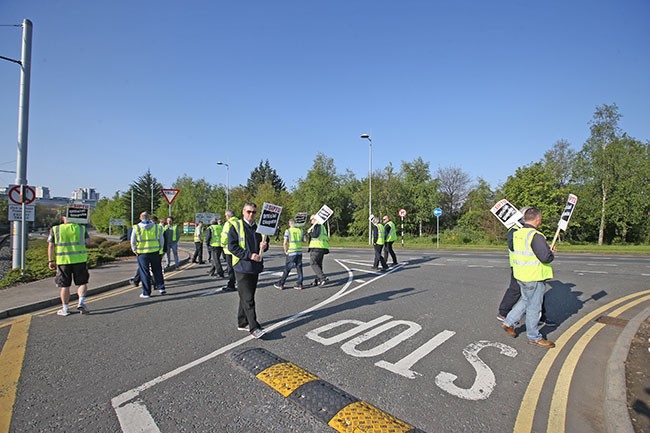 • Workers defending their hard-won rights and conditions get little sympathy from the mainstream media compared to how employers and ministers get an easy ride
Too often, more than 250 years later, we hear the question 'What did unions ever do for us?' Well, quite a lot actually.
From cutting the length of the working day to the income tax cuts of the Celtic Tiger boom years, it was trade unions who were delivering better pay and working conditions for all Irish workers.
It is no accident that as trade union membership has declined so have the wages and working conditions of ordinary workers. The casual employment of the 19th century has become the zero-hours contract of the 21st century.
The tax hikes of the recession years for workers, particularly the increases in the Universal Social Charge, happened when there were no social partnership agreements and trade unions were absent from economic decision making.
A whole raft of positive working conditions we take for granted come from the agitation and campaigning of trade unions. These include redundancy payments, a minimum wage, paid sick leave and the right that many workers overlook – paid holidays.
Women laundry workers in the 26 Counties went on a 13-week strike in 1945, winning the right to two weeks' paid holidays every year. This was extended to all workers in 1946. Compare this progress to the 'concessions' in the 1819 Factory Act where it was agreed that children aged from 9 to 16 would ONLY work a maximum of 72 hours per week with one and a half hours a day for meals.
What have the unions ever done for us?