3 April 2017 Edition
'A worker for reconciliation, a champion of peace'
Mary Lou McDonald TD, Sinn Féin deputy leader, in the Dáil, 21 March 2017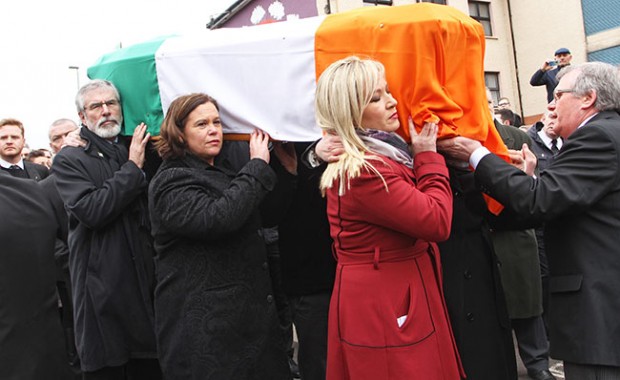 Martin visited the Somme – he did this work sincerely, not for show or headlines but because he believed and knew it was the right thing to do
ABOVE anything else, Martin McGuinness was a proud Derryman. There is no doubt that his childhood and young life in the Bogside formed him, shaped him and defined his character. 
Martin was born in 1950 into an Orange, discriminatory state. He, his family and his kind were regarded as second-class citizens. 
They endured terror. Martin, a person of courage, chose to stand up and be counted. He chose to fight injustice. He chose to fight back. I know that he felt a deep sense of personal responsibility to defend Derry and his community. Martin joined the IRA. He never resiled from his ambition or his duty to defend his city. He felt a sense of responsibility to fight back because terror was brought to the streets of his city.
In later years, Martin would show that same courage again and again, and not least as chief negotiator on behalf of our political party in crafting and delivering the Good Friday Agreement and the agreements which followed. 
In bringing forward that work, Martin demonstrated not just his courage, but his considerable political skills, personality and ability to build bridges and work with others. He always believed that, whatever the odds, a good outcome was possible. In the course of his work, he demonstrated that to be true.
As Minister for Education, Martin handled and tackled the issue of educational inequality head-on when he took on the 11-Plus. In taking on the 11-Plus, he took on large sections of the educational establishment and the establishment more generally. Martin believed that every person was born equal and that every child deserved equality of opportunity.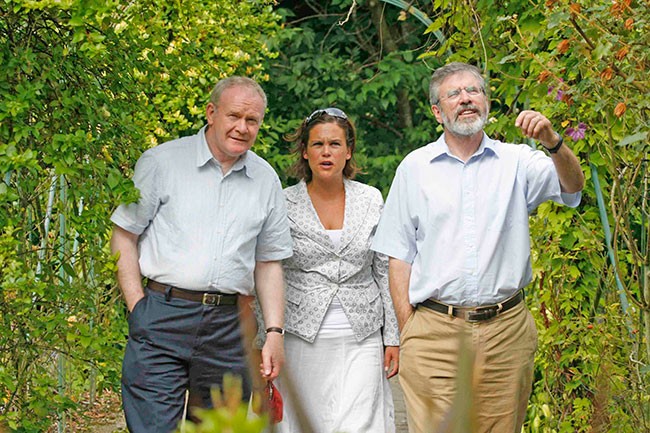 • Martin McGuinness with Gerry Adams and Mary Lou McDonald in Navan, County Meath
Perhaps it is in his role as deputy First Minister for ten years that Martin's star shone most brightly. In reaching not just a partnership but a deep personal friendship with the late Ian Paisley and in his work with Peter Robinson and – let it be said – Arlene Foster, Martin demonstrated not just by words but by deeds his intention, ability and resolve to build peace. He famously met Queen Elizabeth for the first occasion. I thought they hit it off rather well, which I said to him at the time.
Martin visited the Somme and I accompanied him on one such trip. He developed very strong personal ties and relationships with many people from what is termed the other side of the community. 
He did this work sincerely, not for show or headlines but because he believed and knew it was the right thing to do. All the while, Martin never lost his essence as an Irish republican. His absolute commitment to Irish unity, justice and full democracy on the island of Ireland remained undimmed and it was never dimmed by his ability to reach out the hand of friendship to the other side.
Martin McGuinness was an international as well as a domestic figure, an outstanding statesman and proud republican, a worker for reconciliation, a champion of peace, an IRA Volunteer, a risk-taker and a hope giver. 
He was also a committed family man who made it his business to return home each and every evening that he was in the Assembly in Belfast. He was immensely proud of his children, Fiachra, Fionnuala, Gráinne and Emmet, his grandchildren and his wider family. Martin never missed an opportunity to tell the story of and praise his clan. He loved his wife, Bernie, who was, without doubt, the centre of his world. Today, we offer Bernie and the rest of Martin's family our deep condolences.
We, on these benches, have lost not just a leader but a friend. We will never see his likes again. Ní bheidh a leithéid arís ann.