3 April 2017 Edition
From the barricades of Free Derry to building peace out of conflict
Gerry Adams's oration at the funeral of Martin McGuinness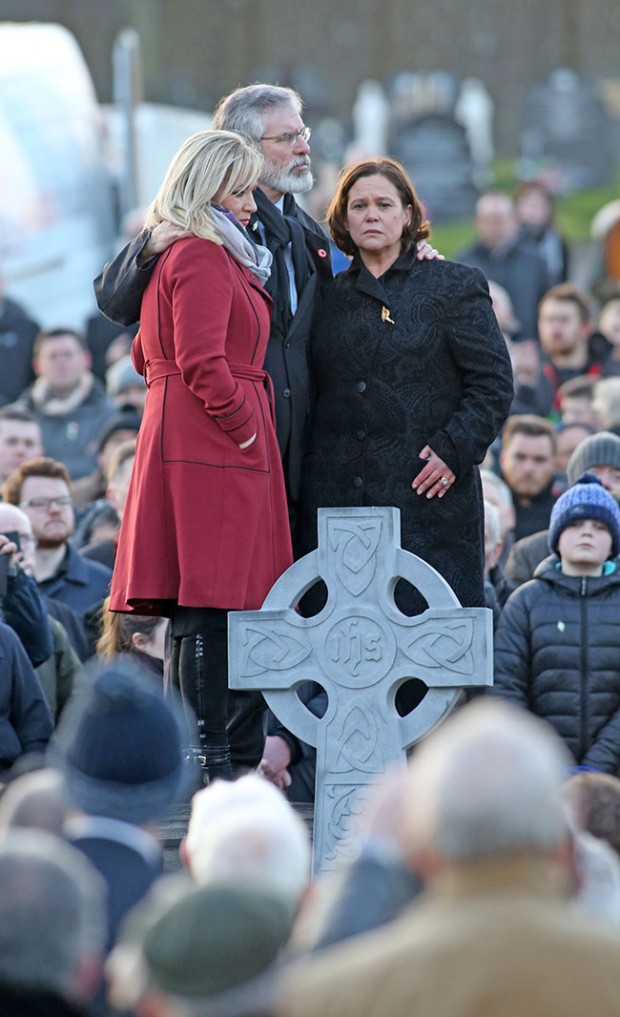 Let us learn to like each other, to be friends, to celebrate and enjoy our differences and to do so on the basis of common sense, respect and tolerance for each other and everyone else – as equals
THOSE OF US who knew Martin are proud of his achievements. Of his humanity and compassion.
Martin was a formidable person of the rarest kind – one who did extraordinary things in extraordinary times.
He would not be surprised at the commentary from some quarters about him and his life. He would be the first to say that these people are entitled to their opinions. In particular, those who suffered at the hands of the IRA.
But let me take issue with those in the editorial rooms or in their political ivory towers who denounce Martin McGuinness as a terrorist.
Mar a dúirt An Piarsach at the grave of another Fenian  – the fools, the fools, the fools.
Martin cannot answer them back.
So let me answer for him.
Martin McGuinness was not a terrorist.
Martin McGuinness was a freedom fighter.
He was also a political prisoner, a negotiator, a peacemaker, a healer.
And while he has a passion for politics, he was not one-dimensional. He had many interests – nature, spirituality, cooking, fly-fishing, story-telling. He was a good writer. He was a decent poet with a special place in his heart for Seamus Heaney and Patrick Kavanagh.
He enjoyed sports of all kinds – football and hurling,cricket, golf, rugby, soccer.
He especially loved having the space to have time with Bernie and their clann.
That's what grounded Martin McGuinness.
Bhí Martin ina chara mór acu siúd uilig a bhí ag troid ar son na saoirse ar fud an domhain.
He was a friend to those engaged in the struggles for justice across the globe.
And he travelled widely, promoting the imperative of peacemaking – in the Basque Country and Colombia, the Middle East, including Iraq.
I want to welcome here today the Ambassadors of Palestine and Cuba.
He travelled to South Africa to meet Nelson Mandela and others in the ANC leadership, as well as in the National Party, to learn from their experience.
Martin was also a man who was, in many ways, very ordinary. Particularly in his habits and personal lifestyle.  
Like many other Derry 'wans', Martin grew up in a city in which Catholics were victims of widespread political and economic discrimination.
He was born into an Orange State which did not want him or his kind.
Poverty was endemic. I remember him telling me that he was surprised when his father – a quiet, modest church-going man – marched in the civil rights campaign here in Derry.
The Orange State's violent suppression of that civil rights campaign, the Battle of the Bogside and the emerging conflict propelled Martin into a life less ordinary.
Bhuail muid don chéaduair blianta fada ó shin i nDoire Saor. Is cairde agus comrádaithe sinn ó shin.
We first met, 45 years ago, behind the barricades of Free Derry. We have been friends and comrades ever since.
From time spent on the run, to imprisonment in Mountjoy, the Curragh, Portlaoise and Belfast prisons, through his time as Northern Education Minister and later deputy First Minister (along with Ian Paisley, then Peter Robinson and then Arlene Foster), Martin made an unparalleled journey.
Reading and watching some of the media reports of his life and death in recent days one could be forgiven for believing that Martin, at some undefined point in his life, had a 'Road to Damascus' conversion – abandoned his republican principles, his former comrades in the IRA, and joined the political establishment.
To suggest this is to miss the truth of his leadership and the essence of his humanity.
There was not a bad Martin McGuinness or a good Martin McGuinness.
There was simply a man, like every other decent man or woman, doing their best in very difficult circumstances.
Martin believed in freedom and equality.
He resisted by armed actions those who withheld these rights, and then he helped shape conditions in which it was possible to advocate for these entitlements by unarmed strategies.
Throughout it all, Martin remained committed to the same ideals that led to his becoming a republican activist in the first instance – the pursuit of Irish unification, freedom, equality and respect for all.
Martin believed that the British Government's involvement in Ireland, and the partition of our island, are at the root of our divisions.
He was absolutely one hundred per cent right about that.
The British Government has no right whatsoever to have any involvement in Ireland.
Along with others of like mind he understood the importance of building a popular, democratic, radical republican party across this island.
He especially realised that negotiations and politics were another form of struggle.
In this way he helped chart a new course, a different strategy.
This involved taking difficult initiatives to make political advances.
Our political objectives and our republican principles and ideals did not change.
On the contrary, these guided us through every twist and turn of the peace process.
Thanks to Martin we now live in a very different Ireland, which has been changed utterly.
We live in a society in transition.
The future can now be decided by us.
It should never be decided for us.
Without Martin there could not have been the type of peace process we've had.
Much of the change we now take for granted could not have been achieved without Martin McGuinness.
In my view, the key is in never giving up.
That was Martin's mantra also.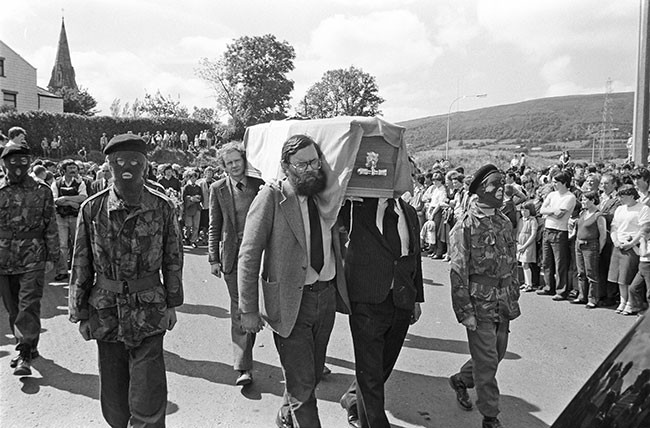 • 1981: Martin at the funeral of H-Blocks Hunger Striker Kieran Doherty TD
He was also tough, assertive and unmovable when that was needed. Dogmatic at times. Wimps don't make good negotiators – neither do so-called hard men. Martin learned the need for flexibility. His contribution to the evolution of republican thinking was enormous, as was his popularising of republican ideals.
Over many years of working together, Martin and I both realised that advances in struggle require creativity and imagination and a willingness to take initiatives.
Martin embraced that challenge and he didn't just talk about change – he delivered it.
He once said: 
"When change begins, and we have the confidence to embrace it as an opportunity and a friend, and show honest and positive leadership, then so much is possible."
Bhí sé ina ábhar mór bróid agam chun Martin a ainmniú mar an chéad Aire Oideachais i ndiaidh Chomhaontú Aoine an Chéasta. 
It was a source of great pride for me following the Good Friday Agreement to nominate Martin as the North's Minister for Education.
It was a position he embraced, putting equality and fairness into practice in the Department of Education, seeking to end the 11-Plus and improve outcomes for children and to bring about the most radical overhaul of the education system since partition.
In 2007, he became deputy First Minister and an equal partner to Ian Paisley in Government.
They forged a friendship that illustrated to all the progress we have made on the island of Ireland.
His reconciliation and outreach work, and his work on behalf of victims and for peace, in Ireland and internationally, have been justifiably widely applauded.
As part of that work, Martin met Queen Elizabeth of England several times.
He did so while very conscious of the criticism this might provoke. He would be the first to acknowledge that some republicans and nationalists were discommoded at times by his efforts to reach out the hand of friendship.
That is the real test of leadership – to reach out beyond your own base.
It is a test that Martin passed every time.
Some unionist leaders were discommoded also at the sight of their queen greeting Martin or, on another occasion, using a cúpla focail or bowing in salute to the men and women of 1916.
These are symbolic gestures but they are important nonetheless.
As Martin pointed out in his letter of resignation on January 9th:
"The equality, mutual respect and all-Ireland approaches enshrined in the Good Friday Agreement have never been fully embraced by the DUP. Apart from the negative attitude to nationalism and to the Irish identity and culture, there has been a shameful disrespect towards many other sections of our community."
I quote this more in sadness than anger.
And I try to understand why this is so.
That's what Martin did.
So, here at the graveside of this good man, let me appeal to our unionist neighbours.
Let us learn to like each other, to be friends, to celebrate and enjoy our differences and to do so on the basis of common sense, respect and tolerance for each other and everyone else – as equals.
Let me appeal also to nationalists and republicans – do nothing to disrespect our unionist neighbours or anyone else.
Stand against bigotry, against sectarianism, but respect our unionist neighbours. Reach out to them. Lead, as Martin led, by example.
By little acts of kindness and generosity.
Is féidir linne bheith iontach bródúil as Martin.
Is duine é de na fir agus de na mná iontacha sin a sheas an fód ar son saoirse na hÉireann.
We can be very proud of Martin. He is another of those great and remarkable men and women who have stood up for Irish freedom and for what they believed to be right.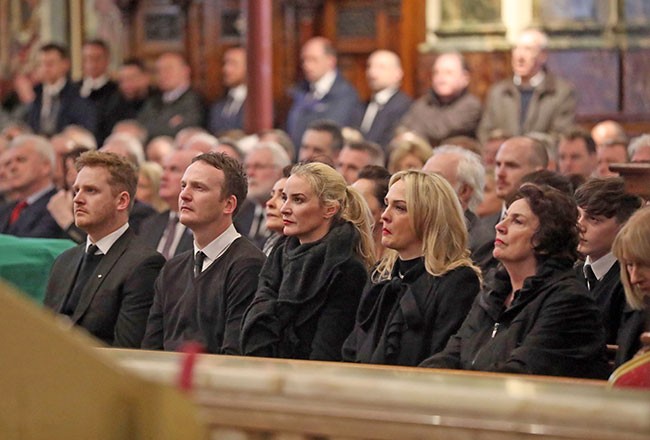 • Martin's family in St Columba's Church, Long Tower: Emmet, Fiachra, Fionnuala, Gráinne and Bernie
Martin believed that a better Ireland, a genuinely new Ireland, is possible. He rejected any suggestion that gender or race or class or skin colour or disability or sexual orientation or religion should exclude citizens from their full rights and entitlements.
That is a legacy we must build upon.
Of course, much progress has been made, not least in the numerous lives saved in the last 20 years. Nevertheless, Irish republicans know that a long, long road, with many twists and turns, still lies ahead.
It's all about rights . . .
Civil rights. Human rights. Religious rights. Language rights. LGBT rights. Social and economic rights. Rights for women. National rights.The right to freedom.
These rights can't be left to any political party.
If you want an Acht na Gaeilge campaign for it.
Ná habair é. Dean é.
If you want a Bill of Rights, campaign for that.
If you want marriage equality, mobilise for that.
If you want freedom, go out and take it.
Organise. Mobilise. Unite for your rights.
That is the challenge facing us – to build a mass movement for positive change across all 32 counties of our island. And for all our people.
Facing that challenge we are the stronger because of Martin.
So don't mourn. Celebrate and organise. That's what Martin would want.
He exemplified all that is decent and fair about our republican ideology and our core values of freedom, equality and solidarity. It is now over to us to take the struggle from where he has left it.
Like Bobby Sands, he believed that our revenge should be the laughter of our children.
By his example he showed us that it is possible to build peace out of conflict, to build a better and more equal future based on fairness, and to build unity out of division.
Martin will continue to inspire and encourage us in the time ahead.
Ar dheis Dé go raibh a anam dílis. Ní bheidh a leithéid arís ann.
I never thought I would be giving this oration today. Martin was looking forward so much to stepping back in May from public office. This wasn't to be but his was a life well lived.
That is little consolation to Bernie and her clann today but we pray that she and they in the time ahead will take comfort from the happy times they enjoyed with Martin.
He said Bernie was his rock many times during his illness, "My Rock of Cashel", he told me. "I am lucky to have her."
Bernie was also lucky to have him. So were the rest of us.
We also loved him.
Thank you, Bernie, for sharing Martin with us.
He will be missed by many but you will miss him more than anyone else.
Farewell, Martin. 
Slán, a chara, slán go deo.
We thank Martin McGuinness.
He was a rebel – up the rebels!
We salute Martin McGuinness.
We applaud Martin McGuinness.
Up the Republic!