3 April 2017 Edition
'We are forever thankful to Martin McGuinness'
Michelle O'Neill MLA, Leader of Sinn Féin in the North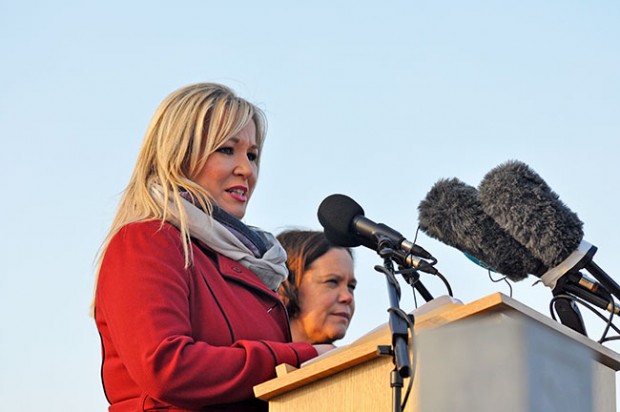 'I was the proudest woman in Ireland – proud to have been asked to take over from a man that I spent my whole life looking up to but, most of all, I was proud of him'
"WORDS cannot express my sense of pride, sense of privilege and honour to say a few words as we lay our friend Martin to rest. 
"Bhí Mairtín ina cheannaire againn uilig agus ina chara againn uilig.
"Martin was a leader to all of us. He was a friend to all of us and he will be a huge loss to all of us. 
"He was a man of great passion: passion for his family and passion for his country. And he gave everything he could to both. 
"To his family – Bernie, Grainne, Fionnuala, Emmet, Fiachra, the grand kids and the wider McGuinness clan – we know you are hurting. 
"And we are forever thankful to you for the many sacrifices you have made down through the many long and difficult years of struggle. 
"I hope that you can take some comfort from the way that Martin touched the lives of so many people, in how he is revered by so many for his contribution to building a new and united Ireland. 
"He inspired us, he challenged us, he led from the front. He didn't just make followers – he made other leaders.
"I'm proud to say he was my good friend. Two months ago to this day, on 23 January, he held a press conference in Stormont where he announced he was passing on the mantle to me as our new leader in the North. 
"On that day, I felt I was the proudest woman in Ireland. Proud to have learned from the best, proud to have been asked to take over from a man that I spent my whole life looking up to but, most of all, I was proud of him.
• Martin McGuinness (centre) at an early Civil Rights march in Derry
"However, Martin didn't just talk about republican ideals – he lived his life by them each and every day through his actions. 
"We didn't know then that, just two months later, we would be standing here today, supporting his family and laying our comrade to rest. And our hearts are aching. 
"Much has been said about Martin over the last few days: the depth of the man that he was. The journey that he was on has been discussed by many. 
"He was not a man of two sides. He was one man, with one struggle, with one aspiration: a Republic of Equals.
"His legacy will live on in our hearts and in our actions. 
"We will build on all of his work. He has laid the solid foundations.
"He is now a guardian of our struggle and takes his place alongside the iconic republican leaders of the ages: Tone, Pearse, Connolly, Sands, Drumm and so many others.
"They have never left us. And Martin never will.
"Go raibh maith agat, Martin."