3 April 2017 Edition
'An inspiring example of peace and reconciliation'
Martin McGuinness in the news media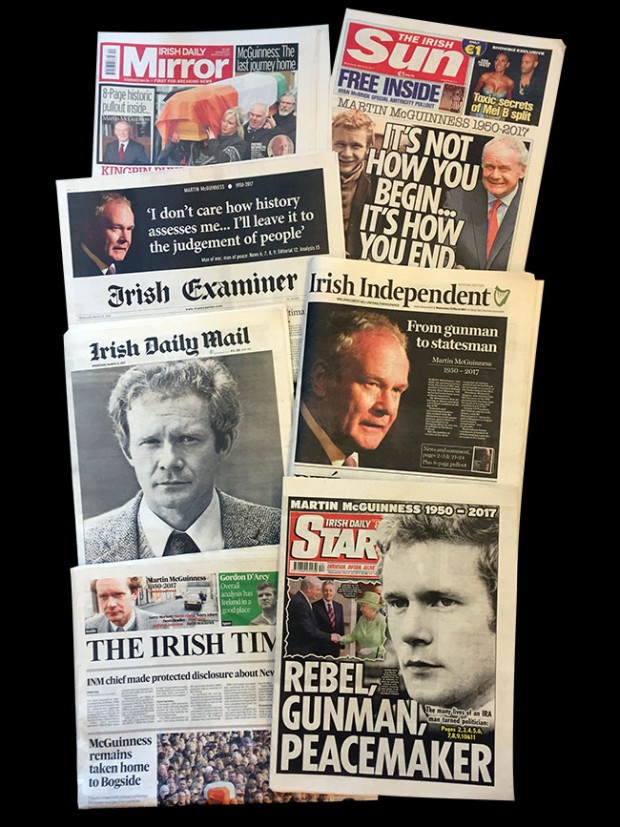 The Irish Examiner used one of Martin's own quotes about how history might assess him
HOW MANY WAYS can you describe the life of Martin McGuinness? 
"Gunman to statesman" from the Irish Independent. 
"Man of the gun became a man of peace" headlined the Irish Times obituary. 
"Rebel, Gunman, Peacemaker" was the Irish Daily Star's front-page headline along with "The many lives of an IRA man turned politician".
"IRA leader who forged path to peace" was the Irish News front page that included a silhouetted picture of Martin McGuinness. 
"Ruthless republican terrorist to statesman who toasted Queen" was the obituary in the staunchly unionist daily Belfast News Letter. 
"Bloody terrorist or a man of peace?" was the Daily Express take on Martin. The front page also reported: "Queen sends her condolences but Tebbit says world's a sweeter place".
Norman Tebbit will be remembered in history as the notoriously hard-right Conservative Party minister who, with Prime Minister Margaret Thatcher, became a symbol of the uncaring malevolence of her years in office in the 1980s. 
Tebbit, who survived the 1984 IRA bomb attack on the British Cabinet meeting in the Grand Hotel at Brighton but whose wife was left paralysed, responded to Martin's death by saying he hoped he is "parked in hot corner of hell". The Express did not carry the response of Jo Berry, whose MP father Sir Anthony Berry was killed in the Brighton bombing. She said that Tebbit was "not speaking for us all" and added: "I value Martin McGuinness as an inspiring example of peace and reconciliation."
Jo Berry's comments were in The Times whose headline was "Paramilitary and peacemaker who split opinion even in death". On the front page, The Times, ever the paper of the British Establishment, told readers that Martin McGuinness was an "international pariah" without giving a source as to where McGuinness was described in this way.
"From IRA leader to peacemaker" was the Daily Mirror headline, also giving prominence to the Taoiseach's tribute in "Kenny hail's Sinn Féin's man's lifetime journey" and a quote from President Michael D Higgins that "his leadership will be missed".
The Jekyll and Hyde news media was in full flow in the Irish and British versions of the Daily Mail and The Sun.
The Irish Sun had their front page headlined: "It's not how you begin . . . It's how you end" with pictures of McGuinness in 1972 in an IRA funeral colour party and shaking hands with Britian's Queen Elizabeth in 2012. The Irish Sun's sister edition in England, however, took a totally contrary view with  the front-page banner headline "Unforgiven" and "IRA leader can go to Hell".
"Peacemaker Martin McGuinness's body was carried through the streets of Derry on his final journey home' was the opening text in the Irish Sun. In England, the Editor spewed: "The Sun will not join in the revolting orgy of pious praise for Martin McGuinness". Back in Ireland, "The Sun says" editorial declared: "The tributes paid to Martin McGuinness accurately map his incredible evolution from gunman to peacemaker".
The Irish version of the Daily Mail had a simple full-page photo of Martin with "Martin McGuinness, 1950-2017" but 'The Man from the Daily Mail' in England replaced McGuinness with images of the aftermath of IRA attacks.
Back in the Irish edition, Martin is "the senior republican and Northern political giant".
On television, RTÉ brought their Prime Time team to do a special on Martin and his "long journey from man of violence to man of peace". Former IRA leader turned peacemaker" was the BBC declaration.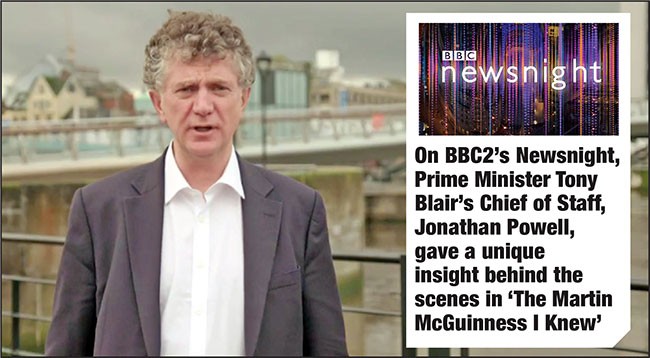 On BBC2's Newsnight, Prime Minister Tony Blair's Chief of Staff during a decade negotiating the Peace Process, Jonathan Powell, gave a unique insight behind the scenes from a British Government persective into "The Martin McGuinness I Knew", from when he first met Martin and Gerry Adams with Tony Blair in Stormont Castle Buildings in 1997 – "the first meeting between a British Prime Minister and republican leaders since 1921", Jonathan Powell said.
Powell refused to shake hands with Martin and Gerry (Blair did). Years later, Powell was to invite Martin to his wedding.
The Newsnight piece – including interviews with Ian Paisley Jnr, Tony Blair, Bertie Ahern, Gerry Adams, Gerry Kelly and Denis Bradley – noted that British Prime Ministers and US Presidents agreed that the Good Friday Agreement would not have been possible without Martin McGuinness.
"The first time I met him, I saw a terrorist; when I left Government, I invited him to my leaving party as a peacemaker," Jonathan Powell said.
"Now he's gone, I think we're in danger of underestimating his contribution."
"Man of war, man of peace" was the Irish Examiner's assessment. And the Examiner carried the most apt characterisation on their front page, using one of Martin McGuinness's own quotes: 
"I don't care how history assesses me . . . I'll leave it to the judgement of the people."