21 March 2017
Without Martin McGuinness we would have no Peace Process, Gerry Adams tells RTÉ in Derry City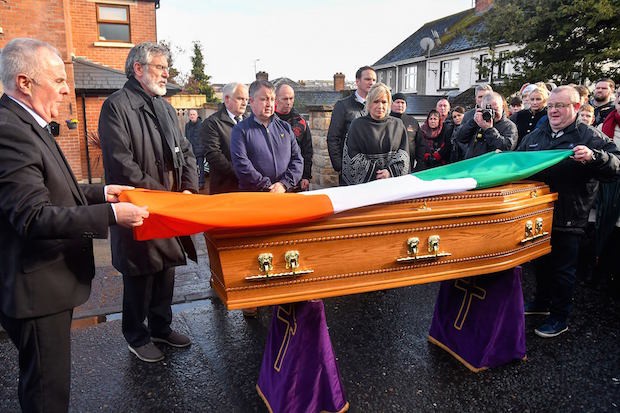 MARTIN McGUINNESS had been an IRA leader in 'Free Derry' but he was pivotal to the Peace Process in later years as a Sinn Féin activist and a tenacious statesman, Gerry Adams told RTÉ News: Six One on Tuesday evening in Derry City.
Noting that Martin McGuinness was "rooted" in Derry and that he loved the city, Gerry Adams said he was not a one-dimensional figure but he had many interests.
The Sinn Féin leader said that while he could be "tenacious", Martin was "imbued" with an openness, respectfulness, and humanity that he had inherited from his mother, who was from Inishowen in County Donegal.
He said that Martin's wife Bernie was "in many ways the epicentre of his life, and all that grounded him and made him the activist and the freedom fighter and the peacemaker that he was".
Gerry Adams was asked by RTÉ's Bryan Dobson at what point did Martin McGuinness make the transition from being an IRA activist "involved in violence" to politics and peace negotiations.
"When there was an avenue that made it possible to pursue objectives peacefully and in an unarmed way, not least because of the work of Fr Alec Reid and Fr Des Wilson and later John Hume and myself," the Sinn Féin leader replied.
As they stood on a hill overlooking the Bogside, Gerry Adams reminded RTÉ News of the sort of society that nationalists in the North were forced into after partition – abandoned and ignored by the authorities in Dublin as well as London.
Derry was a city that had a majority nationalist population but a gerrymandered unionist minority in political and civic control.
"If you picture when Martin McGuinness was born here in 1950," Gerry Adams said, pointing out across the city, "he wasn't wanted by this state, nor were all the people here," gesturing down towards the nationalist Bogside.
"They were discriminated against, they were disadvantaged and when there was a popular, peaceful uprising for civil rights, the British responded in a militaristic way; and the politicians made the awful mistake of giving control over to the generals. And that's when Martin became involved in IRA activism."
We wouldn't have the Peace Process "with all its imperfections" when we did without Martin McGuinness playing a leading role and supporting it, his friend and comrade said.
"Martin was a pivotal figure although he would be the first to say 'I was first among equals' and we were part of an empowered generation of activists, but he was a very central, crucial figure."