13 March 2017 Edition
Ireland South MEP addresses Mourne Abbey Ambush Commemoration in County Cork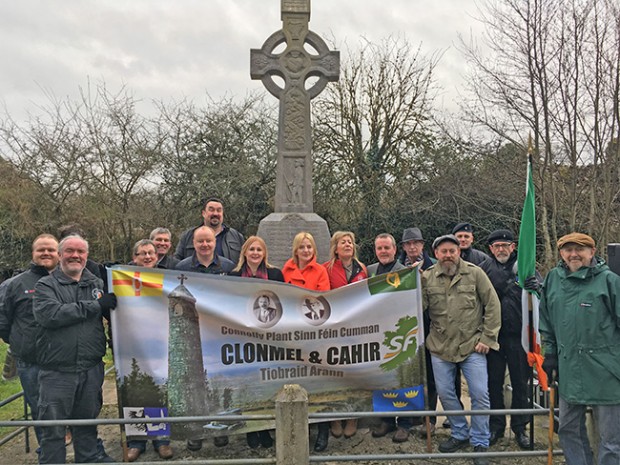 SINN FÉIN MEP Liadh Ní Riada has again called on people of all political persuasions and none – including unionists – to get involved in the discussion on the reunification of Ireland. 
"I say now is the time to make your voice heard," the Ireland South MEP said at the Mourne Abbey Ambush Commemoration just outside Mallow in County Cork on Sunday 12 February.
"To those hard-working activists in other parties, I say now is the time to stand up to your leadership and demand they play a meaningful role in the discussion that will shape a new Ireland. 
"To our unionist brothers and sisters, I say your input is as essential as everyone else's. Take part in the conversation, even from an opposing point of view.
"Share with us your hopes, concerns and ideas and we will share with you our vision of a fair, free and progressive country that cherishes all the children of the nation equally."
When Pearse proclaimed the Republic on the steps of the GPO in Dublin, the Mourne Abbey men were mobilised and ready to fight.
On the first anniversary of the Rising, they raised the Tricolour at the highest points they could find in the area, including from the top of Mourne Abbey Castle, which had been destroyed by Cromwell more than 200 years earlier. 
The Royal Irish Constabulary removed the flag but Volunteers replaced it the next day and barricaded the approach to the top of the castle. In the words of one Volunteer, Jerome Buckley, OC of the local company on the night of the Mourne Abbey ambush, "there it remained until blown to shreds by the winds".
Support for the Volunteers was so strong in the area that, by 1919, the Mourne Abbey Company had gotten so big that the decision was taken to split it in two, with Burnfoot to the east and Analeentha to the west.
It was no surprise that when the order came through to attack a convoy of senior British Army officers heading to a conference at their headquarters in Cork that the Mourne Abbey men did not hesitate.
Unfortunately, an informer had betrayed the companies and, despite the valiant efforts of local woman Siobhán Lankford, to warn the Volunteers, they found themselves surrounded.
Four Volunteers were killed in the ensuing battle: Patrick Flynn, Patrick Dorgan, Eamon Creedon and Michael Looney all gave their lives at this spot.
Eight more Volunteers were captured and once they had gotten them to their headquarters in Cork the British executed two more of them: Patrick Ronayne and Thomas Mulcahy.
The oldest of all those killed was 30, the youngest, just 18.