13 March 2017 Edition
Unfinished business
The Pat Finucane Anniversary Lecture 2017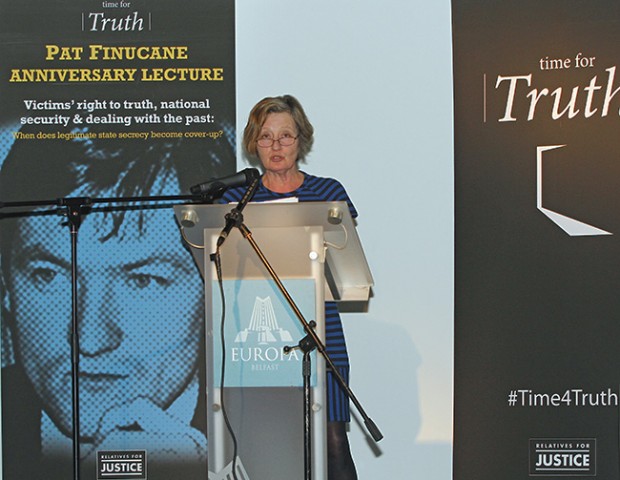 There are so many people who, like us, want to find out the truth behind Pat's murder. It is unfinished business for them. It is unfinished business for us.
I WOULD LIKE TO SAY that the passing of the years has made Pat's death easier to bear but this would not be true. In fact, the more time that passes, the more difficult it is to bear his loss. This is partly because of how much we miss him as a person but it is also because of what we now know about the circumstances surrounding his murder.
We know, beyond any doubt, that Pat was murdered with the active assistance and participation of the former police force, the RUC, the British Army and the British state.
There was a time when we did not know as much as we do now and the claim that Britain was involved produced scepticism in many quarters.
Politicians in government and officials in state positions at home and abroad disbelieved our suspicions entirely. Some even poured scorn on our allegations of state collusion and said the ideas were fanciful.
In a response to a 1993 report by a US human rights organisation, the Lawyers' Committee for Human Rights, which raised serious questions about collusion even then, a Deputy Chief Constable of the RUC responded to their work in a letter which said:
"There is a repetition of unsubstantiated allegations as if these constituted evidence of security forces or official misconduct . . . It is a pity that . . . the end result should be so flawed."
On 26 June 2015, Mr Justice Stephens delivered his ruling on our application for judicial review in Belfast High Court. In the opening paragraphs of his judgment, he said the following:
"[Geraldine Finucane] was convinced from the beginning that servants or agents of the state were involved in the murder of her husband. The Government has accepted that there was state involvement and has apologised for it. 
"It is hard to express in forceful enough terms the appropriate response to the murder, the collusion associated with it, the failure to prevent the murder and the obstruction of some of the investigations into it. 
"Individually and collectively they were abominations which amounted to the most conspicuously bad, glaring and flagrant breach of the obligation of the state to protect the life of its citizen and to ensure the rule of law. There is and can be no attempt at justification."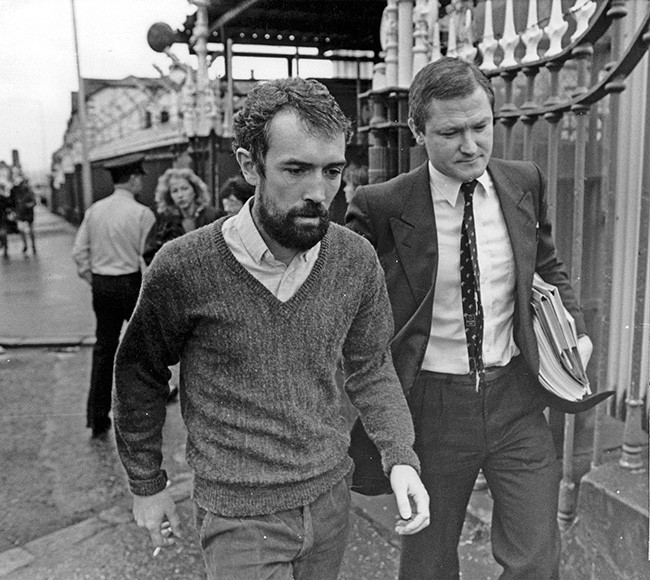 • Pat Finucane (right) leaves court with former H-Blocks Hunger Striker the late Pat McGeown, who had been acquitted of charges relating to the 1988 killing of two undercover British Army soldiers who drove into a republican funeral in Belfast after a previous loyalist fatal attack on the Gibraltar Martyrs funerals
Sadly, Mr Justice Stephens concluded that the decision of the British Government was not unlawful and so he was unable to order an inquiry. We appealed this decision and, on Tuesday, the Court of Appeal delivered its judgment on our case for a public inquiry. Sadly, we were, once again, unsuccessful but there may yet be grounds for a further appeal.
Where, then, does the case for a public inquiry into the murder of Pat Finucane rest? 
The courts have concluded that they cannot order an inquiry. The British Government has determined it will not hold one.
Perhaps all that can be done has been done already?
Perhaps the murder of Pat Finucane is simply 'old news'?
I do not think that the controversy surrounding the murder of Pat Finucane has been properly resolved.
•  Pat Finucane's family with Mark Thompson of Relatives for Justice (left) and long-time campaigner Fr Raymond Murray (centre) at this year's anniversary vigil 
I believe I am right in this, not just because of a broken promise by the British Government but because of the unanswered questions that arise from Pat's murder and the fact that no one within the British Establishment has ever been made accountable for it.
I believe I am right because the Irish Minister for Foreign Affairs is here tonight and has spoken, on behalf of the Irish Government, of their continued support for a public inquiry.
Most of all, I believe I am right because of the unwavering support my family and I have had from the people of Belfast and beyond for the last 28 years.
I see many people here tonight who have stood with us for all of those three decades, helping us out, urging us on. I meet them often, at events such as this or just when I am out and about my daily business. I am constantly approached by people who wish me and my family well. They tell me we are doing great work.
Some people even tell me that they have known tragedy in their lives but were unable to follow through on it, for various reasons. But they gain comfort and some degree of closure by knowing that someone is holding the British state accountable for their actions.
But everyone ends by telling me the same thing:
"Keep going. It's important."
This is why we do what we do. This is why we keep going. 
It isn't easy. Many times, over the years, we have felt like we have no more left to give. Like we are fighting an unbeatable enemy. Like the obstacles before us are insurmountable.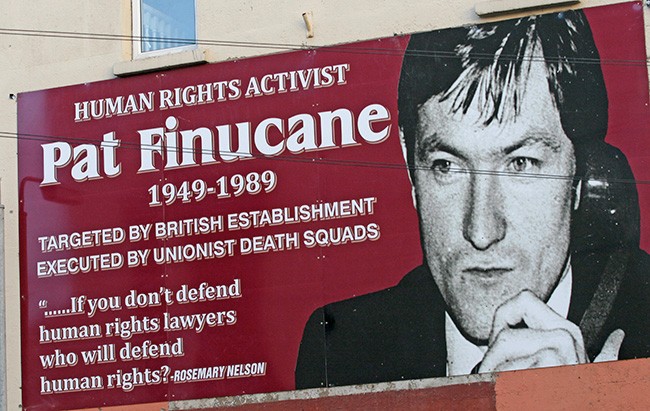 It is at times like those that my family and I take strength from two things. 
One is the path that lies behind us, which helps put the obstacles ahead in perspective.
Because of what we have uncovered, the High Court in Belfast now declares, as a fact, that Pat's murder was an "abomination" and that it amounted to "the most conspicuously bad, glaring and flagrant breach of the obligation of the state to protect the life of its citizen".
Of course, this is not the first time there has been official recognition of the true nature of Pat's murder. Others have said similar things over the years.
But I believe that the statement of Mr Justice Stephens in the High Court in Belfast is significant. It is where Pat himself worked, where he plied his trade, where he represented his own people. And it is perhaps the recognition that would have brought him the most satisfaction because convincing people in your own backyard is often more difficult than anywhere else.
However, we did not have to convince everyone that we were right.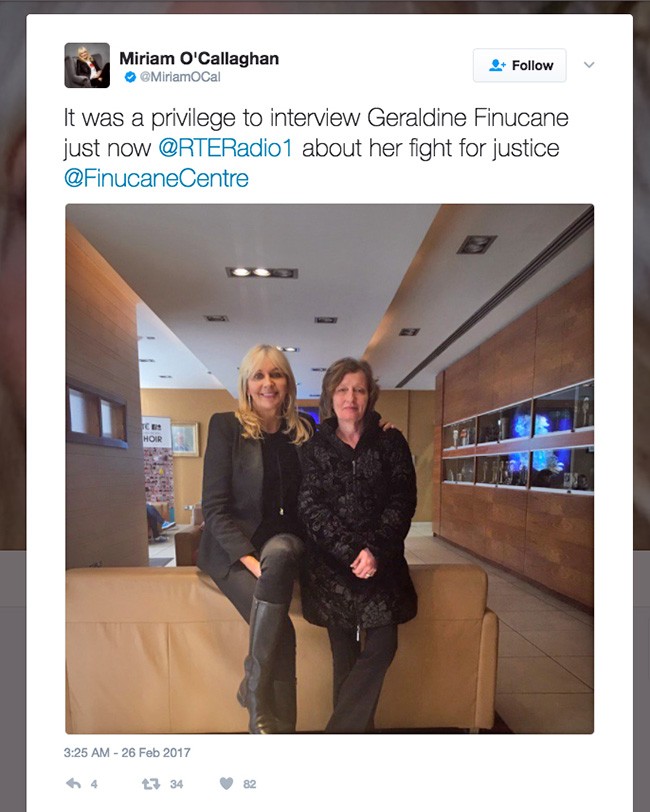 • RTÉ's Miriam O'Callaghan with Geraldine after a radio interview to mark Pat's anniversary
This is the second thing that keeps us going: the people who believed us, right from the start, who knew there was something rotten in the British state, and who have supported us for so many years – Pat's friends; Pat's community; Pat's own people.
We have been encouraged and supported and helped by so many people when the going got tough. And the reason we keep going and can keep going is because of all that help and support and because there are so many people who want us to. 
There are so many people who, like us, want to find out the truth behind Pat's murder.
It is unfinished business for them. It is unfinished business for us.
I want to know why. I want to know how. I want to know who.
I want to ask my own questions and I want to hear the answers for myself. I want to read the documents and understand the frameworks. Most of all, I want to be able to show them to the entire world so that everyone can know and learn what can be done by governments in the name of the people if we are not vigilant.
Most of all, I want to share that accomplishment with you, Pat's own people, so that, together, we can turn unfinished business into finished business.
I owe you all a great deal for your support over the years. I would very much like to share the final achievement with you also.
Thank you very much.