13 March 2017 Edition
Distraction tactics by political gossip
Future Taoiseach's policies being hidden by tittle-tattle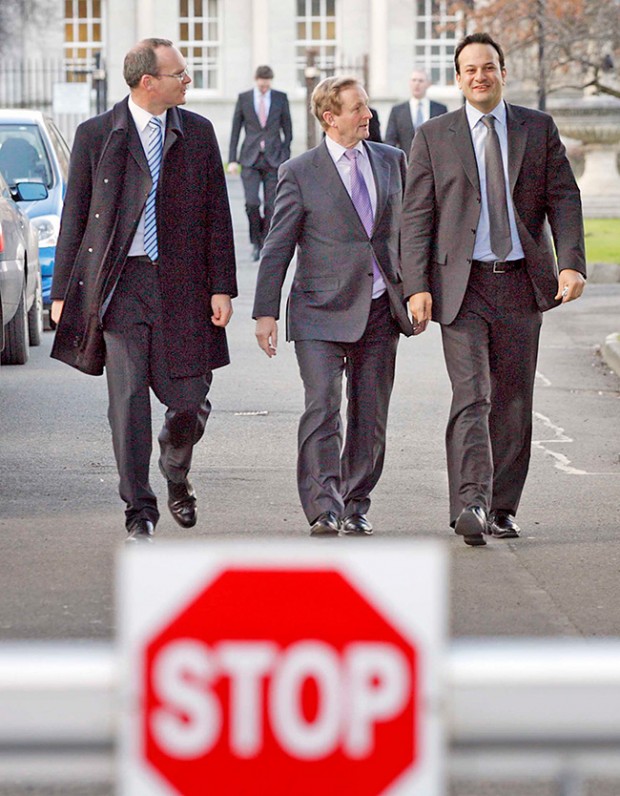 Personalities are now more important than actual policies in mainstream media reportage
SCANNING the front pages of the daily newspapers or listening to the morning talk-shows, your 'average' listener may be surprised to learn about some serious issues going on around them and their nearest and dearest.
For example, that, in January, one child became homeless in Dublin every five hours; one in eight people are now on a hospital waiting list; and even An Garda Síochána are facing extremely serious allegations of corruption and cover-up by the police and their political masters. 
Despite all this, the mainstream media has become obsessed with gossip and rumour over the leadership of Fine Gael.
The plight of homeless citizens or those waiting a disproportionate amount of time for necessary surgeries can wait, it seems, because the media establishment want to focus on whether Tweedle Dum or Tweedle Dee will take over from Enda Kenny as leader of Fine Gael and be appointed Taoiseach by that party.
Even with their declining readership, newspapers still maintain the key role in influencing the daily news agenda on radio and television. Bright and early, our radio programmes give us the "morning headlines" from the main tabloids and broadsheets – picking out the key articles they think you and I should have on our radar. With the exception of an occasional inclusion of TheJournal.ie or Buzzfeed.com, it's usually an all-dead-tree affair.
And, unfortunately for those of a non-vacuous disposition, a Fine Gael leadership contest is a very alluring subject for flagging mainstream newspapers to gush about. 
The typical investigative reporting or time-consuming research required for hard-hitting pieces can be bypassed. All that's needed is a Fine Gael backbencher who is happy to spill their guts to reporters while quaffing cappuccinos in the Leinster House coffee dock in the vain hope of some fresh airtime, a few column inches or having their back scratched or ego massaged in return.
New technology makes it even easier for hacks and politicians alike. 
An Irish Times journalist turned the supposed tight confidentiality surrounding one Fine Gael parliamentary party meeting into a complete joke as he effectively managed to live tweet the entire event from a remote location, clearly thanks to a source within.
Personalities are now more important than actual policies. 
The Irish Independent thought it appropriate to run a almost an entire two-page spread focusing on the private lives of Fine Gael leadership contenders Leo Varadkar and Simon Coveney.
In the piece, entitled "Image Matters: Why a spouse in the picture is seen as important for world political leaders", the Indo noted how both men attended a Fine Gael colleague's wedding in Dublin.
"But what really stood out," in the eyes of the Indo, "was the fact that Simon Coveney was pictured with his attractive wife Ruth, his arm protectively draped around her. A happy, glamorous, glowing couple. And Leo was pictured on his own."
The base subtext about 'family man' Coveney versus the openly gay Varadkar was clear.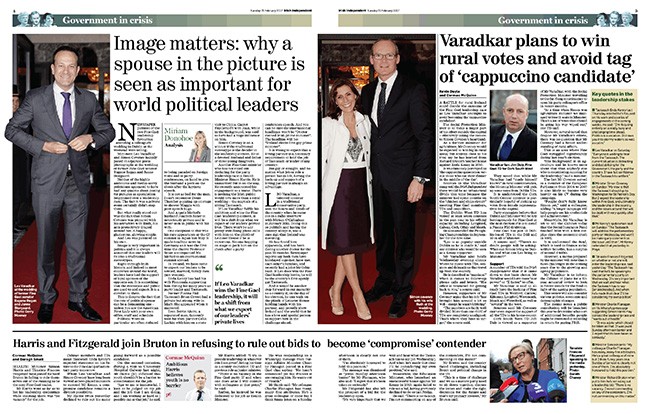 • Private lives of the Fine Gael contenders are considered fair game for the Fourth Estate
Rather than producing this type of low-quality, tawdry journalism, the Indo's time would be better spent examining Fine Gael's record in Government (which is underwhelming to say the least and the responsibility of Coveney and Varadkar as well as the man they want to replace). They could examine whether either of these contenders for Taoiseach and erstwhile loyal lieutenants have any plans to do anything differently. Or is it just more of the same but with someone else in charge?
It was a point raised by Sinn Féin Finance spokesperson Pearse Doherty TD who told reporters at Leinster House that the saturation coverage of internal Fine Gael wranglings needs to stop. 
"We cannot allow a six-week distraction on who will lead Fine Gael. They need to get their house in order. They need to do it very, very quickly and they need to be focused on the issues that matter," the Donegal deputy said.
An Phoblacht columnist Eoin Ó Murchú took similar issue with the ability of the media to boot scandals into touch. Speaking on TV3's Tonight with Vincent Browne, he raised the pertinent issue of policy difference between the two Fine Gael contenders – noting that the only difference he could see was in terms of their position on the Irish language. 
"The actual issues of the housing crisis, the health crisis, Brexit crisis, the Northern crisis – none of that seems to be occupying the attention of either politicians or journalists compared to adding up the numbers of who says which one of these two people they want, when no one can find any actual difference of policy between them," Ó Murchú said with a degree of exasperation.
"There may be [differences] but none of that has been discussed by the media and none of that has been advanced by themselves."
The Fine Gael leadership contest won't really hot up until after St Patrick's Day. Let's hope journalists worth their salt will run the rule over the policies, ambitions and visions of the two contenders for Taoiseach and give the citizens of Ireland a real picture of what they stand for rather than who they're going out with.