13 March 2017 Edition
Sharing power, equality and integrity
STANDING UP FOR EQUALITY - RESPECT - INTEGRITY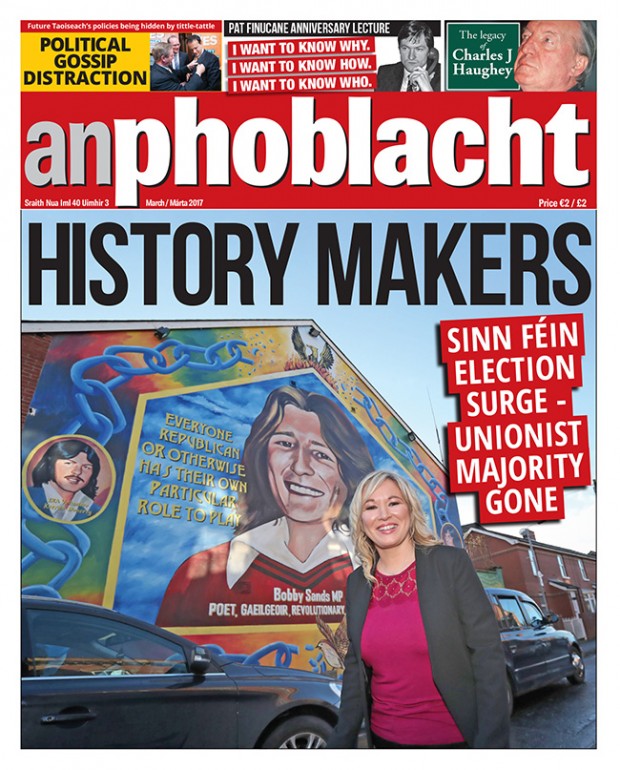 HISTORY has been made in the Assembly election.
Unionism has been shaken to it core by an election result that has rocked the foundations of its former citadel of Stormont, once a byword for sectarian domination, discrimination and oppression.
It should be remembered that it was Unionist Party rule from Stormont that ignited the Civil Rights movement in 1968/1969. It was the brutal suppression of unarmed protesters by the Royal Ulster Constabulary and its B-Specials reservists – on the orders of unionist ministers at Stormont – that provoked community resistance and 'no-go areas', the occupation of nationalist areas by the British Army and the conflict that followed.
This election has been described by the mainstream media as a watershed. There is no denying that it marks a turning point.
Unionism has lost its Stormont majority for the first time in history – in almost 100 years – since the imposition of the Orange State by the British Government and the Unionist Party on a sectarian headcount in 1921.
Reactionary unionism is also reeling from the fact that Sinn Féin ended the election with just one seat fewer that the once-mighty DUP. The republican party also came within 1,200 votes of outpolling Arlene Foster's candidates.
There is, undoubtedly, a natural celebration by republicans and nationalists of this dramatic breakthrough. It was an achievement won through spirited hard work by candidates, campaign teams and supporters in the past weeks and day and daily by activists and rank-and-file members on the ground between elections.
But while Sinn Féin will celebrate, it has no desire to be triumphalist. Its desire is to make politics work.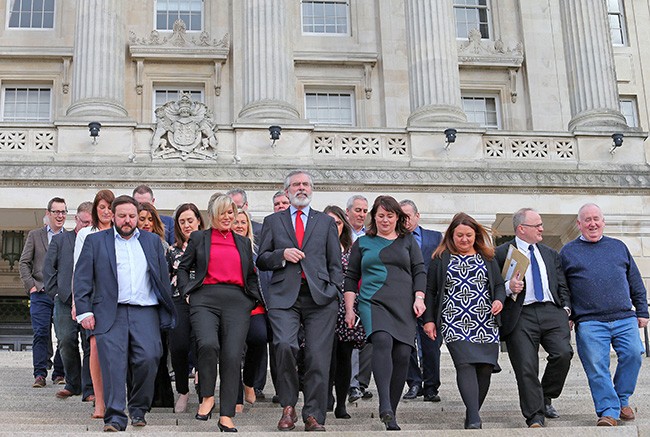 The over-riding concern of republicans is to restore power-sharing in the spirit and practices of the Good Friday Agreement and to rebuild public confidence in institutions that they feel alienated from or antagonistic towards.
Arlene Foster could have avoided this damaging election to the DUP if she had adopted a common sense approach by standing aside without prejudice for the duration of a transparent and unimpeachable investigation into the Renewable Heat Incentive scandal. 
Sinn Féin is not dictating who can be leader of the DUP. It is, however, exercising its right to withhold its participation in government with a First Minister over whom there still hangs the cloud of RHI until it is cleared by an unimpeachable investigation.
Political unionism must live up to the responsibility to share power on the basis of equality, to demonstrate respect and to act with integrity in government.
The British and Irish governments must live up to their responsibilities in agreements and honour commitments made during negotiations.
The people have spoken. Political parties and the British and Irish governments have to listen. 
And they have to act.