10 January 2017
DUP need to change their approach, says Mary Lou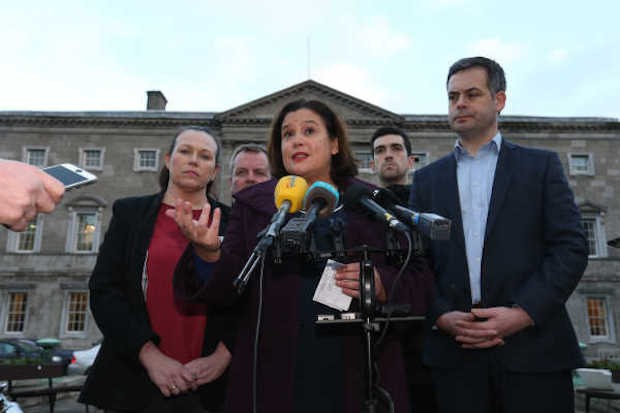 The way to end the 'cycle of crisis' is with genuine power-sharing, says Sinn Féin deputy leader
MARY LOU McDONALD has said that Sinn Féin's position either side of an Assembly election will not change – DUP leader Arlene Foster must stand aside as First Minister for an investigation of the RHI scandal.
Speaking at the Dáil, the Sinn Féin deputy leader rejected claims by DUP MP Jeffrey Donaldson earlier in the day on Dublin-based radio stations that a return to power-sharing might not be possible:
"Of course putting an Executive would be possible but what won't be possible is that we return to the same routine that we have faced for the last number of years.
"Martin McGuinness has referred to that as 'no return to the status quo'. What that means is that to exercise power jointly, for power-sharing to work, all parties need to be committed and need to understand the basic tenets of it.
"You cannot have a power-sharing administration in which one party so clearly and so frequently pokes the other party in the eye and, worse than that, denies democratic rights to sections of the population. That is not a runner.
"How could anybody in real terms describe that as power-sharing?"
Noting that the DUP opposed the Good Friday Agreement and went into power-sharing reluctantly but because they had no other option ("we get that"), she said that power-sharing by the DUP "needs to be real".
It is now 2017 and the way to "end the cycle of crisis" is with genuine power-sharing, she said.
"It's a big challenge for all of us," the Sinn Féin deputy leader acknowledged and added:
"It will require the DUP to do significant soul searching, to change their approach, to appreciate the realities of political life and to understand that the population – whether Orange or Green – right across society won't tolerate malpractice, bad government or blatant discrimination.
"It's not on. It's not acceptable."