14 October 2016
British police spy at Shell to Sea in Mayo – MEP wants Justice Minister to get answers from counterpart
GARDA CHIEFS and Scotland Yard commanders allowed British undercover policeman Mark Kennedy to spy on environmental groups in Ireland, including the Shell to Sea campaign in Mayo. Dublin Sinn Féin MEP Lynn Boylan wants Justice Minister Frances Fitzgerald to get some long-overdue and straight answers from her British counterpart when she meets Home Secretary Amber Rudd this month.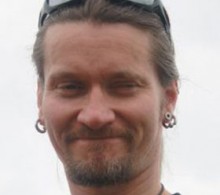 London Metropolitan Police officer Mark Kennedy (pictured) spent seven years, from 2003 to 2010, infiltrating environmental campaign groups engaged in direct protest action against nuclear power stations and other environmentally dangerous projects. Some of those who were charged and brought to trial as a result of these activities gave evidence that the police spy was an agent provocateur, facilitating, organising and instigating unlawful actions, not simply monitoring them.
Mark Kennedy worked for the secret National Public Order Intelligence Unit. It has been confirmed that Kennedy carried out his activities in Belfast, Mayo and possibly Clare.
The Irish Times reported that the undercover police officer "offered advice to those involved on how to organise protests during a workshop in north Mayo in March 2006".
He has admitted his role (and apologised for his actions) and he has been the subject of a TV exposé, Confessions of an Undercover Cop.

Activist and US citizen Sarah Hampton said she met Mark Kennedy in Ireland in 2005. Unaware that he was a police spy, she developed an intimate relationship with him. (The Metropolitan Police acknowledges that Kennedy and other police officers engaged in infiltrating environmental groups struck up long-term relationships with women activists as part of their cover story but maintain this was against protocol.)
Belfast solicitors KRW Law, acting for Sarah Hampton, have written to the Department  of Justice, asking it to confirm whether the Garda has ever investigated the actions of British police officer Mark Kennedy in Ireland.
"It is unclear what statutory powers were used to permit Mr Kennedy to operate [in Ireland], which official granted Mr Kennedy power to operate in the jurisdiction, and on what basis any such power was granted," KRW Law said.
"It would be a question of the utmost public concern if an undercover officer were effectively permitted to operate without justification, authorisation or oversight in Ireland."
The Department of Justice replied:
"To the extent that and for so long as the person in question was present in this jurisdiction, he would, naturally have been subject to Irish law. Any person who has any evidence of any criminal activity should make that information available to An Garda Síochána in order that it can be investigated."
Sinn Féin MEP Lynn Boylan (pictured above) wants Justice Minister Frances Fitzgerald to ask Amber Rudd:
Who authorised Mark Kennedy's trip to Ireland?
Who sanctioned the list of Irish campaign groups that were to be targeted?
Were any convictions in Ireland secured on evidence or actions carried out by undercover British police officers?
The Dublin MEP and environmental campaigner said:
"Justice Minister Fitzgerald will have the perfect opportunity to seek the answers and clarifications that the victims of British Metropolitan Police undercover policing in Ireland deserve."