29 September 2016
Palestine solidarity protest at Dundalk FC v Maccabi Tel Aviv – 7pm, Tallaght Stadium
THE Ireland-Palestine Solidarity Campaign (IPSC) will hold a peaceful protest outside the Dundalk FC v Maccabi Tel Aviv match at Tallaght Stadium in Dublin tonight (Thursday) at 7pm.
The protest, the IPSC says, has the aim of highlighting the BDS call for the expulsion of the Israeli FA from FIFA and UEFA due to Israel's ongoing human rights abuses against the Palestinian people, including Palestinian sportspeople.
● Maccabi Tel Aviv fans unfurl racist "Refugees Not Welcome" banner
An IPSC spokesperson said:
"The protest will be an act of solidarity with the people of Palestine who have suffered so much injustice, and continue to suffer daily, at the hands of the Israel's apartheid regime."
Outside the stadium, banners reading, 'Love Football, Hate Apartheid' and 'Boycott Israeli Apartheid' will be displayed alongside Palestinian flags and fans will be leafletted before entering the stadium.
The spokesperson from the IPSC added:
"Following in the footsteps of the successful sporting boycott against apartheid South Africa in the 1980s, Israeli apartheid should similarly be boycotted and Israeli teams excluded from international sporting arenas like UEFA and FIFA.
"Our protest is calling for a sporting boycott of Israeli football teams due to the apartheid nature of the Israeli state, the ongoing occupation of Palestine and the continual denial of rights to the Palestinian people."
The spokesperson said that while some people may suggest that sports and politics shouldn't mix, Palestine solidarity campaigners "believe there is no place in sport for racism or teams who act as ambassadors for racist or apartheid states".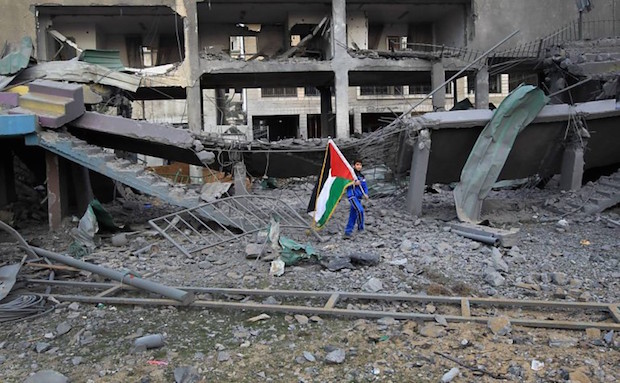 ● Bombed ruins of Palestine Stadium, Gaza (2012)
They said that, for decades, the Israeli state has colonised and occupied Palestinian land, forcing them to live as second-class and even third-class citizens deprived of fundamental human rights, while Palestinian sport and culture have been frequent targets of Israeli occupation forces.
"Just this week, a Human Rights Watch report revealed that the Israeli Football Association was complicit in human rights violations by allowing Israeli clubs based in illegal Israeli colonial settlements to take part in their leagues.
"All such settlements are illegal under international law and are war crimes under the Geneva Convention. By allowing the Israeli FA to continue its membership of FIFA and UEFA, these groups are, unfortunately, also complicit.
"This is one of the main reasons Palestinians are calling for the Israeli FA to be expelled from FIFA and UEFA."
The spokesperson concluded by quoting Mahmoud Sarsak, the rising Palestinian football star who was abducted on his way to training, imprisoned without charge or trial by Israel, and who only won his freedom after a career-ending 96-day-long hunger strike: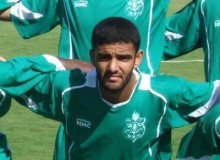 "There can be no place in football for segregation and oppression . . . I call on all those who spoke out for my release and the release of the Palestinian hunger strikers to once again show their commitment to justice and equality by insisting that UEFA move their competitions away from Israel and supporting the cultural and sporting boycott and other forms of boycott, divestment and sanctions (BDS). These were vital in the fall of the South African apartheid regime and similar initiatives will be vital to ending Israeli apartheid."
Tonight's demonstration is organised by the Ireland-Palestine Solidarity Campaign and supported by Academics for Palestine, Anti-Racism Network Ireland, Irish Anti-War Movement, Gaza Action Ireland, Jewish Voice for Just Peace Ireland, Peace & Neutrality Alliance, Solidarity Alliance Against Racism and Fascism, Trade Union Friends of Palestine, United Against Racism, and Sinn Féin.
An Phoblacht on Twitter

An initiative for dialogue 
for reconciliation 
— — — — — — —
Contributions from key figures in the churches, academia and wider civic society as well as senior republican figures