31 August 2016
How do you like them Apples, Fine Gael?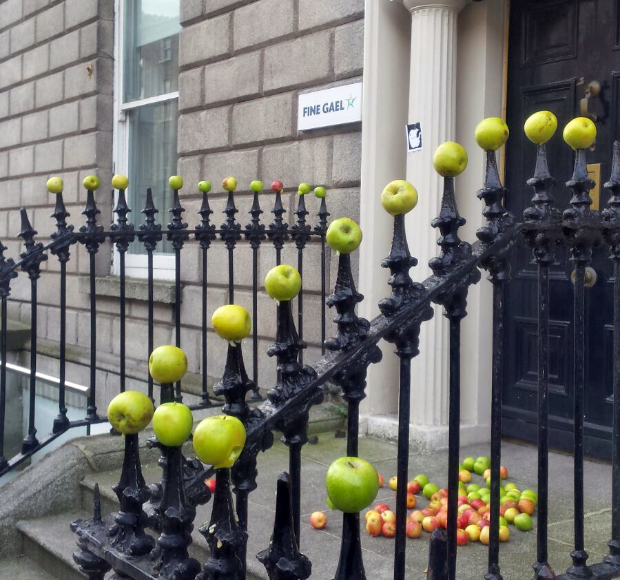 PROTESTERS dumped dozens of apples at the headquarters of the Fine Gael party in Dublin this morning as the controversy over the €13billion Apple Tax scandal continues.
On Tuesday a European Commission investigation found computer giant Apple's tax arrangements in Ireland amounted to illegal state aid and ordered the company to pay €13billion plus interest in back taxes.
However, the Irish Government led by Fine Gael is planning on using taxpayers' money to appeal the tax windfall.
Speaking to An Phoblacht, a member of Sinn Féin Republican Youth in Dublin said they are sickened by the attitude of Fine Gael, Fianna Fáil and Labour:
"We have a situation where hospitals are overcrowded, young people cannot afford to buy a home and education fees are soaring – yet this Government is willing to spend more taxpayers' money to let Apple off the hook. You actually couldn't make it up!"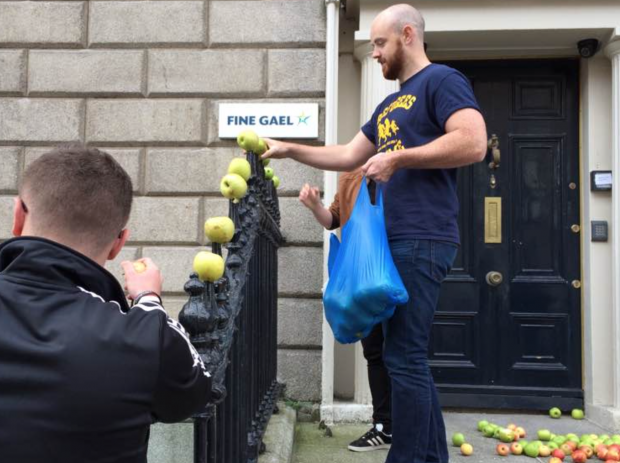 An Phoblacht Magazine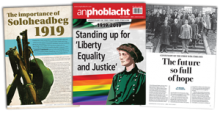 AN PHOBLACHT MAGAZINE:
Don't miss your chance to get the first edition of 2019 published to coincide with the 100th anniversary of An Chéad Dáil and Soloheadbeg.
In this edition Gerry Adams sets out the case for active abstentionism, Mícheál Mac Donncha takes us back to January 21st 1919, that fateful day after which here was no going back and Aengus Ó Snodaigh gives an account of the IRA attack carried out on the same day of the First Dáil, something that was to have a profound effect on the course of Irish history.
There are also articles about the aftermath of the 8th amendment campaign, the Rise of the Right and the civil rights movement.
An Phoblacht on Twitter

An initiative for dialogue 
for reconciliation 
— — — — — — —
Contributions from key figures in the churches, academia and wider civic society as well as senior republican figures