5 August 2016
Community solidarity with Féile an Phobail displayed in full-page newspaper advert
COMMUNITY GROUPS, trade unions and political parties in Belfast have taken out a full-page advertisement in a daily newspaper to "condemn threats against community workers". The move comes after a leaflet drop by a group called the Irish Republican Prisoners' Welfare Association named Féile an Phobail organisers and accused the festival of propagating a "pro-British strategy" because of the presence of the PSNI during events.
Féile is Ireland's largest community festival, having grown from 1988 to become internationally renowned and featuring top headline acts from music, comedy and drama as well as hosting ground-breaking social and political debates.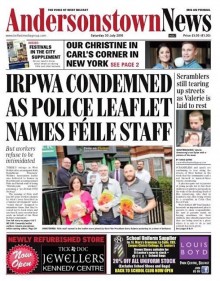 The IRPWA, which supports prisoners opposed to the Peace Process, has denied the naming of individuals constitutes a threat. Féile has invited the IRPWA to meet and discuss its claims.
The full-page advertisement in Friday's Irish News is signed by grassroots community development and residents' associations, youth groups, Belfast & District & Trade Union Council, West Belfast Partnership Board, Falls Community Council, Cultúlann McAdam Ó Fiaich, Relatives for Justice, the Pat Finucane Centre, the Bloody Sunday Trust, among many organisations.
Elected representatives from Sinn Féin, the SDLP and People Before Profit also signed the petition.
The text says:
"Over the past fortnight, there has been a marked increase in intimidation and threats to members of the culture, arts, youth and community sectors across Belfast.
"We, the undersigned organisations, make a direct appeal to those people to immediately cease this anti-community agenda. Youth and community workers should be able to continue their valuable work in our communities free from intimidation, threat and harassment."