1 August 2016 Edition
Buying power to the people
Stopping shopping for Zionism
Moves by Israel and its allies to outlaw BDS show that boycotts worry them
GROCERY SHOPPING is one of the most tedious of household tasks most people dread. Pushing a wonky trolley up and down aisles in a supermarket just isn't anybody's idea of fun but it has to be done. 
And it is especially time-consuming if, like our family, you try to be ethical shoppers who check out the brands.  
We're cereal boycotters.
We refuse to buy Kellog's Corn Flakes as the breakfast giant is one of dozens of companies owned or linked to Monsanto, one of the largest pharmaceutical and agricultural companies that producers a wide range of genetically-modified foods and seeds, drugs and pesticides and herbicides which many people see as a major threat to people's health.
But it is in support of the Palestinian call for Boycott, Divestment and Sanctions (BDS) that we have waged our boycott campaign with particular vigour, especially after witnessing the vicious Israeli state's attack on Gaza in 2008/09.
Codenamed "Operation Cast Lead", the Zionist military launched its blitz on Gaza over the Christmas period, killing 1,166 Palestinians and wounding 1,417.
Like so many people, frustrated by my powerlessness, and furious at the anti-Palestinian reportage of the Western media, I looked about for some tangible way of showing solidarity with the people of Gaza and Palestine.
It was about that time I seriously got into the idea of the BDS movement as part of my everyday life, not just rallies. If boycotts could work for the South African people in their struggle against apartheid, it could help Palestine also.
I began searching out information on companies who support the state of Israel and we stopped shopping with them.
Tesco and Marks & Spencer went to top of my 'Don't shop there' list, given that they stocked both Israeli products and goods sourced in the Occupied West Bank, which is actually illegal under international law. 
Something to be on the lookout for due to the effectiveness of the BDS campaign are companies branding Israeli goods as either 'own brand' items or are falsely labelling them.  
For example, Hadiklaim is Israel's largest exporter of dates. Some of its dates originate from the occupied Jordan Valley and Dead Sea area and therefore is illegal yet the company sells the dates in supermarkets such as Waitrose, Tesco and Sainsbury's under brand names such as Jordan River and King Solomon to cover up the fact they come from the Occupied West Bank.
Eventually, we discovered the Buycott app and boycotting become hi-tech.
All we had to do was scan the barcode of a product and the app would come back with a message of approval or disapproval.
So if something was on the BDS boycott list the app would ping back the information: "This is a product of Israel."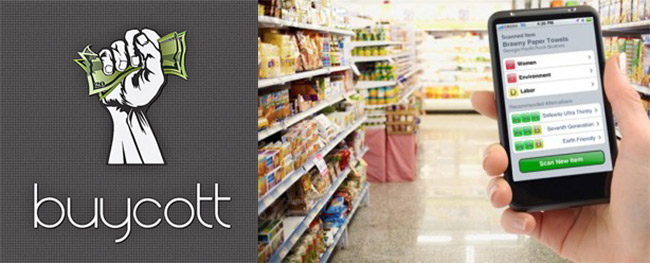 • We discovered the Buycott app and boycotting became hi-tech – and it's free
Like most people, we found there were some old favourites that just had to go back on the shelf when Buycott warned us off them, but, hey, I can live without that packet of Nestlé's white chocolate bars, especially when I now know that Nestle's main presence in Israel is in Sderot, a settlement founded in 1951 near the Gaza Strip built on the lands of the Palestinian town of  Al-Najd which was ethnically cleansed in 1948.
So the Milky Bar Kid will never be the same again and every time I see Helen Mirren on TV advertising L'Oréal reciting "Because you're worth it",  I think of the hundreds of Palestinian children whose lives, whose futures were not worth it.
(Mirren is "a believer in Israel . . . I think this is an extraordinary country filled with very, very extraordinary people" she says, dismissing the BDS campaign.)
Moves by Israel and its international supporters attempting to outlaw people and organisations who promote BDS show that Zionists are worried about the long-term effect of an anti-apartheid-type boycott.
An Israeli Finance Ministry report made public in 2015 after a two-year freedom of information battle revealed that the state's economy could lose up to $10.5 billion per year if the country is subject to a full international boycott. 
Clearly, BDS is effective, it is working and it gives people a way of doing something positive in solidarity with the people of Palestine.
BDS – Boycott, Divestment and Sanctions

THE global movement for a campaign of Boycott, Divestment and Sanctions (BDS) against Israel until it complies with international law and Palestinian rights was initiated by Palestinian civil society in 2005 and is co-ordinated by the Palestinian BDS National Committee (BNC), established in 2007.
BDS is a strategy that allows people of conscience – wherever they are in the world – to play an effective role in the Palestinian struggle for justice.
» Also see the Ireland Palestine Solidarity Campaign website www.ipsc.ie under the heading "Campaigns".