3 June 2016
Dáil Bill seeks to ban fracking and 'stop it gaining a foothold in Ireland'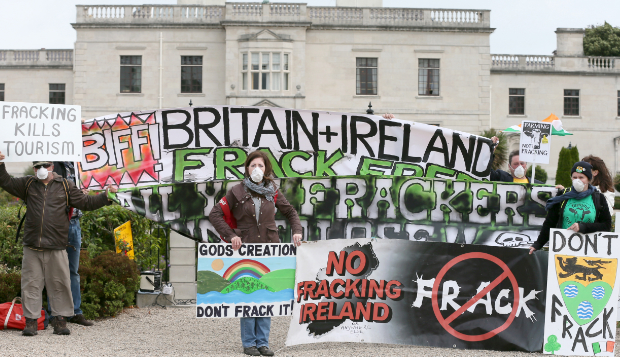 A DÁIL Bill which aims to ban the controversial natural gas extraction technique of hydraulic fracturing – commonly known as fracking – in the state has been launched by Sinn Féin TDs Brian Stanley and Martin Kenny.
The extraction process involves pumping thousands of gallons of water mixed with rock-dissolving chemicals into the ground to break up the rock and allow trapped gas to move towards the surface, where it can be extracted.
However, it has been widely blamed for contaminating drinking water as well as causing minor earthquakes – prompting a number of states and regions to ban its use.
The Bill will aim to ban the use of unconventional gas extraction techniques as well as provide social clauses and public consultation on the granting of leases to extract natural resources.
Martin Kenny TD said his party wants to prevent the process from gaining a foothold in Ireland:
"The prospect of fracking in Ireland is a matter of grave concern that poses dangerous risks to the environment and public health."
Sinn Féin Communications, Energy and Natural Resources spokesperson Brian Stanley TD (pictured) says the focus in Ireland should be on renewable energies:
"Renewable sources of energy will become increasingly important for our energy security in the coming years. That is why this bill will also seek to ring-fence a section of the profits from our oil and gas for investment in renewable energy."
Brian Stanley also expressed concern at reports of exploratory drilling linked to fracking in the North, in County Antrim:
"The threat of fracking on one part of the island is a threat to the natural green image of the entire island," he said, adding that therefore it is important for an all-Ireland approach to outlaw what he described as a process which "causes air pollution and poisons underground water tables".
An Phoblacht on Twitter

An initiative for dialogue 
for reconciliation 
— — — — — — —
Contributions from key figures in the churches, academia and wider civic society as well as senior republican figures