16 May 2016 Edition
Israel's jailing of Palestinian children
Zionist regime ramps up targeting of women and kids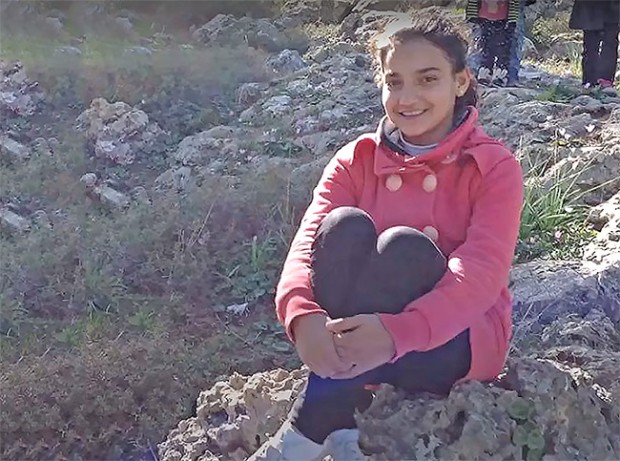 Detainees are also frequently deprived of sleep, shackled, and forced into stress positions similar to how the 'Hooded Men' in Ireland were treated by the British
On 24 April, 12-year-old Palestinian girl Dima al-Wawi was released from an Israeli prison. Crying and comforted by her mother, she was welcomed back to her home village of Halhoul near Hebron by friends and family after two and a half months behind bars. Dima was arrested on her way to school by Israeli occupation forces for allegedly having a knife in her schoolbag.  "I am happy to be out. Prison is bad," the schoolgirl told the Associated Press. "I missed my classmates and my friends and family." She was freed two months early after an appeal. 
Four days earlier Aouda Zbidat – a lawyer with Addameer, the Palestinian Prisoner Rights' Association, was speaking in Dublin as part of a series of talks organised by the Ireland-Palestine Solidarity Campaign (IPSC).
If Dima was an Israeli, she could not have been imprisoned, Aouda points out:
"Under Israeli rule, children under 14 cannot be sent to prison. They may only be arrested for a short while. However, most of the West Bank is under military rule where 12 years is considered the age of criminal liability. And under Israeli law (such as that in occupied Jerusalem), there is new legislation on the way which says that children between 12 to 14 can be sentenced to prison if their crime has 'nationalistic motives'. And it's fairly obvious this is aimed solely at Palestinian children."
The most recent statistics show that there are more than 7,600 Palestinian political prisoners held in Israeli jails. At least 750 of these are internees, held without charge or trial. There are 420 child prisoners and 68 women; 6 elected members of the Palestinian Parliament are also locked up.
Aouda says Israel has ramped-up its detentions in recent months, particularly those of women and children.
"On an annual basis, around 700 children are prosecuted in Israeli military courts. It is one of the few countries in the world that do this. However, Israeli soldiers frequently detain children much younger than that. Often children are arrested during night raids and excessive force is regularly used," she says, referencing the Defence for Children International Palestine (DCI) recent report on the Israeli military's abuses.
Aouda says Israel systematically denies the right to the presence of counsel.
"I have never been able to be present during the interrogation of one of my clients who is a child, nor are parents allowed to be present," she says.
Most children are not informed of their rights. They are often placed in solitary confinement and coerced into signing confessions.
"These confessions are often relied on exclusively to prosecute these children. Most of the time they are the only evidence yet they do secure convictions with them."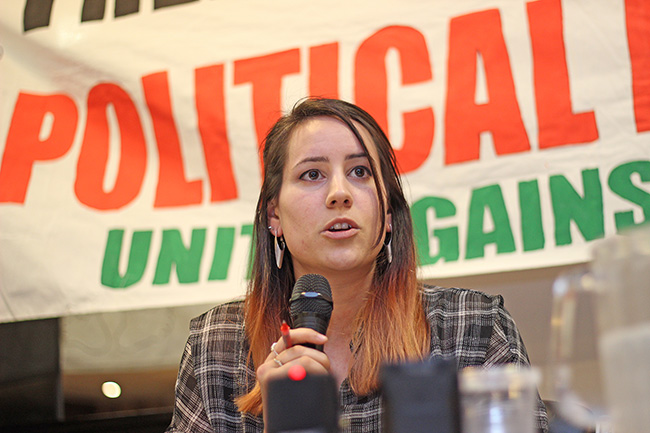 • Aouda Zbidat
She points out that six teenagers at the moment are held as internees without charge or trial. "This is a violation of the rights of the child under international law."
She says the inability of prisoners to challenge their detention legally is why so many Palestinians are resorting to hunger strikes. She says in order to counter this, the Israeli district courts may now legally order the force-feeding of hunger striking prisoners. The forced administration of drugs on prisoners has also taken place.
She outlines how detainees are also frequently deprived of sleep, shackled, forced into stress positions (similar to how the 'Hooded Men' in Ireland were treated by the British) which, in her opinion, constitute torture. "It also has a prolonged psychological effect."
The DCI report notes that children who have gone through arrest and imprisonment at the hands of occupation forces "struggle to reintegrate into their communities, often withdraw from their community, staying indoors for many hours a day and seldom leave their home or village". Many suffer psychological trauma and post-traumatic stress disorder, while their educational achievements are severely affected.
Aouda believes the issue of political prisoners is vital to an eventual just and lasting peace in Palestine. 
"We demand the release of all political prisoners. We believe it is central to the end of the Occupation."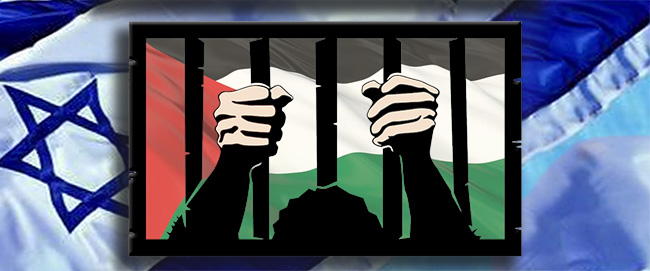 More than 7,600 Palestinian political prisoners held in Israeli jails
At least 750 of these are internees, held without charge or trial
There are 420 child prisoners
68 women
6 elected members of the Palestinian Parliament are also locked up