16 May 2016 Edition
We stand by the Republic
Sinn Féin Ard Fheis 2016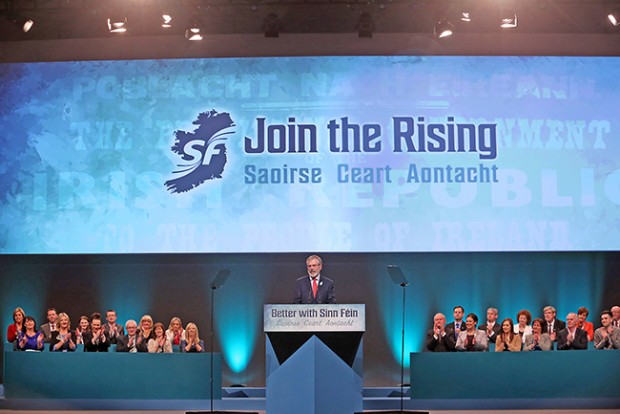 'In the spirit of the rebels of a century ago, we meet here in full confidence of victory'
SINN FÉIN fittingly chose Dublin for its 2016 Ard Fheis, which took place the day before the official centenary of the Easter Rising. Deputy leader and Dublin TD Mary Lou McDonald used the opportunity to welcome republicans from across Ireland to "the city that fought an empire".
It being such a momentous year, Irish unity and the fulfillment of the vision of the Proclamation were major themes of this year's Clár. Mary Lou McDonald said it is up to every person present to work towards building Sinn Féin's mandate:
"In the spirit of the rebels of a century ago, we meet here in full confidence of victory," she said. 
Matt Carthy MEP  hit out at those who vilify promoters of Irish unity and said it is for republicans to convince people of the benefits of reunification:
"Because if we don't do it – then who will? And, if we don't integrate the united Ireland project into all our work now, then when?"
Party Chairperson Declan Kearney, who has been key to the Uncomfortable Conversations initiative, spoke on the need for reconciliation and addressing the legacy of pain from the conflict:
"There has been much suffering on all sides. We must begin to heal those hurts and divisions. The politics of hatred, recrimination and resentment will only serve to imprison our society in the past."
It was a theme also taken up by Martin McGuinness, who said republicans have a duty to reach out to the unionist community in a spirit of generosity.
"I know that some people are uneasy at times about me reaching out to others but if we are to remain true to the spirit of the women and men of 1916 then we must continue this work," he said.
"Others don't always reciprocate but that is not a good enough reason to stop doing it."
There was great excitement with news that Basque pro-independence leader Arnaldo Otegi, recently released from a six-year prison term, was to attend the annual gathering. After meeting with the Sinn Féin leadership, with members of the Basque community in Ireland he took part in a commemoration at Arbour Hill where 14 of the 16 executed leaders of the Rising are buried. He also delivered a rousing Ard Fheis speech on Saturday night.
Other international delegates who addressed the meeting included the Cuban Ambassador to Ireland, Dr Hermes Herrera Hernández, who thanked Sinn Féin for its support for the Cuban struggle. President of Palestine Mahmoud Abbas sent a special video message to the Sinn Féin Ard Fheis in which he described the Easter Rising as "courageous and legitimate" and praised the leadership of Gerry Adams for taking bold steps to achieve peace. 
For the first time the British Ambassador to Ireland, Dominick Chilcott, attended the Ard Fheis on Saturday night.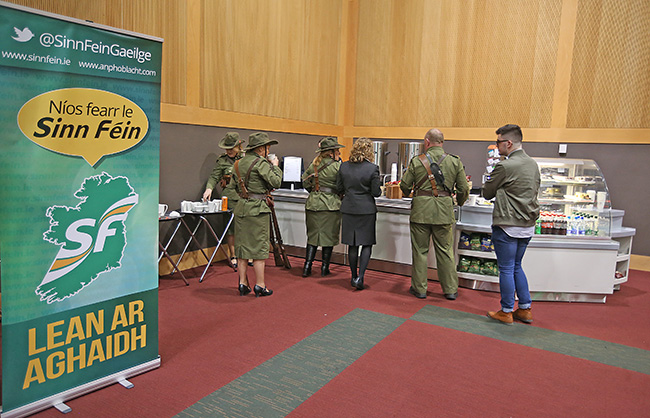 • 'Irish Volunteers' fall out to take a well-earned break
That evening saw the Ceiliúradh Céad Bliain – a musical, drama and cultural show to mark the 100th anniversary of the Easter Rising. (You can watch it at www.youtube.com/sinnfeinireland.)  
During the event, homeless mother Erica Fleming, whose plight was highlighted on RTÉ television's My Homeless Family documentary, delivered a blistering speech on the failure of the Fine Gael/Labour Government to deal with the crisis.
"We are being treated as if we don't matter, as if we are at fault for becoming homeless," she said, her passion and anger resonating in every sentence. "To the outgoing government we are only a number. We are only a statistic. They forget that we are real people, with real lives and real feelings. They forget that our children are watching how the outgoing government is failing us."
To a standing ovation, Erica said she believed the heroes of 1916 would be appalled by the injustice in modern society one hundred years on.
"I believe that they would stand beside us and demand action now. I believe that they would want us to stand up, to stand together – to stand side by side," she said.
More than 2,000 delegates and visitors packed into the auditorium for Gerry Adams's Presidential Address, which was televised live on RTÉ.
• Michelle Gildernew, Catherine Seeley, Gerry Adams, Mary Lou McDonald and Martin McGuinness at the end of the Ard Fheis
Commenting on the spectacle of the two conservative parties of Fianna Fáil and Fine Gael wanting to control Government and Opposition, he said that, unlike those parties, Sinn Féin wants to create an Ireland of equals:
"Sinn Féin owe our allegiance to the people of this island. We love Ireland. We value this small island. So our resolve must be to end all divisions and to unite our people. Tá Sinn Féin an-soiléir faoi seo."
Hitting out at the revisionists such as former Fine Gael leader John Bruton who have condemned the Easter Rising while praising people like John Redmond and Edward Carson "who sent a generation of young Irishmen in the Irish Volunteers and Ulster Volunteers to fight Germans, Austrians and Turks, with whom they had no quarrel", Adams said to huge applause:
"1916 was right! Bhí an ceart ar fad ag na mná agus na fir a sheas an fód san Éiri Amach. It was Republic versus Empire. Republicanism versus Imperialism."
After quoting from Bobby Sands's prison diary, the Louth TD ended his speech by saying:
"The people of Ireland are no mean people. We have great resilience and great potential. We know whose side we're on. We stand by and for the Republic."