27 April 2016
Joe Clarke and the Battle of Mount Street Bridge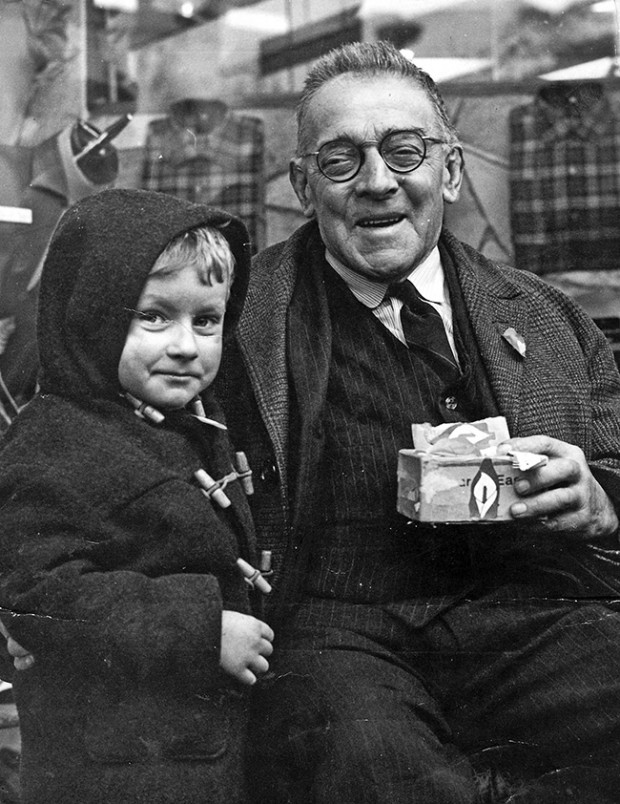 JOE CLARKE, uncompromising Fenian, veteran of the famous Battle of Mount Street Bridge, and 'a life-long republican, was born at Rush, County Dublin, in December 1881. 
During the early years of the century he became involved in the Gaelic League and Sinn Féin and on the day after the Howth gun-running of July 1914 he joined the Irish Volunteers.
With about half his unit he moblised at Earlsfort Terrace at noon on Easter Monday, 24 April 1916. Under the command of Michael Malone, the 13 Volunteers marched to· Mount Street Bridge, an outpost of the Boland's Mills garrison, where seven Volunteers occupied Clanwilliam House; four (including Clarke), occupied St Stephen's Parochial Hall, just over the bridge; and Malone and Jim Grace took over 25 Northumberland Road. 
At noon on Wednesday 26 April, the famous Battle of Mount Street Bridge began during which 13 men held the bridge for nine hours against thousands of the Sherwood Foresters regiment of the British Army. 
At 7pm, after a fierce battle, Clarke and his three comrades in the Parochial Hall ran out of ammunition. The four hoped to get away under cover of darkness and reach another unit but only one succeeded. Clarke and two others were captured in Percy Place, at the rear of the hall. 
• Joe with Constance Markievicz 
ARRESTED 
Clarke was arrested and placed against a door and a British soldier prepared to execute him but the bullet missed, hitting the door just above his head. He was then hauled off to Ladd Lane Police Station. 
With hundreds of other republicans, Clarke was marched to the North Wall, shipped to England and imprisoned in Wakefield Prison. He was later interned in Frongoch Internment Camp in Wales.
Upon his release in 1917, he threw himself into the reorganisation of Sinn Féin and the Volunteers. During the Tan War he was a trusted courier, carrying messages, often at great personal risk, between many of the leaders. 
After the establishment of the First Dáil in January 1919, he was appointed Dáil Éireann courier and the following year, at the local elections in January, he was elected to Dublin Corporation. 
OPPOSED TREATY 
Clarke opposed the Treaty of 1921 and was arrested in November 1922. He was subjected to particularly savage torture at the hands of his Free State captors and in the decades which followed he was imprisoned and interned on over a dozen occasions. 
During the 1920s, he was a founder member of National Aid, now known as An Cumann Cabhrach (Prisoners' Dependants' Fund}, the Republican Commemoration Committee and, in 1926, of the National Graves Association. 
He supported the 1956-62 IRA Border Campaign but because of a severe illness he was unable to play an active role in the fight. 
During the 1960s, through his Irish Book Bureau at 68 Upper O'Connell Street and which he later ran from his home in O'Donovan Road, he played a major role in publishing and distributing republican literature, not only throughout Ireland but all over the world.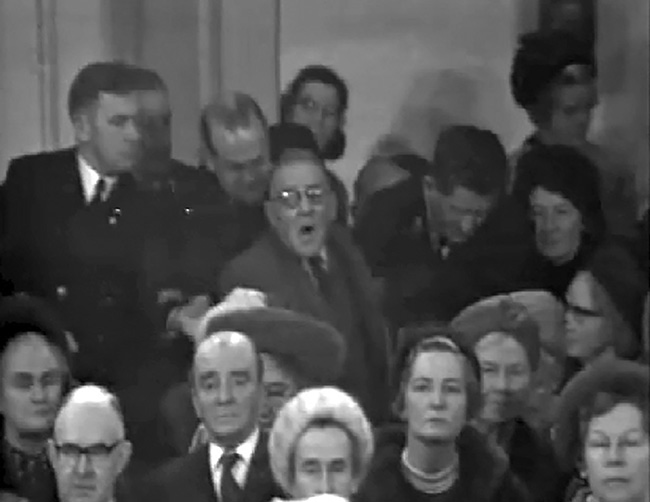 • Joe Clarke being ejected from the Mansion House
As a 1916 veteran he received invitations to attend official 26-County state functions on significant anniversaries but always refused. However, in January 1966, when he received an invitation to attend the state's commemoration of the 50th anniversary of the First Dáil, he was persuaded by the IRA leadership to attend in order to make a protest.
The subject of the protest was the dire housing shortage in Dublin. The Dublin Housing Action Committee was campaigning on the issue and one of its members, Dennis Dennehy, was on hunger strike in Mountjoy Prison. Hundreds of people took part in a demonstration outside the Mansion House on 21 January. Meanwhile, in Cork, housing campaigners occupied City Hall. 
The main speaker in the Mansion House was President Eamon de Valera. As Dev began his speech, the veteran Joe Clarke, who walked with the aid of crutches, rose and shouted a protest:  
"The Programme of the old Dáil had never been implemented. This is a mockery! There are people on hunger strike in Mountjoy. The housing of the people . . ." 
Before he could finish the sentence, Joe Clarke was carried out of the Round Room by Dáil ushers.
In January 1970, he was elected onto the caretaker executive of Sinn Féin and remained an active member of the Ard Chomhairle until 1972, when he was made "Vice-President for Life". 
Joe Clarke died on 22 April, 40 years ago, during Easter Week 1976. He was buried in the Republican Plot in Glasnevin Cemetery 60 years to the day after the historic Battle of Mount Street Bridge.
Do you know Joe Clarke?  
An Phoblacht, Historical Supplement, December 1971
EVERY adherent of Sinn Féin in Ireland knows Joe Clarke. He was caretaker of 6 Harcourt Street long before 1916, and in Easter Week he shouldered his rifle to fight and subsequently interned in Frongoch. Throughout the stirring period of 1917-21, he was ever at his post, whatever the danger, working 20 hours a day without a grumble but ever cheerful and paid a miserable pittance by the Sinn Féin organisation. 
On scores of occasions he saved the lives of Michael Collins, Harry Boland, Cathal Brugha and Dick Mulcahy, imperiling his own life for their sakes. He held the fort at Number 6, often spending his nights on the rooftops while the Black and Tans were bursting up the floors inside, looking for him. 
Here is Joe's own story of his treatment during one episode in 1922.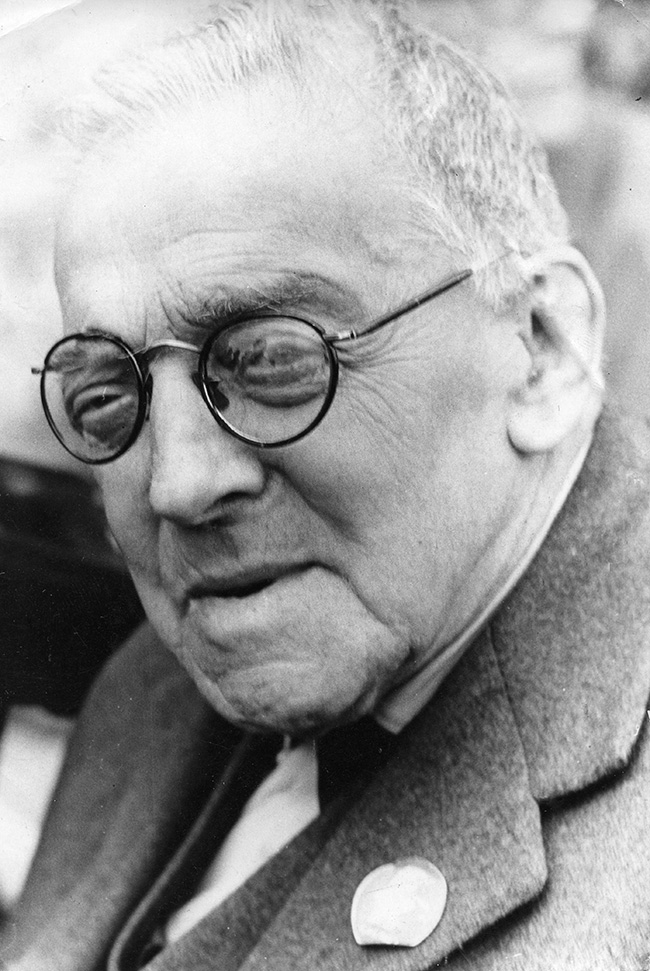 Wellington Barracks, 13.11.22 
"On Wednesday, the 8th inst, I was arrested by CID men who were in a motor in Capel Street, at 3pm. At the time I was cycling. One of the CID men was Joe Leonard. He threatened me with his .45 Webley and said he would make me tell where The Republic was printed, and also the whereabouts of Austin Stack. I was taken to Mountjoy and kept waiting outside for some time; then to Portobello where I was interrogated by an Intelligence Officer who beat me about the body with his .45 Webley. He struck me several times with the butt and muzzle. He said he would make me tell where The Republic was printed and that if I sent out notes about the way I was assaulted, that he would make it hot for me. Joe Leonard of the CID with others was present all the time. 
"I was then brought to Wellington Barracks about 5:30. Here myself and nine others were lined up and brought into the torture room one by one. When I was taken in, my coat was, taken off me and I was asked to give information about The Republic newspaper, the people who went in and out of 23 Suffolk Street, and the whereabouts of COM. 
"Frank Bolster and Dolan (with coat off and sleeves turned up) twisted my arms and kicked me on the legs and body, tore my moustache off with a scissors; razor and some other torture instruments. Dolan did most of the torture, assisted by Bolster. They also twisted my ears with a pliers. They also threatened to use a hot iron if I did not give them information. Dolan made a blow at me with a large black bottle. I dodged the blow. Bolster said I should be shot. There were six or eight men in the room during the torture, including Lieutenant Tom Scully. I was told I would be taken to the torture room again in an hour's time if I did not give the information wanted. All my money (over £6), a fountain pen and a knife were taken from me by Dolan. I was then taken to a cell off the guardroom and left there with seven others without bed or bedding of any sort. 
"Next day I was again taken to the IO's office and the O/C Prisoners denied getting any account of property or money taken from me. Bolster then said my money was taken from me but that he had nothing to do with it. Nearly all the prisoners were tortured that Wednesday night. One of them, John Lawlor, was so badly beaten that he was taken to Beggar's Bush Hospital for treatment."
(Signed by Joseph Clarke)
The Battle of Mount Street Bridge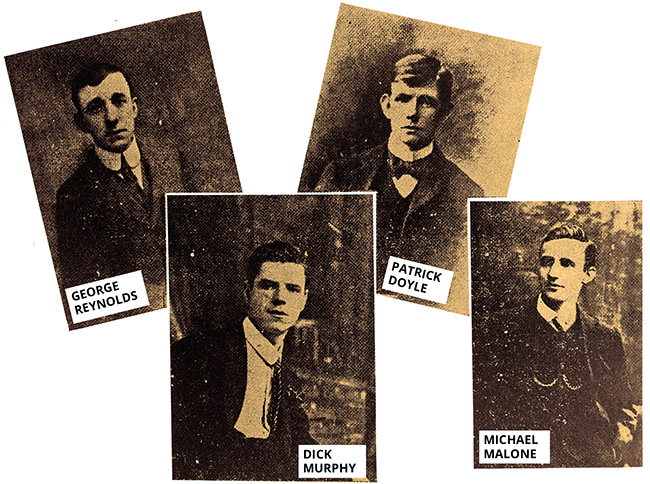 • The four Volunteers who lost their lives in the battle that raged over two days
AMONG the tales of tragic deaths during Easter Week 1916 there are has many stories of heroism and miraculous escapes, feats of endurance and unwavering spirit. The events around the GPO in O'Connell Street are well-known and well-documented. The events in the outlining outposts dotted around Dublin and in the areas of activities in the other counties are not as well known. The heroic spirit of the 1916 Rising is captured in the experiences of one man – Joe Clarke.
On Easter Monday, after Eamonn de Valera led his contingent of Volunteers into Boland's Bakery, a number of Volunteers were sent out to secure the approach road from Dún Laoghaire and to stall the anticipated British reinforcements who would disembark there and head towards the city centre.
The 17 Volunteers in the outposts were distributed around the Mount Street Bridge area as follows: the Parochial Hall was held by four Volunteers; 25 Northumberland Road had four Volunteers initially, though two were sent home for being to young; Clanwilliam House was occupied by seven Volunteers and there were two Volunteers in the Schoolhouse. A female dispatcher brought news on Wednesday of nearly 2,000 British soldiers having landed in Dún Laoghaire and that the 7th Battalion Sherwood Foresters were heading towards them.
The reinforcement column met its first resistance when it paused at Carisbrook House (near Jury's Hotel today). They responded to sniper fire by riddling the house, though it didn't contain any Volunteers. The column was thus alerted that the Volunteers were in the area. 
They had gone no more than 500 yards further when they came under sustained fire from the two Volunteers in 25 Northumberland Road. It took five hours of sustained firing to dislodge the defenders. Ten British soldiers fell at the first volley. Volunteers in the other outposts close by also began picking off the attackers who remained exposed to their fire.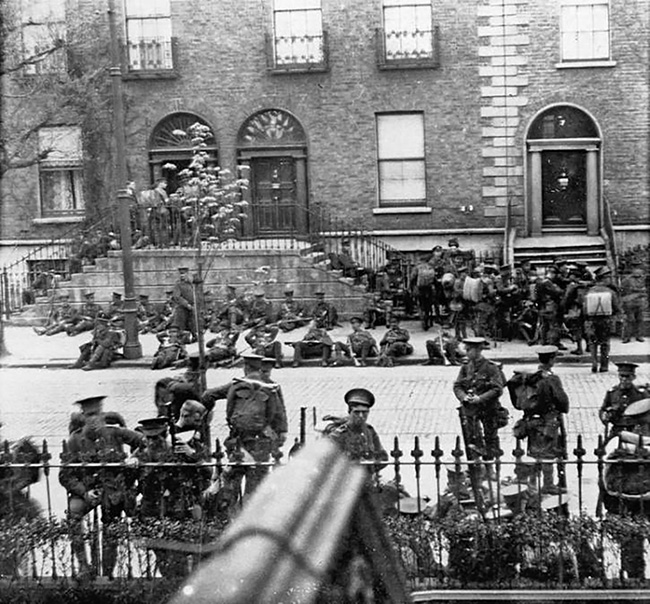 • Sherwood Foresters on Northumberland Road, 26 April 1916
Finally, the house was rushed and Volunteer Lieutenant Michael Malone was shot dead as "he coolly came down the stairs to meet them, his pipe in his mouth". The other Volunteer in the house, Section Commander James Grace, succeeded in secreting himself behind a cooker and after several hours escaped from the area. (He was arrested some days later.)
While the British soldiers attacked 25 Northumberland Road, they also moved against the Schoolhouse and the Parochial Hall. The Volunteers in both continued a fierce firefight until flames drove them from their stations. Sceilig (J. J. O'Kelly) describes the scene in Dublin's Fighting Story:
"The Parochial Hall, lying between 25 Northumberland Road and Clanwilliam House, was held by four men: P.J. Doyle in command, Joe Clarke, William Christian and J. McGrath. Standing well back from the footpath on the Sherwood Foresters' line of march, it had advantages and disadvantages. Though it afforded no view of the advancing troops, the four defenders poured volley after volley into them whenever they attempted to dash or to crawl past it, thus halting them until they were shot down by the marksmen of Clanwilliam.
"As in the case of the more advanced post, no aid, no message reached them from Boland's Bakery. They held out until six o'clock on Wednesday. Having fired their last shot while being assailed with a very inferno of bombs, as well as revolver and rifle fire at close range, they retreated by the back to Percy Place. Here they were intercepted and seized by British troops, now practically in possession of all approaches and exits.
"Joe Clarke, on being searched, was found in possession of his revolver, and placed with his back to a door, hands up. With his own revolver he was fired on, the bullet piercing the door just above his head.
"Immediately, the door was thrown open, an indignant doctor rushed out, having narrowly escaped being shot as he attended one of a yardful of wounded British soldiers; and, after an almost miraculous escape, Joe was led away, his hands bound behind his back."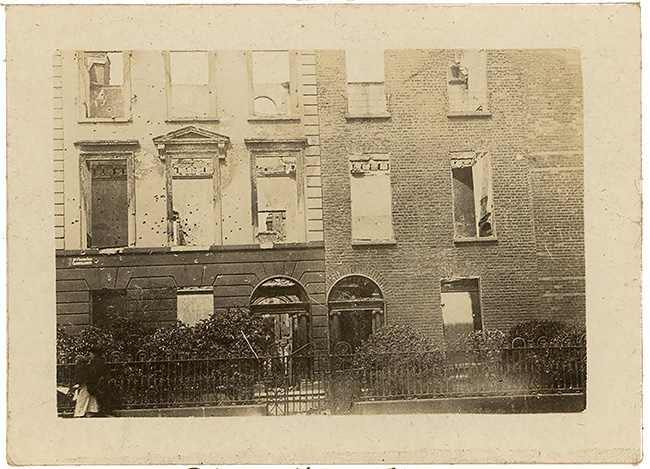 • The aftermath of the Battle of Mount Street Bridge
The fight at Clanwilliam House continued as British soldiers tried in vain to cross Mount Street Bridge:
"The rebels poured fire into the troops with devastating effect. As one soldier was killed, another crawled over or around him, only to be halted himself. The entrance to the bridge became a mass of dead and wounded soldiers. Again and again, an officer would step up and lead a few men in a charge over the bridge. And again and again, they would be shot down, falling to join the heap of bodies on the bridge."
When eventually the house was engulfed in flames and with their ammunition expired, the surviving four Volunteers escaped over the back wall. When the final charge came, one officer threw a grenade at one of the remaining intact windows; it bounced back and exploded, killing him.
Joe and his comrades from the other outposts were first brought to Ladd Lane Barracks before joining the other captured Volunteers and later those who had surrendered, when being transported to British jails to serve their sentence or to be interned. Joe was first held in Wakefield Prison, before being transferred to Frongoch in Wales. Similar to others who were interned, mainly in the Frongoch Concentration Camp, Joe returned to Ireland more resolute than ever. Though a father of three and needing to help provide for them, he rejoined the struggle and submerged himself in IRA activities in his native county.
Up to 250 British soldiers were killed or wounded and their morale shattered by the gallant band of Volunteers around Mount Street and their advance was delayed by a day. Four Volunteers lost their lives in the battle, which raged over the two days: Michael Malone, Dick Murphy, George Reynolds and Patrick Doyle. Five others escaped arrest, while four were captured, including north County Dublin man Joe Clarke.
Joe Clarke was to remain active for seven decades in promoting and fighting for the Republic he declared along with the other Volunteers in 1916 and which he fought for at the Battle of Mount Street Bridge during the Easter Rising.
• The survivors of the Battle of Mount Street Bridge – Standing: Jim Walsh, Pat Doyle, Patrick Roe  and Tom Walsh. Middle row, sitting: Michael Byrne, Seamus Grace and Joe Clarke. Front row, sitting: Willie Ronan and James Doyle
An Phoblacht Magazine
AN PHOBLACHT MAGAZINE:
Don't miss your chance to get the second edition of the 2019 magazine, published to coincide with Easter Week
This special edition which focuses on Irish Unity, features articles by Pearse Doherty, Dr Thomas Paul and Martina Anderson.
Pearse sets out the argument for an United Ireland Economy whilst Pat Sheehan makes the case for a universally free all-island health service.
Other articles include, 'Ceist teanga in Éirinn Aontaithe', 'Getting to a new Ireland' and 'Ireland 1918-22: The people's revolution'.
An Phoblacht on Twitter

An initiative for dialogue 
for reconciliation 
— — — — — — —
Contributions from key figures in the churches, academia and wider civic society as well as senior republican figures