23 April 2016
'Up the Rebels!' – Basque leader Otegi's historic address in Dublin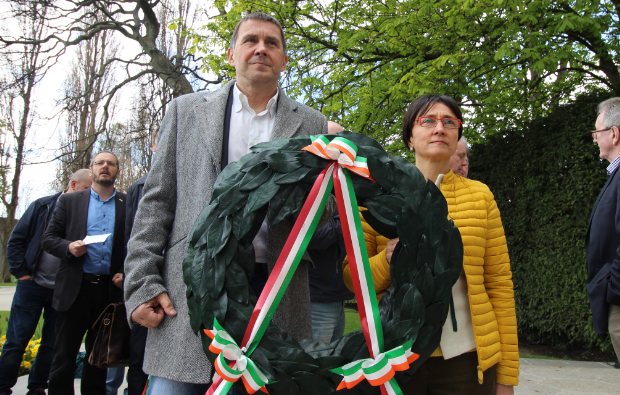 FREED Basque independence leader Arnaldo Otegi said he looks forward to the day when a united Irish Republic and a united Basque Republic will stand shoulder to shoulder on the international stage. 
Members of the Basque community were among the 2,000 people who packed into the auditorium of the Convention Centre Dublin to hear him speak.
Earlier, Arnaldo along with members of the Basque community in Ireland had laid a wreath at Arbour Hill, where 14 of the 16 executed leaders of the 1916 Rising are buried.
Speaking in Basque, Arnaldo thanked all those who had supported him and other Basque political prisoners:
"This year I have the opportunity to address you in person and not through letters written from the dungeons of the Spanish state, where still hundreds of Basques keep on serving sentences, as has been for the last six years of my life," he said.
Speaking of the 1916 Rising against British rule in Ireland, the Basque leader said:
"The Proclamation was a call for national sovereignty, democracy, equality, civil liberties and social justice. It was a statement that had its impact not only in Ireland but hit the consciences of so many oppressed peoples, like Basque, who saw it and the Irish struggle as a source of inspiration."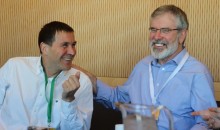 Otegi spoke of the 1981 Hunger Strike, and said his thoughts are with the Palestinian, Kurdish and Sahrawis imprisoned today. He said the sacrifice of the Hunger Stirkers "continues to inspire the oppressed peoples and the men and women who love freedom around the world".
Arnaldo said that the aims of Irish republicanism and Basque nationalism have never been motivated by personal gain:
"We love freedom, freedom for our nations and for their the men and women. And we love it so hard that we have always been willing to give everything for it,".
Referencing Pádraig Pearse and executed Basque poet Lauxeta, he spoke of deepening ties between "gallant allies" of Ireland and the Basque Country:
"Friends of Sinn Féin, we have no doubt that our day will come, the day when a free united Irish Republic and a free united Basque Republic will be shoulder to shoulder in the concert of nations in a more just and equal world," he declared, saying that he had no doubt both struggles will continue to move forward.
"I end here with the words of Bobby Sands: 'Our revenge will be the laughter of our children'"
Leaving the stage, the Basque leader shouted "Up the Rebels!" to cheers from the thousands of delegates and visitors.
An Phoblacht on Twitter

An initiative for dialogue 
for reconciliation 
— — — — — — —
Contributions from key figures in the churches, academia and wider civic society as well as senior republican figures