7 March 2016 Edition
Time for the release of Leonard Peltier is now
American Indian Movement leader has been in prison 40 years – longer than Nelson Mandela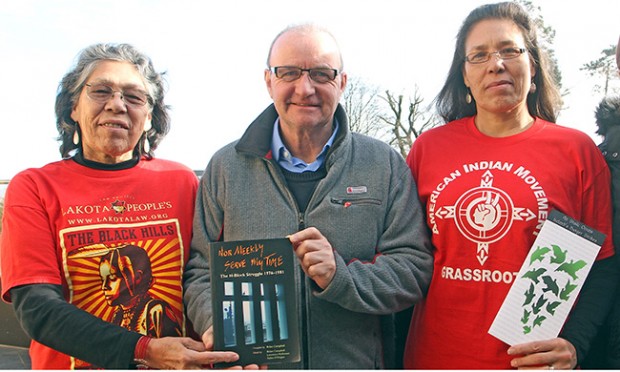 Nelson Mandela, Mary Robinson, Desmond Tutu, Hollywood star Robert Redford and musician Peter Gabriel have all called for Peltier's release
At 72 YEARS OF AGE, Leonard Peltier is suffering from an aneurysm yet is still being held in a maximum security prison under a regime of controlled movement and total lockdown.
This is his statement sent out from Coleman US Penitentiary in Florida on the 40th anniversary of his arrest in in British Colombia, Canada:
"Greetings, everyone.
"Today at 11am, in Hinton, BC, Canada, I was arrested 40 years ago. As Jim Morrison of the Doors said: 'I have been down for so damn long, will some of you good people come and get me?'
"Thanks to everyone for all you have done to try get me home. I love the hell out of you."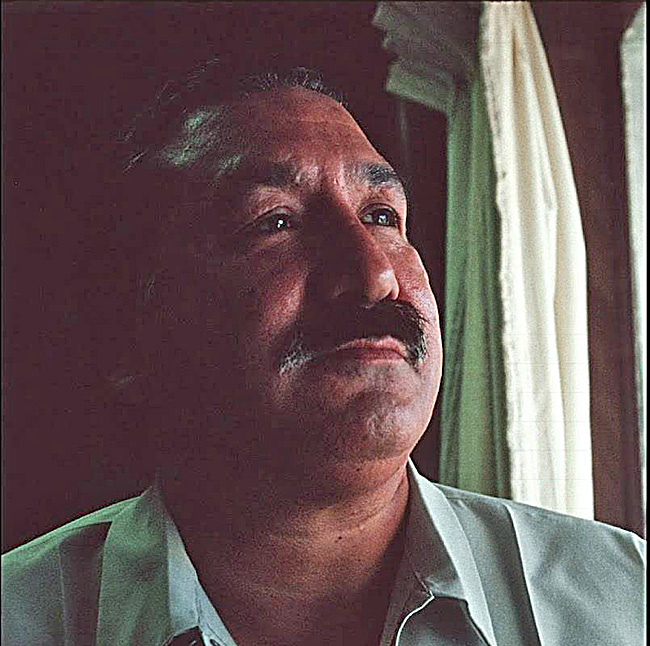 NATIVE AMERICAN activist Leonard Peltier has just completed 40 years' imprisonment in United States prisons and the campaign to have him released is taking on ever more urgency as his health deteriorates.
This was the message brought to Ireland on the weekend of 5 February as activists Madonna Thunder Hawk and her daughter Marcella Gilbert or Cuee ob Mani (Walks With Her Sisters) outlined their efforts to persuade US President Barack Obama to release the ageing prisoner.
Peltier says he was wrongly convicted of the deaths of two FBI agents killed in a confrontation on the Pine Ridge Reservation, South Dakota in 1975. Amnesty International believes political factors may have influenced the way in which the case was prosecuted and is calling for his release on humanitarian grounds and in the interest of justice.
Under United States legislation, a President, on ending his term in the White House and leaving office, has the power to grant clemency to any prisoner.
Most Presidents exercise this power. In the hope of pressurising Obama to release Peltier, his supporters are engaged in an international effort and rallying support for his cause. They have already gained the support of many internationally-renowned figures, including Archbishop Tutu and former Irish President Mary Robinson. Nelson Mandela called for Peltier's release.
Figures in the arts and music world such as Hollywood star Robert Redford and musician Peter Gabriel have also endorsed the campaign.
In Ireland, US citizen Geri Timmons is working closely with the Belfast human rights law firm Ó Muirigh Solicitors to promote the campaign for clemency.
On Friday 5 February, the eve of Peltier completing 40 years in prison, a panel discussion was held in St Mary's Teacher Training College on the Falls Road in Belfast.
The panel included Madonna Thunder Hawk, writer and broadcaster Danny Morrison, Fr Gary Donegan from Holy Cross Monastery in Ardoyne, and Geri Timmons. Marcella Gilbert also made a number of informative contributions.
In the audience were many leading human rights activists from across Belfast. Among them were families of people killed by state forces, including representatives of the Ballymurphy Massacre justice campaign. Sinn Féin MLAs Gerry Kelly and Carál Ní Chuilín also attended.
In an interview with An Phoblacht later, both women spoke about the broader political struggle for Native Americans especially the struggle around language and the way in which Native Americans are educated within a system that promotes government reading of history.
"There is no Indian history in our schooling," said the women, who recounted how they had to fight to have the US Government change the name of what they called "The Custer Massacre" to the Battle of the Little Big Horn.
Thunder Hawk and Cuee ob Mani described as "colonisation" the process where the settlers took the Indian lands land and forced them onto reservations.
"They forced the English language on to our people and forced a spirituality and believe system onto us that undermined our culture."
The activists also outlined how they are constantly under threat from the federal government because the reservations they were forced onto were barren, dry lands that were seen as useless at the time but are now quite often found to be rich in natural resources.
"The lands that we now have are rich in oil, coal, uranium and other minerals, so we are in constant battles as the government try get their hands on these resources," they said. "Of course, we won't benefit from the exploitation of these resources.
"The politicians in Washington still have a 'frontier mentality' – they want to drive us off the land and take the resources for themselves. The Indians don't matter to them."
For more information on the campaign go to www.irelandforpeltier.ie