7 March 2016 Edition
Another Europe is possible – Treo eile don Eoraip
Funded by the European United Left/ Nordic Green Left (GUE/NGL)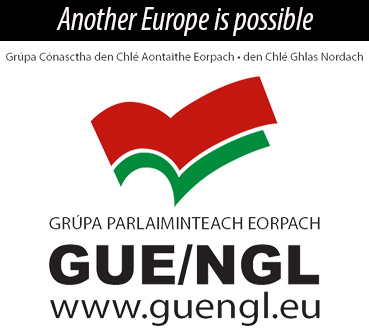 First-ever young people to make use of Irish-language facilities at invitation of Liadh Ní Riada MEP
Gaelscoil students making milestone visit to European Parliament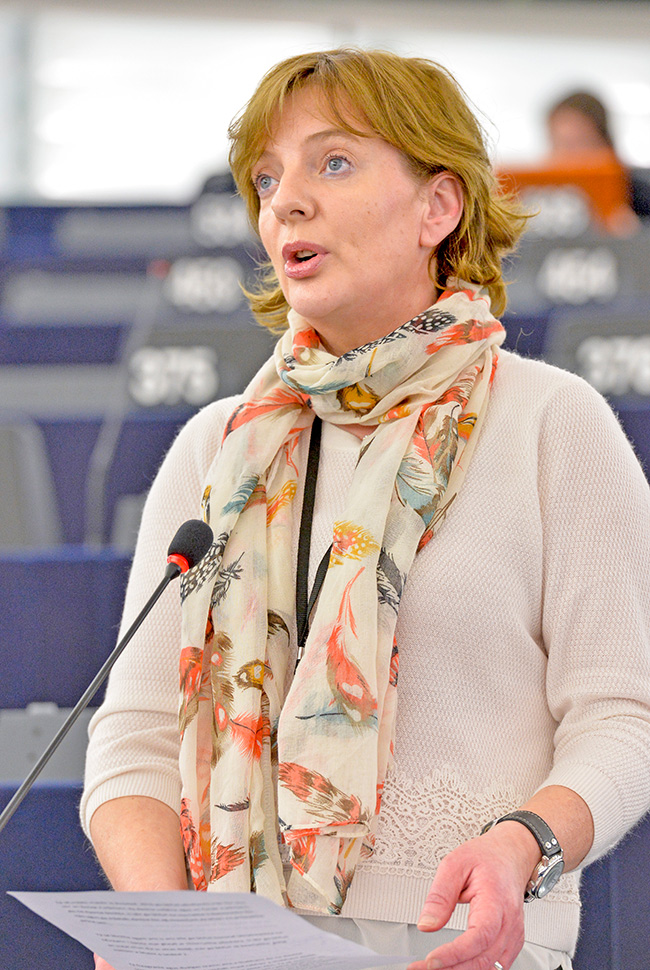 GAELSCOIL STUDENTS will be visiting the European Parliament in March as guests of Liadh Ní Riada MEP to celebrate Seachtain na Gaeilge 2016.
"Since my election to the European Parliament in May 2014," Liadh said, "I have made every effort to promote, protect and end the derogation faced by the Irish language. 
"Seachtain na Gaeilge is the opportunity to celebrate our language and the contribution it has made towards our culture and identity. Therefore I am proud to invite these students to the European Parlamentarium to be the first-ever young people to make use of the Irish-language facilities."
A member of the European Parliament's Committee for Culture and Education, Ms Ní Riada said:
"The students will get the opportunity to step into the shoes of a Member of the European Parliament and (in imaginary political groups) will discuss issues such as water solidarity and micro-chipping and will need to find a compromise in order to legislate. 
"This will all be done through the medium of Irish and I am delighted to be taking this initiative forward, particularly in the momentous year of 2016. It is vital that our young people are supported and encouraged throughout their education but in particular with their command of languages. 
"Irish language needs are not being met in Ireland or Europe. Irish should not be continually given second class status."
Lynn Boylan MEP calls for paid leave for people experiencing domestic violence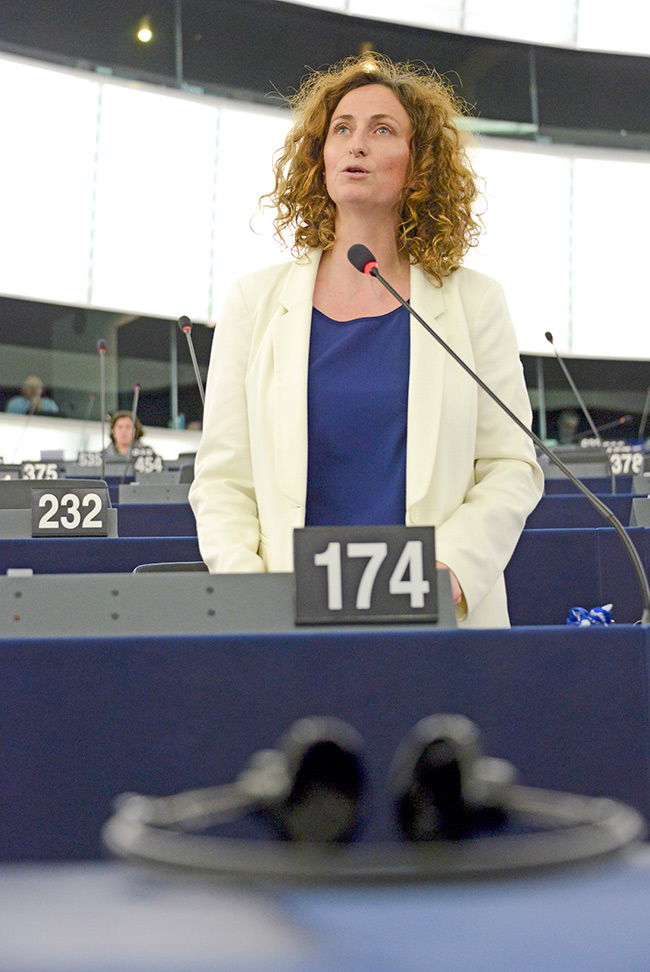 SINN FÉIN MEP Lynn Boylan has urged the European institutions and EU member states to introduce a statutory right to paid leave to workers who are experiencing domestic violence.
Lynn was speaking in the European Parliament's Employment and Social Affairs Committee, where she presented a Committee opinion on the links between poverty and gender.
The Dublin MEP said: 
"This is a valuable new idea that has been introduced in Australia and the United States and I want to use my voice here to place this firmly on the agenda of the European Parliament, and indeed on the agenda of the Irish Government.
"It is important that we recognise the pressure that domestic violence places on women who are trying to maintain their employment and their economic independence. This economic independence in fact plays a crucial role in their ability to escape situations of domestic violence. Women who have exhausted paid leave are at risk of losing their jobs, losing their security and becoming more at risk of poverty."
Lynn Boylan pointed out that legislation has been introduced in some US states such as Washington that ensures workers who experience domestic violence can take leave to attend medical appointments or court hearings, to move house or seek a place in a women's shelter.
"This is not paid leave, but it is a start," Lynn said.
"I will be campaigning strongly for the European Parliament to support the adoption of this proposal over the coming months and I look forward to working with women's organisations and unions across Ireland to achieve this."
Lynn Boylan MEP will be lead a delegation to Brussels in March around the issue of paid leave for those experiencing domestic violence.
Concerns over moves to create 'European Super State'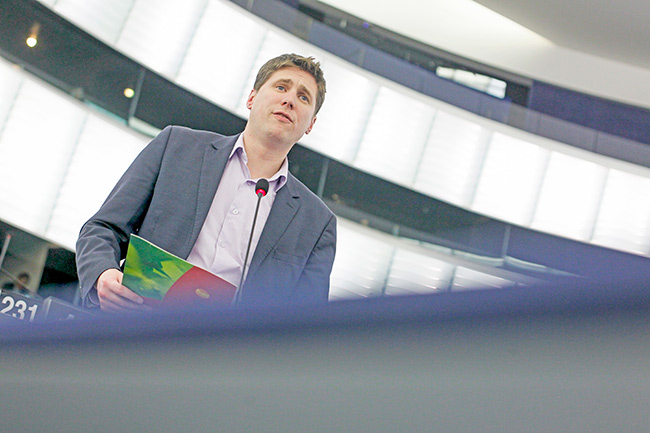 PEOPLE must be must be cognisant of the "very worrying moves" towards the creation of a "European Super State", Ireland North-West MEP Matt Carthy has said.
Matt, who is a Member of the Economic and Monetary Affairs Committee in the European Parliament, said:
"There is a very rapid and disquieting move towards the creation of a European Super State which for the most part is going unchallenged. 
"As it stands, every action that is happening within the EU is a never-ending grab for power and control with the Banking Union, Monetary Union, Digital Union, Energy Union, Fiscal Union, Customs Union, Political Union and the fact that the EU elites routinely ignore every legal and constitutional obstacle in its way in order to increase their power. Now we even have the Military Union. 
"Every economic indicator is pointing towards another financial crisis and both the Irish Government and so-called EU leaders are wilfully choosing to ignore these indicators and critiques from esteemed economists. Whether such an ostrich response is born of wilful neglect or myopia, it warrants serious alarm."
Matt Carthy said that in his capacity as a member of the ECON Committee, he has particular concerns about the Capital Markets Union. 
"This is particularly dangerous and is only going to get bigger and bigger. 
"Within the Capital Markets Union, there is currently a huge attempt to revive securitisation and there have been a number of reports on the last couple of the EU plenary agendas moving this agenda forward. The Capital Market Union will take us back to a pre-financial crisis time.
"This is of serious concern and I have tabled a number of legislative amendments to alleviate the negative intentions and to help ameliorate the impact that these regressive provisions will have on the ordinary citizen. 
"Sinn Féin is committed to continuously challenging this ongoing agenda. This global strategy of domination is not a new phenomenon, instead it forms part of the dominant neo-liberal economic philosophy which removes essential economic, fiscal and political decisions from the people."
He said that Sinn Féin MEPs intend to challenge this phenomenon by mapping an 'Alternative to Austerity and Inequality'. 
Sinn Féin MEPs will be engaging with "trade unions, community and civic organisations and like-minded progressives in the political arena in order to counter the plans that the financial elites have for the modern state. We will stand with the ordinary citizen," Matt Carthy said.
Martina Anderson MEP to publish opinion on implementation of rights of persons with disabilities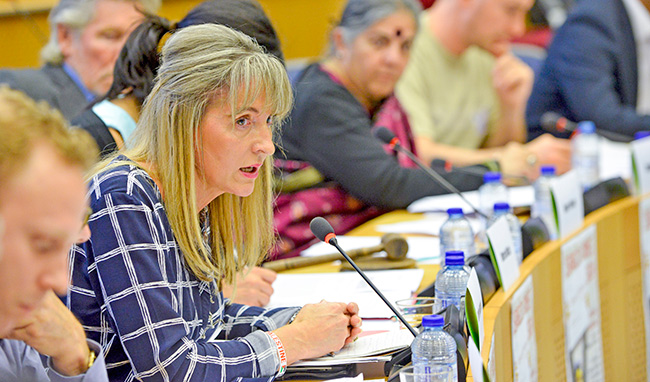 In the coming days, Sinn Féin MEP Martina Anderson will publish an opinion to the disability sector on the shortcomings of the implementation of the rights of persons with disabilities within the EU.
Martina is lead negotiator of the file on behalf of the Civil Liberties, Justice and Home Affairs Committee.
Speaking after co-hosting a hearing on the subject in the European Parliament, she said:
"Given that our rights are unequivocal, and some are absolute, the implementation and protection of the UN Committee on the Rights of the Persons with Disability recommendations has to be equally unequivocal. EU citizens are no exception to this rule. 
"80 million European citizens live with some form of a disability so access to essential services must be absolute. I have identified a number of shortcomings within the implementation of rights of the persons with disabilities within the EU which have been reiterated by representatives from the sector that I have engaged with, both in Ireland and in Brussels.
"We need enhanced awareness within the European Parliament today but we also need the Council and the Commission to action awareness raising too. There is no doubt that the EU is still lacking in these areas. 
"These issues must be addressed immediately and fully, and that has not been the case. The opinion that I will present on behalf of the Civil Liberties Committee is made up of contributions from the sector through engagements I have had and therefore I am confident it will lead to some positive changes."
100 MEPs sign petition to remove Kurdish PKK from 'terrorist' list
MORE THAN A HUNDRED members of the European Parliament – including Sinn Féin's four MEPs as members of the GUE/NGL group – have launched a signature campaign for the removal of the PKK (Kurdistan Workers' Party) from the EU list of "terrorist organisations". 
The MEPs stressed that achieving a peaceful and democratic solution to the Kurdish issue in Turkey is under serious threat as violence is escalating and poses severe risks to the stability of Turkey as well as for the Middle East.
"In Turkey we are more and more facing an outbreak of violence which pushes back the idea of a peace process and weakens the fight against Daesh," a petition spokesperson said.
The appeal stresses:
"The European Union – represented by the High Representative for Common Foreign and Security Policy but also the European Council – the UN and the USA have already called for peace in Turkey. In this context, it is a fact that the proscription of the PKK is standing in the way of the establishment of peace, dialogue and negotiations. The PKK's proscription also facilitates the infringements of human rights, allows the curtailing of freedom of thought and freedom of the press.
"Kurds are an important part of the political struggles in the Middle East (as proven by the Kobani resistance) and a peaceful solution to the Kurdish question in Turkey is not possible without negotiations with the PKK, which, we underline, former Prime Minister and current President Erdogan did already accept.
"Similar to the situation in Northern Ireland, a peaceful solution will be reached involving all concerned parties."
As well as Sinn Féin MEPs Martina Anderson, Lynn Boylan, Matt Carthy and Liadh Ní Riada, other MEP signatories include Gabi Zimmer (President of the GUE/NGL group of which Sinn Féin MEPs are members, and Die Linke, Germany), Jean Lambert, Molly Scott Cato and Keith Taylor (Green Party of England & Wales), Alyn Smith (Scottish National Party), and Josep-Maria.Terricabras (Republican Left of Catalonia).