7 March 2016 Edition
Historical events properly understood can inspire the living – Alex Maskey
UNCOMFORTABLE CONVERSATIONS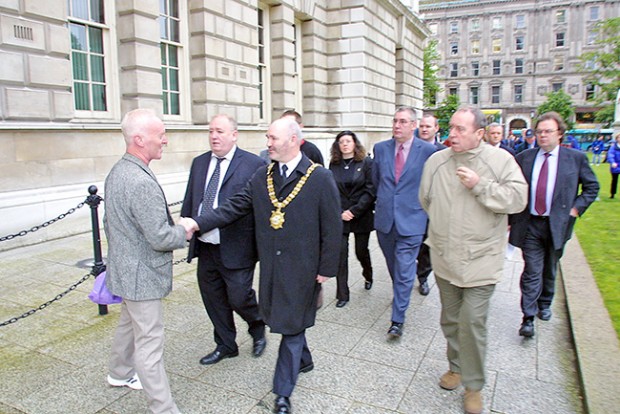 'A meaningful examination of how we can all remember our loved ones in an inclusive way (which recognises but respects the different role they may have played) is an essential part of this process' – 2002, Sinn Féin Mayor of Belfast, Alex Maskey
REPUBLICANS recognise the importance of commemorating those who lost their lives in conflict. We believe there is a need for everyone living on the island of Ireland to be able to take part in remembering the victims of wars and conflicts in which their loved ones sacrificed their lives.  
It is our desire to respect their memory, to acknowledge the hurt and loss experienced by the families of those injured and killed and to recognise the bravery and honour with which many have served. 
The cost to previous generations, whose sense of duty or moral values involved them in making great sacrifices, should not be forgotten. The horror of war should not detract from the dignity of their service and suffering.  
The time has come to engage in a mature debate around how various sections of our society can commemorate their loved ones in an inclusive way. Part of the journey from conflict must include an examination of how we, as a people, can collectively discuss ways in which our individual experiences and traditions can be recognised and respected by each other. 
A meaningful examination of how we can all remember our loved ones in an inclusive way – which recognises but respects the different role they may have played – is an essential part of this process.
THIS TEXT (14 years old in June) was the basis of a Mission Statement that I published within three weeks of being elected the first Irish republican Mayor of Belfast. 
That Mission Statement set out the basis as to how Sinn Féin would use my year in office to address the issue of commemorations – and, in particular, the annual City Hall Somme Commemoration. 
One week later, on 1 July 2002 – accompanied by a team of Belfast Sinn Féin councillors and activists – I laid a laurel wreath at the World War I Cenotaph at Belfast City Hall in memory of all Belfast citizens who died in conflict.
As an Irish republican I have a republican view of history. I am a separatist. I am anti-imperialist. I am anti-sectarian. I am for the unity of Ireland and its people and for the political independence of a unitary all-Ireland state – a new and agreed Ireland of equals.
However, it is incumbent on political leaders, from whichever political outlook, to stretch themselves; to attempt to seek common ground when approaching the memory of the dead. For us all to recognise the worth and the integrity of those killed in war and conflict as perceived, honoured and commemorated by those they left behind; to identify with the grief, the hurt and the suffering as something we all share; an approach based on common humanity.
In 2002, I expressed the hope that we could as a society find a way to remember without necessarily all agreeing with the war aims and objectives of those combatants that fought and died. Let's not forget that many also felt a great sense of betrayal by one side or another. I sought to find a common ground which, over time, we could willingly acknowledge and share.
The question must be asked if as a society we are anywhere close to that point.
There are indeed benchmarks as to how civic commemorative events can be reshaped and remodelled. For example, the formal Somme resolution endorsed unanimously in Belfast City Council each year has changed beyond recognition to include everybody lost in conflict. This is more inclusive and embracing of differing political and historical narratives. 
The current event at the Cenotaph by its very nature won't attract everybody in the city, and I wouldn't argue that we necessarily should change that. But if civic leaders are serious about reconciliation and genuinely remembering all those that lost their lives, then they do need to host an event that everyone can take part in.
We are now well into an extremely important Decade of Centenaries. Much good work has gone into ensuring civic institutions step up to the mark in terms of treating all of the allegiances, nuances and emotional content with the respect that they deserve.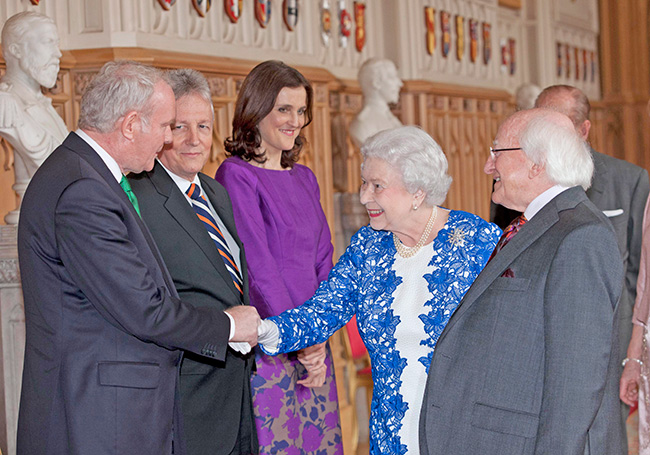 • Martin McGuinness meets with Britain's Queen Elizabeth
I ask people to look at initiatives and gestures from the likes of Martin McGuiness as deputy First Minister and Mitchel McLaughlin as Assembly Speaker as proof of where Sinn Féin is at when it comes to approaching these important milestones – and their reconciliation potential.
In concluding I'd like to use the language that ended my speech in June 2002:
"Historical events properly understood, especially in a divided society, can be a source of inspiration for the living.
"We are the inheritors of the past. Each generation writes its own history. Let not our children accuse us of distorting history, thereby perpetuating divisions, when we have the chance of establishing a new beginning.
"Let us seek to ensure that the history we bequeath to our children enhances all of their lives."
Alex Maskey MLA, Sinn Féin Mayor of Belfast 2002–2003