7 March 2016 Edition
Frank Ryan rededication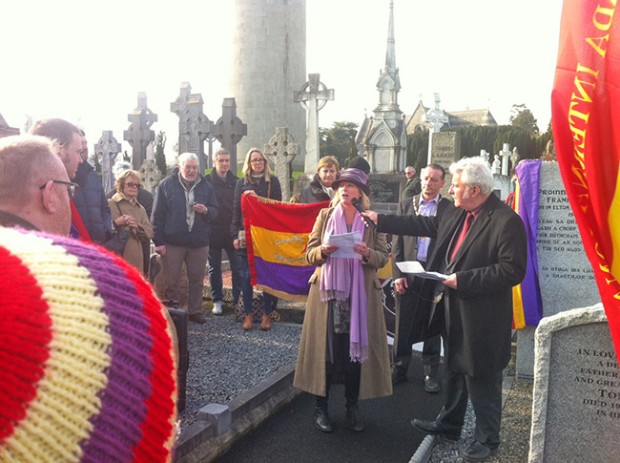 "He proclaimed that he was fighting against fascism in Spain in order to prevent its triumph in Ireland. And there was none braver in that good fight."
A REDEDICATION CEREMONY for the granite tombstone of IRA Volunteer, An Phoblacht Editor and Spanish Civil War officer Frank Ryan refurbished by Friends of the International Brigades in Ireland, the Limerick International Brigade Memorial Trust and the Ryan family was attended by a wide cross-section of anti-fascists and republicans (including current An Phoblacht Editor John Hedges) in February.
The Irish-language inscription on the tombstone notes that Frank Ryan was born in Elton, County Limerick, in 1902, and bears the legend: "He fought for freedom in this country and in Spain."
The event was chaired by Manus O'Riordan, son of Spanish Civil War fighter Mick O'Riordan RIP and now Ireland Secretary of the International Brigade Memorial Trust. The crowd – flying flags of the Spanish Republic, the Basque Country and Catalonia – was addressed by the Deputy Mayor of Dublin, Independent Councillor Cieran Perry, and Charlotte Ryan Wetton, grandniece of Frank Ryan. 
Singer Andy Irvine, a patron of the Limerick International Brigade Memorial Trust, performed his Ballad of Frank Ryan. 
Ger McCloskey of the Limerick International Brigade Memorial Trust read Elegy for Our Dead by Ernest Hemingway.
In the main oration, Manus O'Riordan paid tribute to all the Irish brigadistas who went to fight fascism in Spain. He pointed to an earlier oration by him on the 'Ireland and the Spanish Civil War' website (irelandscw.com) as "a sustained polemic in defence of the honour of Frank Ryan – a James Connolly republican socialist".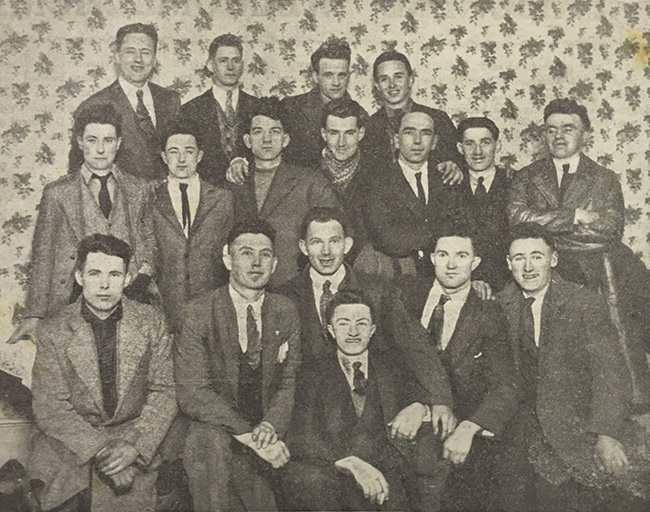 • 1932 Arbour Hill and Mountjoy POWs – Front row: Seán Mulgrew, Brian Corrigan, John M. O'Connor, Seán O'Farrell, M. Sherry. Front seated: R. Stephens. Second row: George Gilmore, Charlie Gilmore, Frank Ryan, Thomas Breen, T. J. Ryan, George Mooney, Thomas O'Drisooll. Back row: Seán McGuinness, J. O'Shea, Claude O'Loughlin, James Hannigan
Frank Ryan was captured by Italian fascists in Spain before being allowed to go to Germany on 10 June 1940 – "neither as a prisoner nor as a Nazi collaborator" – in an arrangement brokered by the Irish Government and endorsed by Éamon de Valera. Ryan was to die in Dresden four years later. His body was repatriated to Ireland and laid to rest in Glasnevin Cemetery on 22 June 1979.
Manus had said:
"He proclaimed that he was fighting against fascism in Spain in order to prevent its triumph in Ireland. And there was none braver in that good fight."
One illustration of Frank Ryan's bravery was testified to by his comrade Bob Doyle, who recalled the argument about the anti-fascist prisoners' right to refuse to give the fascist salute.
"But," as Bob also said, "the threat that we would be shot for refusal to comply with the order quickly changed our minds. We gave the salute. Only Frank Ryan refused, stating 'Only when a pistol is placed against my forehead' would he obey."
The ceremony at Glasnevin ended with the singing of The Internationale followed by Amhrán na bhFiann.
Many of the crowd then travelled into Dublin City Centre for a public talk by the Stoneybatter & Smithfield People's History Project with Manus O'Riordan and Harry Owens about Bob Doyle – The Life and Times of a Local Revolutionary.