7 March 2016 Edition
Armagh women's prison struggle told in inspiring film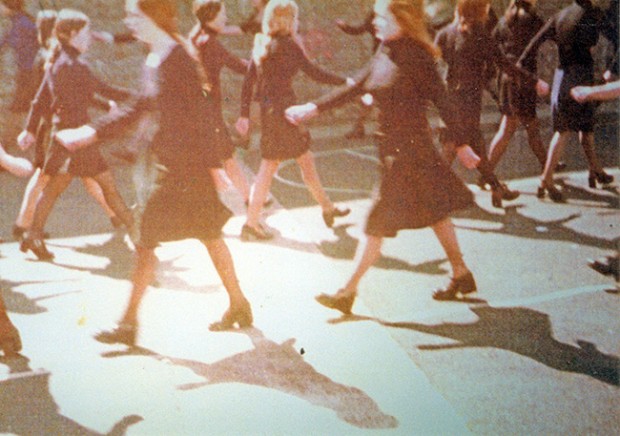 A Kind of Sisterhood highlights the women's courage and resistance using their own voices
A KIND OF SISTERHOOD, the award-winning film produced by Michelle Devlin and Claire Hackett, is a heart-stopping account of the struggle faced by the many republican women who fought their way through the North's prison system during the conflict.
Denied political status in early 1972, women such as Brenda Murphy, Susan Loughran and the now deceased Bridie McMahon joined their male comrades on hunger strike and won the "Special Category" status that was in reality political status.
They protested alongside the 'Blanketmen' in the H-Blocks and again when the 1980 Hunger Strike began Mairéad Farrell (later shot dead by the SAS in Gibraltar in 1988), Mairéad Nugent and Mary Doyle also went without food.
In January 1980 and again in 1992, in two of the most notorious incidents in the North's prison history, riot squads consisting of male prison wardens were sent in to the republican wings and attacked the women.
Throughout all of this, the solidarity and comradeship of the women kept them going.
They were republicans and their commitment kept them strong and they were together. "It was a kind of sisterhood," says Liz McKee, who was dubbed "Elizabeth the First" by the British tabloid press when she was interned in 1973, the first of 31 republican women jailed without trial.
• Volunteer Mairéad Farrell photographed during the 'No Wash' protest
During the conflict, many republican women saw the inside of British prisons and while no definite number has been arrived at it is believed, poignantly, that 1981 women were imprisoned.
A Kind of Sisterhood is their story
The film was shown last year during Prisoners' Day as part of Belfast's Féile an Phobail and the New Lodge Festival but it deserves to be seen by a much wider audience, and not just a republican audience.
In an emotional interview, Brenda Murphy is strong and determined. Speaking of the prison system, she says: "A little humanity would have went a long way."
During her second term in Armagh, bizarrely on protest demanding the same political status she won on hunger strike during her first term, she was pregnant.
She gave birth in Craigavon Hospital while handcuffed to a bed.
The prison authorities wouldn't allow her to keep her daughter with her as she was on protest so Brenda was forced to "sign her out like a piece of property".
The naked sectarianism and brutal nature of the regime became apparent in January 1980 when, after they held a commemoration in honour of Volunteer 'Dee' Delaney killed on active service, riot squads invaded their wing and beat the women.
When the authorities refused to allow the women to slop out they effectively forced them onto to a 'No Wash' protest akin to that being undertaken in the H-Blocks.
Forced to live in their own urine, faeces and menstrual blood, the stench of women's cells became nauseating and forced a visiting Cardinal Ó Fiaich to almost pass out.
Author Nell McCafferty describes the conditions in Armagh Jail as "barbaric" and declares that the situation in the jail was a "feminist" issue, to the consternation of some Irish and British self-styled feminists.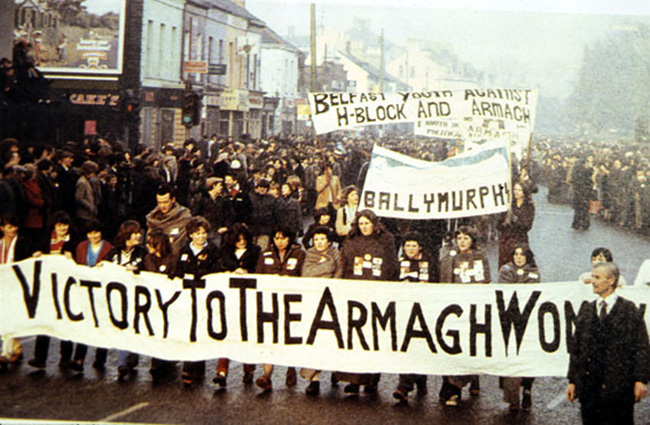 • Thousands show their support for the prisoners in Armagh Jail
On International Women's Day, however, many feminist activists travelled to Armagh and staged solidarity protests within earshot of the prisoners.
Strip searching was also used as a tactic against the women to "humiliate, intimidate and dehumanise", them according to Brenda Murphy.
In March 1992, after Armagh Jail was mothballed and the women were transferred to Maghaberry, County Antrim, riot squads burst into the women's cells, dragging the prisoners out before putting them in armlocks and forcibly stripping them naked.
According to west Belfast woman Rosie McCorley (now a member of the Assembly): "We endured a brutal sexual assault." She maintains that it was the new governor "trying to assert his authority".
While Liz McKee speaks of the relationships in the prison down the years as "a kind of sisterhood", another prisoner, Rosena Brown, in her poem Fenian, written for a community arts project, says: "My da sang about the 'bold Fenian men' so I didn't mind being called a Fenian. I just held my head up. I am a bold Fenian woman."
A Kind of Sisterhood captures and explores so many of the aspects of life for women in jail and highlights their courage and resistance using their own voices.
So watch out for it when it goes on show near you and for additional information contact belfastfilmfestival.org