7 March 2016 Edition
On the one road
An Phoblacht takes a trip outside Dublin City for a flavour of the GE16 counts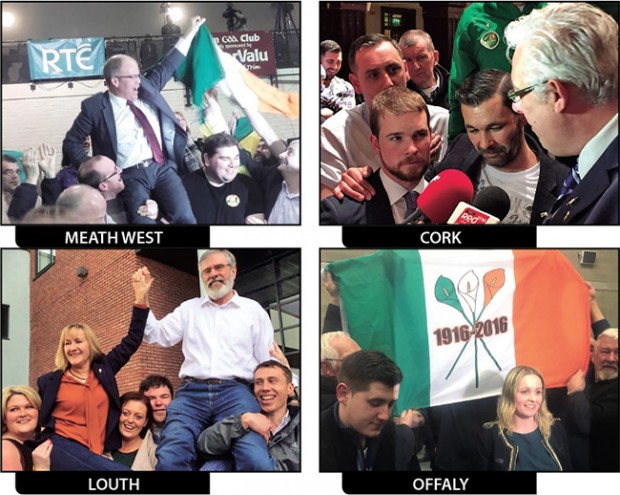 Belfast native Mickey Rogan took us on a tour of the rebel byways of the Royal County
AN PHOBLACHT went on the road on election count day for what the Twitter machine hashtagged #GE16. We hitched a ride with Sinn Féin Social Media Unit roving news video maestro Mickey Rogan and Assembly Sinn Féin Press Officer Michael McMonagle to get a taste of what was happening in a few places outside of Dublin City Centre.
First stop just after 10am on a dull Saturday morning after the Friday count was the Fingal constituency count in the spectacularly colourless venue of the Irish Kennel Club on some desolate wasteland in Cloghran, County Dublin.
The tweet by Stephanie Lord (@stephie08) watching the various count centres on RTÉ TV ("Love how #GE16 counts show us all just how grim Irish PE halls and gyms are – like early 1980s USSR without the skilled gymnastics coaches") could have applied to our venue too. Being told by Seán Mag Uidhir (head of the press operation at the Stormont Assembly down to help out his all-Ireland comrades) that there was no wifi at the "National Show Centre" added to the sense of grimness.
It was far too early to make any sort of call in Louise O'Reilly's first-time sortie for a Dáil seat as tallies were only just beginning to come in (never mind actual vote counts beginning). 
We doggedly moved on to the more upmarket CityWest complex to catch up on what was happening at the counts for Dublin South West (candidates: sitting Sinn Féin TD Seán Crowe and South Dublin Mayor Sarah Holland) and Dublin Mid West (An Phoblacht columnist and South Dublin County Councillor Eoin Ó Broin).
From the outset it was clear that Eoin would top the poll and be elected on the first count ahead of sitting Fine Gael TD and Justice Minister Frances Fitzgerald. It was a hugely important political victory for Sinn Féin and it saw Eoin elected as the first Sinn Féin TD of the new Dáil.
Dublin South West candidates Seán 'Jack' Crowe and Sarah Holland took a break from watching the tallies to join in, although Jack had to wait until around 3am the following morning before he was re-elected.
The Rogan Roadshow took off again, wending its way through the winding roads of Royal County Meath to Trim for the Meath West count.

The Duke of Wellington represented Trim in the Irish Parliament from 1790 to 1797 and the small town is overshadowed by a 75-foot monument to the 'Iron Duke', erected two years after commanding the British Army in its famous victory over Napoleon at Waterloo in 1815. The county, however also boasts a fine rebel past and Meath West had elected a Sinn Féin TD in Peadar Tóibín in 2011. Our road crew found ourselves and Peadar and his team more at home in Trim GAA Club, where the votes were being counted. Peadar was on course to be returned so we boarded our 'bus' and headed off again, deciding at the last minute to defer our drop-in to the neighbouring Meath East count to make sure we got to Louth for the hoped-for re-election of Gerry Adams but also the election of the first-ever woman TD for Louth in Imelda Munster from Drogheda – another first for Sinn Féin.
It was a reluctant move as Meath East was where Darren O'Rourke mounted a strong challenge to Fine Gael TD Regina Doherty. Doherty had outraged listeners to the regional LMFM radio station when when she told Gerry Adams that the murders of his family members and three constituents by an RUC officer and unionist death squads was basically his fault: "All brought on by your own actions, Gerry."
On to Dundalk, but not without Belfast native Mickey Rogan's tour of the rebel byways of the Royal County where he spoke fondly of how people of all parties – including Fine Gael – had done their bit for the North, from the days of the unionist pogroms and burning of Bombay Street right up to recent times.
Arriving at the Louth count centre in the Ramada Hotel in Dundalk (how we've come up in the world from this morning – from a doghouse to a hotel!), we bump into republican stalwart and Stakahnovite seller of An Phoblacht, Pearse McGeough, amongst the many County Louth 'old faces' – many new, younger faces too. The Press Room at the entrance to the count centre itself was packed with local, national and international news people.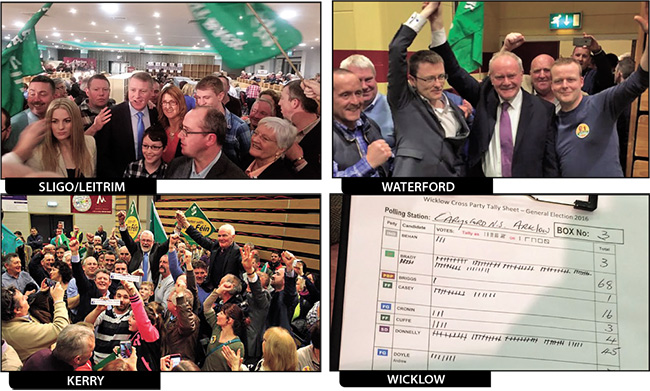 Newry & Armagh MLA Megan Fearon was with us too, musing about how we'd have all this to face again in the Assembly election on 5 May.
Confident that Gerry was topping the poll and Imelda was looking very likely to win a seat herself too, we headed back down the motorway to call back in to Louise O'Reilly's count.
The team were in positive mood there too. It was going to be close but it was looking good.
As it turned out, it was after 2pm on Sunday when the Fine Gael deputy leader and former Health Minister, Dr James Reilly (who topped the poll in 2011), was counted out and Louise O'Reilly was counted in. Louise was to be one of many more.
"We are into a new era," Gerry Adams had said in Dundalk on Saturday night. "In this election we have seen a seismic change and a realignment of politics here."