4 March 2016
'Irish Independent' apologises to Gerry Adams over untruthful reporting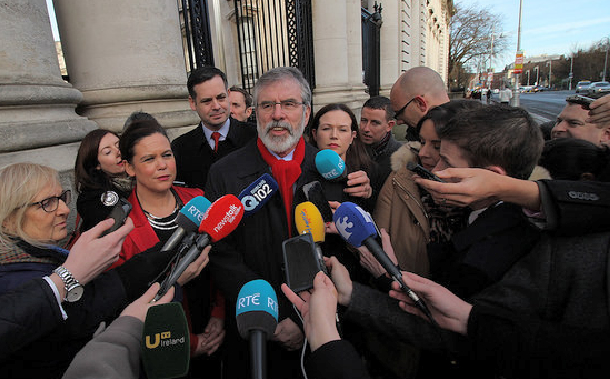 THE IRISH Independent has printed an apology to Gerry Adams over its untruthful reporting of comments he made at a fundraising event in New York.
The article, written by Group Political Editor Kevin Doyle, claimed Adams had "joked about the editor of the Irish Independent being held at gunpoint".
In fact, Gerry Adams had simply recounted an incident in which the IRA raided the offices of the newspaper on 19 December 1919 during the Tan War.
He also said during the speech that he 'obviously wasn't advocating anything like that'.
Gerry Adams welcomed the apology, noting:
"Coverage of Sinn Féin, and in particular myself as party leader, by the Irish Independent and Sunday Independent has been unrelenting in its bias, distortion and offensiveness for many years now."
This is the second time the newspaper has had to apologise for misrepresenting Gerry Adams comments from the same fundraising event.
In May 2015 the Press Ombudsman found the Irish Independent had breached Principle 1 (Truth and Accuracy) of the Code of Practice for Newspapers and Magazines prompting a similar apology.
Commenting on today's apology, Gerry Adams said:
"The effect of this coverage has been insidious and deeply corrosive for journalism and the coverage of politics in this state.
"I welcome today's apology from the Irish Independent which is very significant. I sincerely hope that it furthers the cause of fairness and objectivity in political coverage in the Irish media."
An Phoblacht on Twitter

An initiative for dialogue 
for reconciliation 
— — — — — — —
Contributions from key figures in the churches, academia and wider civic society as well as senior republican figures