28 February 2016
Big story of election is realignment of Irish politics – Gerry Adams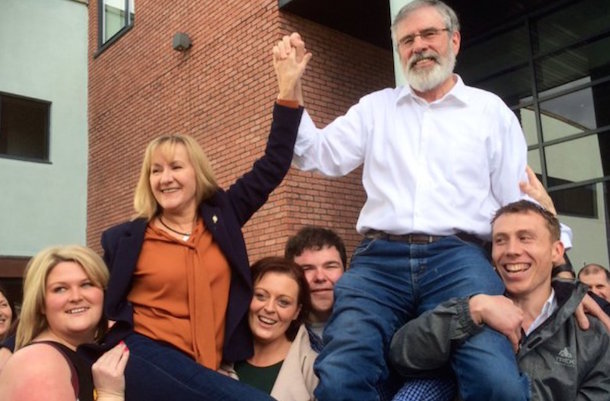 THE BIG STORY in this election is the ongoing realignment of Irish politics and the massive strides forward for Sinn Féin, other parties and Independents, Gerry Adams has said.
"Sinn Féin fought this election with a plan for a fair recovery and alongside those standing on the Right2Change platform," the re-elected TD for Louth said.
He added that Sinn Féin has secured a substantial increase in support: "We have new candidates elected right across the state."
Sinn Féin had 20 TDs elected up to 7pm Sunday night, up from 14 TDs in 2011.
He said that we are witnessing is the ongoing fundamental realignment of Irish politics which took a step forward in this election.
"Fianna Fáil and Fine Gael no longer command a majority of support. These parties cannot and will not deliver the changes required in health and housing. They will not stand up for the interests of citizens and they will set aside the election slogans and promises and revert to type."
"It is now clear that a progressive alternative exists, and has grown in electoral strength.
"Sinn Féin will work with those elected on the Right2Change platform and other progressives to determine how best to use our increased mandates for fairness, growth, jobs and investment in public services."
The Sinn Féin TDs elected up to 7pm Sunday:-
Eoin Ó Broin TD – Dublin Mid West

Brian Stanley TD – Laois

Mary Lou McDonald TD – Dublin Central

Peadar Tóibín TD – Meath West

John Brady TD – Wicklow

David Cullinane TD – Waterford

Kathleen Funchion TD – Kilkenny

Maurice Quinlivan TD – Limerick City

Dessie Ellis TD – Dublin North West

Aengus Ó Snodaigh TD – Dublin South Central

Carol Nolan TD – Offaly

Seán Crowe TD – Dublin South West

Pat Buckley TD – Cork East

Gerry Adams TD – Louth

Donnchadh Ó Laoghaire TD – Cork South Central

Louise O' Reilly TD – Dublin Fingal

Jonathan O'Brien TD – Cork North Central

Pearse Doherty TD – Donegal

Caoimhghín Ó Caoláin TD – Cavan/Monaghan

Imelda Munster TD – Louth
An Phoblacht on Twitter

An initiative for dialogue 
for reconciliation 
— — — — — — —
Contributions from key figures in the churches, academia and wider civic society as well as senior republican figures