21 February 2016
80,000 at Right2Change rally in Dublin say 'an alternative government is possible'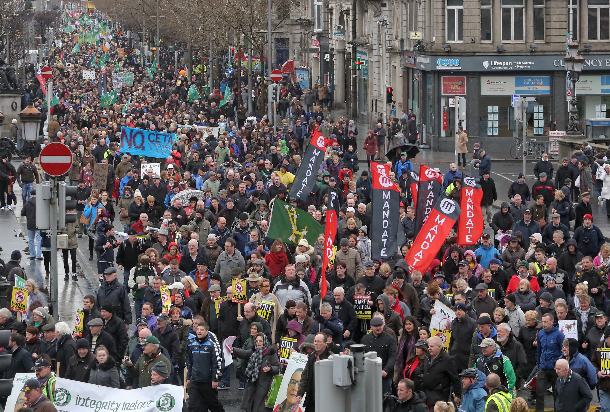 TENS OF THOUSANDS of people took to the streets of Dublin on Saturday in support of a Right2Change rally calling for an end to water charges and support for the Right2Change candidates in the General Election.
Organisers put the numbers at around 80,000.
Right2Change coordinator Brendan Ogle said the huge turnout sends a clear message to the outgoing Government that public anger at water charges remains unabated:
"Water charges have been the tipping point for many people – but they are just one manifestation of the austerity policies pursued by the outgoing Government and the previous Fianna Fáil/Green coalition", he said.
"So far, 106 candidates have signed up to the Right2Change policy principles which would underpin a new progressive government."
Right2Change candidates include Sinn Féin, People Before Profit and Independents – a full list and constituency breakdown is available at right2change.ie
*Watch: Tens of thousands on streets of Dublin for Right2Change