20 February 2016
Revealed – 'Concerned citizen' who challenged Mary Lou McDonald on fair taxes is top banker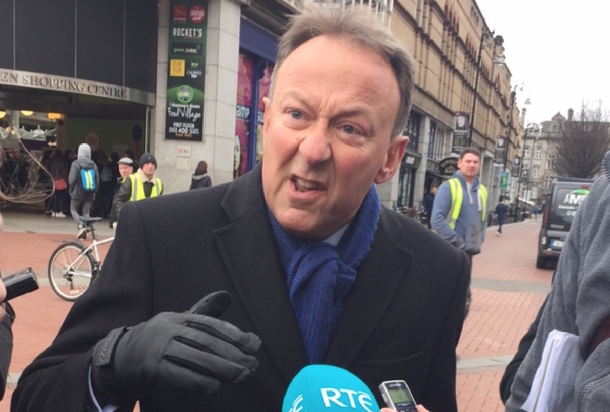 THE 'CONCERNED CITIZEN' who claimed he was a small business owner when he confronted Sinn Féin deputy leader Mary Lou McDonald about tax reform during a press event on Grafton Street in Dublin on Friday is actually the CEO of a Swiss investment firm, An Phoblacht can reveal.
The man who refused to divulge his name to reporters despite repeated requests claimed he was a "small business owner". 
An Phoblacht learned that the man is Fergus Crawford, CEO of the Irish branch of Sarasin & Partners, which is based at 120 St Stephen's Green and is part of private Swiss Bank J Safra Sarasin.
The asset management firm manages more than €15billion in assets. Some of the services it provides includes offshore hedge funds based in overseas locations such as the Channel Islands which help reduce the tax liabilities for clients in places like Ireland.
During his exchange with Mary Lou McDonald, Crawford criticised Sinn Féin's plans to ask higher earners to pay an extra 7 cent on each euro earned in excess of €100,000 per year.
Crawford shouted that his children didn't want to "aspire to €69,000 a year" while ludicrously claiming that Sinn Féin wants to tax people "out of existence".
During the exchange he told reporters he would "probably vote for Fine Gael".
Mary Lou McDonald pointed out to him that more than 50% of the workforce in Ireland earns less than €28,500 a year and that Sinn Féin wants to ease the tax burden on low and middle earners while asking those at the top to pay a little more.

*From 1996 to July 2008 he served in various roles, including Head of Investment, for ACC Bank.
An Phoblacht on Twitter

An initiative for dialogue 
for reconciliation 
— — — — — — —
Contributions from key figures in the churches, academia and wider civic society as well as senior republican figures