6 February 2016
Hundreds rally in Dublin against racist Pegida group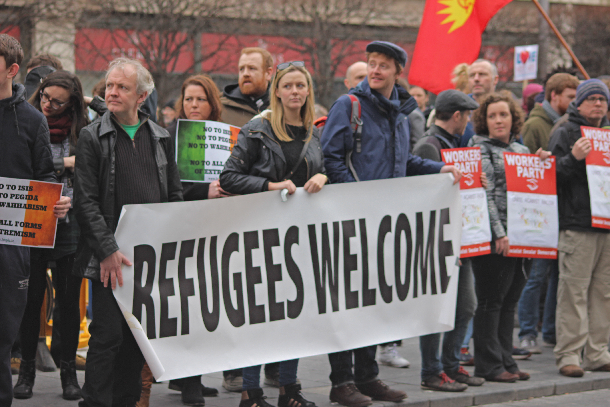 HUNDREDS OF PEOPLE took part in an anti-racist rally on Dublin's O'Connell Street today as the far-right Pegida group unsuccessfully attempted to hold an anti-Islam rally in the same area.
Speaking at the protest, Dublin Sinn Féin MEP Lynn Boylan (pictured) said:
"We must also be extremely vigilant to the insidious creeping of racist policy into the mainstream.
"It is each and everyone of our responsibility to call out racism where and when we see it. That includes discriminatory policies against Travellers."
She called on those present to speak out against racism whether its online, on public transport, in workplaces or schools:
"It is our obligation to challenge the policies of austerity, to direct the anger in the direction of those who make the policy not those who are the victims of it. It is our duty to oppose increasing militarisation and to stop the destabilisation of the Middle East in pursuit of oil and gas."
Representatives of many political organisations including People Before Profit, the Communist Party of Ireland, the Socialist Party, the Workers' Party, Misneach, the Migrants Rights Centre, Ireland Palestine Solidarity Campaign and others remained on O'Connell Street to prevent Pegida from marching to the GPO.
As the protest continued there were clashes between Pegida members and anti-fascist activists on nearby North Earl Street.
A number of people were injured in the clashes before gardaí from the Public Order Unit intervened using batons against those involved.
There was chaotic scenes on the capital's main thoroughfare as protesters pursued members of Pegida to nearby Cathedral Street, resulting in a stand-off with Gardaí. 
Protesters chanted "Nazi scum, off our streets" at the small number of Pegida supporters who were corralled behind lines of riot Gardaí. 
During the protests one Garda officer was seen striking an RTÉ News cameraman with his baton. 
A later attempt by Gardaí to evacuate the Pegida members resulted in further scuffles on the junction of O'Connell Street and Middle Abbey Street.
Far-right political party Identity Ireland confirmed via Twitter that its leader Peter O'Loughlin – who is involved in setting-up Pegida Ireland with Tommy Robinson, leader of far-right street hooligan group the English Defence League – was taken to hospital after he was injured.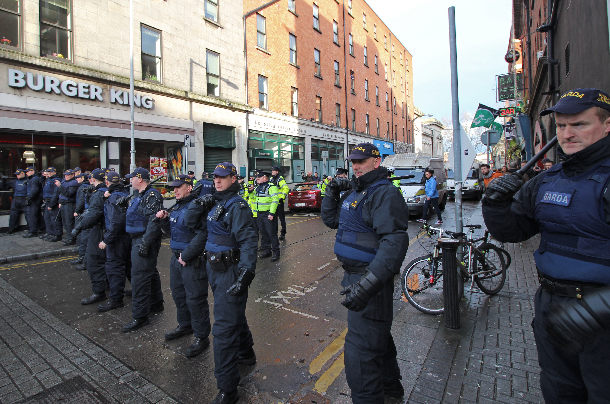 An Phoblacht on Twitter

An initiative for dialogue 
for reconciliation 
— — — — — — —
Contributions from key figures in the churches, academia and wider civic society as well as senior republican figures