23 January 2016
Protests in 30 cities and towns against Water Charges
TENS of THOUSANDS of people have taken part in 30 different protests across the state against Water Charges.
The protests coincided with the Fine Gael Ard Fheis which is taking place in City West Hotel in Dublin this weekend.
Right2Water spokesperson Brendan Ogle says the turnout shows that Water Charges are still a major issue and that Right2Water is planning more demonstrations closer to the election:
"Finance Minister Michael Noonan said the demonstrators had gone away back in November 2014 and Environment Minister Alan Kelly recently said that water charges have gone off the agenda too. Well they may regret those arrogant statements in the very near future because in this election, nobody's seat is safe, and water charges will be the big issue," he said.
"Water has been a catalyst in the fight against austerity but people are crying out for a change in how our country is run," he added.
A demonstration demanding that charges be dropped against individuals accused of falsely imprisoning Tánaiste Joan Burton during a protest in Jobstown marched to the Fine Gael Ard Fheis in City West where they were met with a Garda cordon.
Speaking in Dundalk, Sinn Féin leader Gerry Adams reiterated his party's commitment to scrapping water charges if in Government:
"Fine Gael and Labour continue to underestimate the level of public anger over this issue. They have failed to heed the clear and unmistakable message of the people," he said.
"Sinn Féin stopped the imposition of Water Charges in the North and in government in this state we will scrap them here also. Sinn Féin will dismantle Irish Water and replace it with a new model of governance, funding and delivery that is accountable to the Oireachtas.
"We will end the metering project and redirect the remaining monies to direct investment in water infrastructure."
Hundreds protest in Letterkenny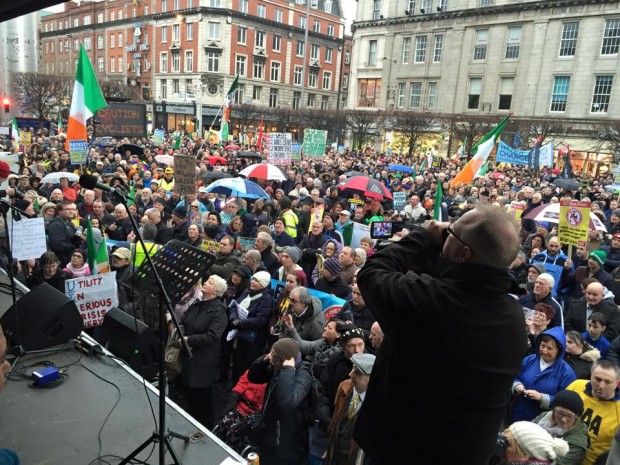 View from the stage at Right2Water protest in Dublin
Protesters – including Sinn Féin Councillor Shane O'Brien and People Before Profit TD Richard Boyd-Barrett – take part in a local anti-water charges event in Dún Laoghaire, County Dublin