14 December 2015
French elections: Corsican nationalists take power for first time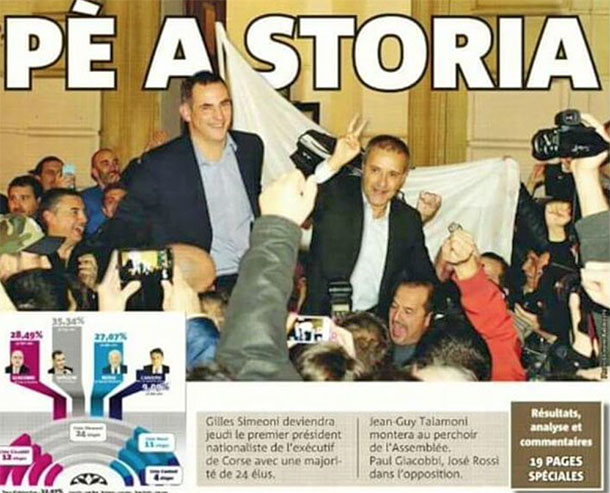 WHILE most media attention on the French regional elections focused on the fate of Marine Le Pen's far-right, anti-immigrant National Front – on the Mediterranean island of Corsica a quiet revolution was taking place.
There were huge celebrations on the streets of the northern Corsican city of Bastia on Sunday night as news broke that a coalition of Corsican nationalists had taken power on the island just a year and a half on from the announcement by the armed National Liberation Front of Corsica (FLNC) that it was declaring a permanent unilateral ceasefire.
The historic result saw the the nationalist coalition list Pè a Corsica (For Corsica) – which includes both pro-autonomy nationalists and pro-independence nationalists considered supportive of the FLNC – take 36% of the vote in the second round.
Speaking after the victory, PaC leader and Mayor of Bastia Gilles Simeoni who is set to become President of Corsica, said:
"This victory shows a deep will for a real alternative. A thirst for democracy, economic development and social justice exists in Corsica. My first thoughts are to all those who have struggled for the cause. Some of these people are still in prison. This is a victory over the political failures that Corsicans have suffered for decades. We recommit ourselves to a policy of openness and inclusiveness so that we can move forward in a climate of peace and hope."
Simeoni's Femu a Corsica party had always maintained distance between itself and the Corsica Libera (Free Corsica) party of Jean-Guy Talamoni, but following the first round of elections the two major streams of nationalism came together under the united Pé a Corsica banner.
Many critics claimed the alliance with Corsica Libera would deter some moderate nationalists from supporting them – but these fears did not materialise on election day as nationalists celebrated a decisive victory.
Talamoni immediately moved to reassure those who are concerned that his FLNC-linked Corsica Libera party is entering Government:
"It has been a long 40 years to get to this point. This victory is dedicated to our prisoners," he said. 
"We are not motivated by any spirit of revenge. We want get to work the first thing in the morning. Our approach goes far beyond nationalism. We want to show that Corsica is far more than a mere 'administrative unit': we are one nation, one country, one people. Nobody should feel a sense of anxiety at these results, we will work for all of our people."
Pè a Corsica says some of its key commitments in Government will be to make Corsican the co-official language of the island, the creation of 'residential status' for native Corsicans, a separate tax system and lobby for the freedom of political prisoners.
Earlier this year, more than half of Corsica's 300 local councils signed up to a petition calling for an amnesty for the more than 30 Corsican political prisoners still held in prisons across France.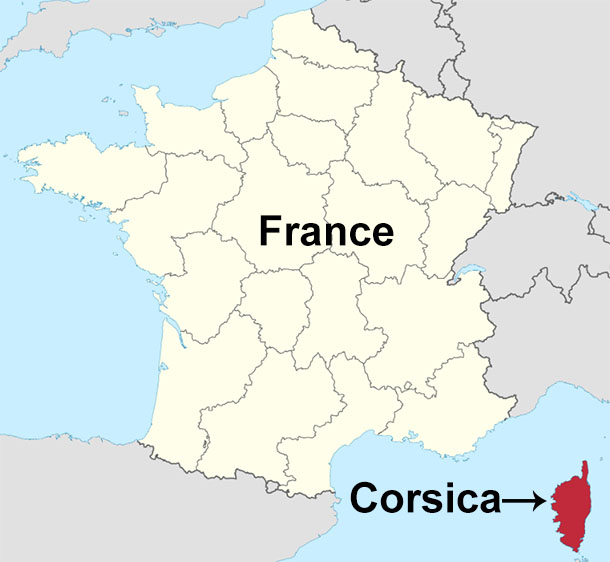 An Phoblacht Magazine
AN PHOBLACHT MAGAZINE:
Don't miss your chance to get the second edition of the 2019 magazine, published to coincide with Easter Week
This special edition which focuses on Irish Unity, features articles by Pearse Doherty, Dr Thomas Paul and Martina Anderson.
Pearse sets out the argument for an United Ireland Economy whilst Pat Sheehan makes the case for a universally free all-island health service.
Other articles include, 'Ceist teanga in Éirinn Aontaithe', 'Getting to a new Ireland' and 'Ireland 1918-22: The people's revolution'.
An Phoblacht on Twitter

An initiative for dialogue 
for reconciliation 
— — — — — — —
Contributions from key figures in the churches, academia and wider civic society as well as senior republican figures