6 July 2015
Singer Fran O'Toole honoured in his native Bray 40 years after Miami Showband Massacre by UDR/UVF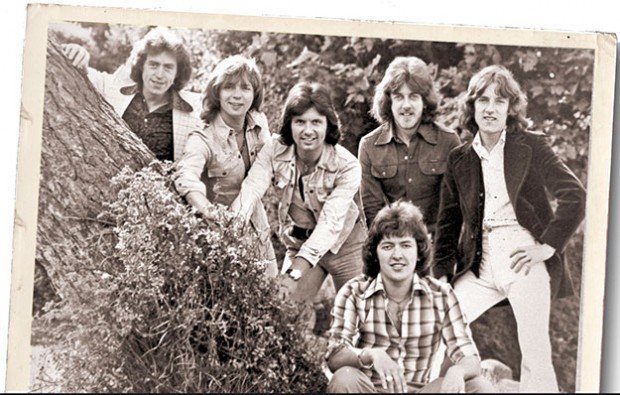 SINGER FRAN O'TOOLE has been commemorated in his native Bray, County Wicklow, 40 years after his Miami Showband was ambushed in County Armagh at a bogus British Army checkpoint by serving soldiers in the Ulster Defence Regiment and members of the Ulster Volunteer Force.
On 31 July 1975, five members of the Miami Showband were travelling by minibus back to Dublin from a gig in Banbridge, County Down. At the townland of Buskhill, outside of Newry, they were stopped at a military-style checkpoint by gunmen dressed in British Army uniform. They were ordered to get out and line up by the roadside. Two gunmen hid a time-bomb on the minibus but it exploded prematurely and killing them.
The remaining gunmen then opened fire on the band members, killing Fran O'Toole, Brian McCoy and Tony Geraghty, and wounding Des Lee and Stephen Travers.
Two serving Ulster Defence Regiment soldiers and one former UDR soldier later received life sentences for murder. There are still serious questions about collusion between members of the 'security forces' and the UVF that need to be answered, however.
● Councillors John Brady, Oliver O'Brien and Peter Carroll, who was the driving force behind the commemorative events honouring local legend Fran O'Toole
Sinn Féin Wicklow County Councillor John Brady paid tribute to local man Peter Carroll, who is a family friend of the O'Tooles and was the driving force in the campaign to remember and pay tribute to Fran O'Toole in his home town of Bray.
John Brady said:
"Unfortunately, nothing has ever been done in Bray to acknowledge, pay tribute or remember Fran O'Toole, who was the lead singer with the Miami Showband band at the time of his murder.
"The band had a massive following and played in packed-out venues right across Ireland, Britain and the United States. The band united people through music and gave people a glimmer of hope at a difficult time in our history."
The Miami regularly played in Fran's hometown of Bray in the Arcadia Ballroom. People would travel from far and wide and on occasions thousands would have to be turned away as the Arcadia was packed to capacity, John Brady said.
He continued:
"People right across Ireland were shocked at the murder of Fran and his colleagues, Brian McCoy and Tony Geraghty. Bray came to a complete standstill for his funeral, which people say was the largest ever to be held in the town.
"It's only right that we remember Fran, his music and the legacy he left."
● Des Lee, Stephen Travers, Councillora Oliver O'Brien and John Brady with Peter Carroll at the newly-named 'Fran O'Toole Bridge'
On Saturday 4 July, Bray Bridge was renamed the Fran O'Toole Bridge and a plaque was unveiled at the former family home on Albert Avenue in Bray. This was attended by members of Fran's family along with Des Lee and Stephen Travers, who survived the massacre 40 years ago. The day was completed by a performance by the Miami Showband in the Mermaid Theatre.
An Phoblacht on Twitter

An initiative for dialogue 
for reconciliation 
— — — — — — —
Contributions from key figures in the churches, academia and wider civic society as well as senior republican figures