1 July 2015 Edition
Basque ex-MEP among 20 jailed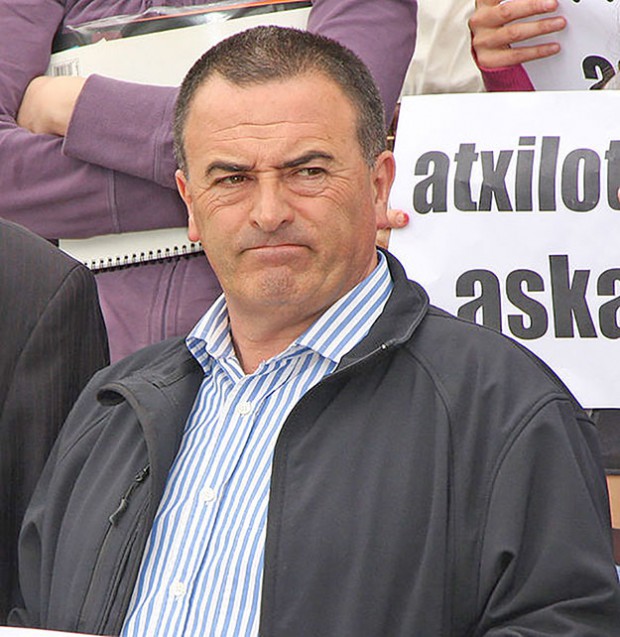 Largest seizure of 'property of the persecuted' since fascist dictator General Franco
BASQUE former MEP Karmelo Landa is among 20 political activists who have been sentenced to prison terms ranging from 18 months to three years as an 11-year court case targeting Basque social clubs came to an end at the Spanish Supreme Court in June.
The case revolved around the operating of Basque social clubs known as 'Herriko Tabernas' (literally 'People's Bars') which the Spanish Government accused of being part of a support network raising funds for the outlawed armed independence group ETA.
As well as imprisoning the 20 activists, the Supreme Court ruled that 107 Basque social clubs (most of which have no official political affiliation and are run by local community groups) are to be shut down and seized by the authorities. Many of the bars raised funds for the dependants of imprisoned Basque political prisoners.
Karmelo Landa was among eight Basque activists convicted of "membership of a terrorist organisation" while the other 12 activists were convicted of "collaboration with a terrorist organisation".
Most of those sentenced to prison were former members of Basque political party Batasuna, which was declared illegal by the Spanish Government in 2003 after it was accused of being subordinate to ETA. 
The banning of political parties, Basque social clubs and prisoner support groups is part of a concerted campaign by the Spanish Government known as "all is ETA" which attempts to criminalise any organisation which advocates for Basque independence or the rights of Basque political prisoners.
Basque political party Sortu hit out at the ruling, describing the Supreme Court's decision as "an attempt to punish pro-independence political work" and outlaw the ideas of the nationalist Left. The party also denounced the seizure of the social clubs as "the largest seizure of property of the persecuted" since the time of fascist dictator General Franco. It said the move would cost dozens of jobs and remove a vital avenue for activists to engage in legitimate political activity.