1 July 2015 Edition
Turkey – Stunning result for pro-Kurdish, left-wing HDP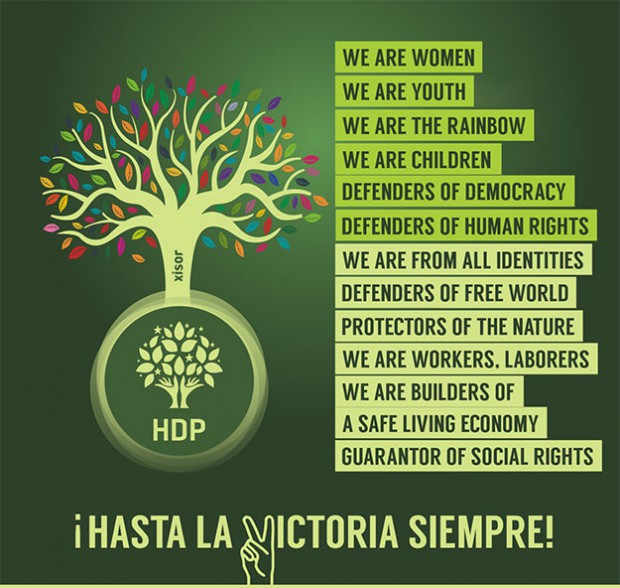 HDP expected to use its position to reinvigorate peace talks between Government and PKK
THE ONLY PARTY that was celebrating after the Turkey's general election on Sunday 7 June was the party that came fourth!
The People's Democratic Party, known as the HDP, is a pro-Kurdish, left-wing party that received 13% of the vote and has now entered Turkey's Parliament with 80 seats. For a political party to enter Turkey's parliament, it has to pass a threshold of 10% of the total vote, so this was a stunning result for HDP in their first general election. 
HDP also had a quota of 10% of candidates from the LGBT community and women made up 50% of candidates. 
It also ensured that no other single party won a majority in the election, which has clipped the wings of the increasingly authoritarian rule of President Recep Tayyip Erdoğan. He had been seeking a 'super majority' to force through constitutional change. Negotiations began to create a coalition Governmen but, if Erdoğan's Justice and Development Party (AKP) fail to secure a coalition partner, there could be fresh elections as early as August.
While Erdoğan helped to launch a now stalled peace deal with the PKK (Kurdistan Workers' Party), the Kurdish community, which makes up approximately 20% of Turkey's population, widely holds that he has backtracked on his promises. His backtracking has ensured that AKP doesn't have a majority in the Parliament for the first time in 13 years. In the election, the AKP haemorrhaged support in the south-east to the HDP, which won a landslide 78% of votes in Diyarbakir province, compared to just 15% for the AKP, less than half its showing in the 2011 elections.
The Turkish Parliament now also has its first Roma and Yazidi MPs.
The HDP is expected to use its position to try to reinvigorate peace talks between the Government and the PKK as well as pressing other key Kurdish demands, such as Kurdish-language education and Kurdish-medium state-run schools.
This result means that issues of the the Kurdish people, and other minorities, cannot be sidelined or ignored in Turkish politics anymore. Erdoğan, however, has a habit of creating conflict, so it is a tense time in this NATO nation.