1 July 2015 Edition
Reconciliation? We need genuine words of 'abject and true remorse' demonstrated in action – Brian Kennaway
UNCOMFORTABLE CONVERSATIONS
'Republicans need to think long and hard about their words and actions if they want to be taken seriously'
IN EVERY SOCIETY there is a need for"Uncomfortable Conversations. Sometimes this need is ignored, like the proverbial 'elephant in the room'. The issues, however, do not go away by being ignored. Others seek to address the discordant issues by 'constructive ambiguity' which, as we know from experience, only leads to further confusion.
If there is one word in our modern society which is open to all sorts of interpretations and misunderstandings it is the word 'reconciliation'. This is a word which is used in all sorts of situations but, as Humpty Dumpty, said: "When I use a word . . . it means just what I want it to mean." We need to unpack this word to give it greater understanding.
My understanding of reconciliation is rooted in the Biblical use of this term, so clearly expressed by the Apostle Paul:
"All this is from God, who reconciled us to himself through Christ and gave us the ministry of reconciliation: that God was reconciling the world to himself in Christ, not counting people's sins against them. And he has committed to us the message of reconciliation." (2 Corinthians 5:17-18)
In order to help our understanding, the cross is sometimes used to illustrate the completeness of reconciliation. The vertical illustrates our reconciliation to God; the horizontal illustrates our reconciliation to our neighbour. It is therefore obvious that the vertical comes first otherwise there is nothing to hang the horizontal on. 
The historical Christian understanding is that when we are reconciled to God we are also reconciled to our neighbour. This differs from the popular understanding which is simply "friendship".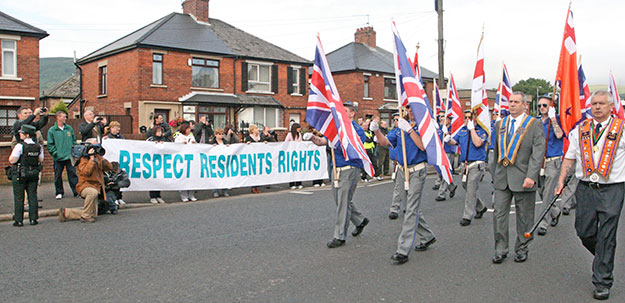 • Residents take part in a peaceful protest against Orange Order parades through their community
The obvious conclusion of how to achieve reconciliation is a genuine repentance before God. In terms of that relationship to our neighbour, it also involves acknowledging the mistakes of the past and seeking the forgiveness of the offended party.
I do not hear much from republicans in terms of a genuine acknowledgement of the mistakes of the past. I do hear the repeated statements of 'It should never have happened', but that is not an expression of repentance which is likely to lead to reconciliation.
If true reconciliation between communities is to be achieved we need to hear genuine words of "abject and true remorse", clearly demonstrated in action. Unfortunately, up to the present, we have only heard vague words and seen little evidence.
You cannot achieve reconciliation by constantly bringing up the events of the past and failing to apply the statements made in defence of IRA action to the actions of others. This was demonstrated recently when Gerry Adams made reference to Jean McConville's murder as "these things happen in war". If that is to be universally applied then so is Ballymurphy and Bloody Sunday.
You cannot achieve reconciliation on a human level by continually poking your opponents in the eye.
Declan Kearney made a speech at Westminster on 24 October 2012 (www.sinnfein.ie/contents/24818) which began by poking unionists in the eye, in spite of a previous article in An Phoblacht in which he stated: "Republicanism needs to become more intuitive about unionist apprehensions and objections, and sensitised in our response."
It is not that unionists are immune from such behaviour (the recent 'Curry my yoghurt' remarks by Gregory Campbell is a typical example), but my charge is to address republicans on "Uncomfortable Conversations".
Poking unionists in the eye by organising opposition to Orange parades (as Gerry Adams revealed in his Athboy speech), the placing of high-profile 'ex-combatants' within the political system, the employment of Mary McArdle as a Special Advisor at taxpayers' expense, the naming of a children's play-park after Raymond McCreesh, and the removal of the national flag from Belfast City Hall all contribute to poking unionists in the eye. 
Republicans need to think long and hard about their words and actions if they want to be taken seriously. Alex Kane put it succinctly: 
"If Sinn Féin clings to the belief that the IRA's 'armed struggle' was always justified and remains justifiable then, in my opinion, there can never be a process of reconciliation between Sinn Féin and mainstream unionism."
BRIAN KENNAWAY  is Presbyterian minister and lifelong member of the Orange Order. Author of 'The Orange Order: A Tradition Betrayed'