1 July 2015 Edition
H-Blocks TD PADDY AGNEW looks back on the epic 1980/1981 Hunger Strikes in Long Kesh
'A united Ireland and a new Ireland is possible'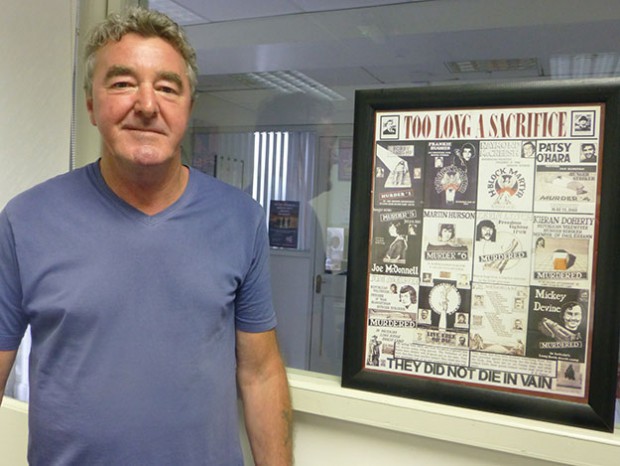 It wasn't an option to wear a prison uniform because I wasn't a criminal so why would I surrender to being treated as one?
THIS YEAR marks the 34th anniversary of the National Hunger Strike Commemoration which will be held in Dundalk, County Louth, on 23 August.
Paddy Agnew is a republican former POW and Blanket Man from Dundalk who was selected to stand for the constituency of Louth in the historic 26-County general election of 1981. Not only was he elected but he topped the poll, a feat that wasn't to be repeated until 2011, when Gerry Adams gave up his seat in West Belfast to stand for the Dáil.
We caught up with Paddy who still lives in Dundalk and he talked to us about what life was like for him, his memories of the prison protests and the people of Louth.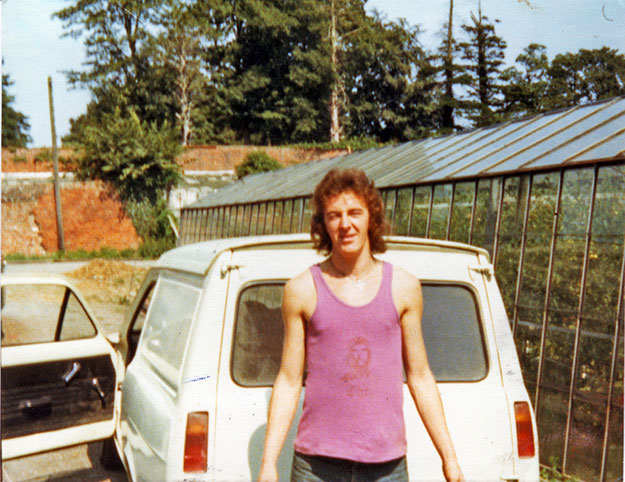 • Paddy Agnew pictured before his arrest
What were your first memories of your republican activism?
I think republicanism is something that was always just in me. My grandfather Paddy was interned during the Tan War so that was always part of my family history.
What really brought it home, though, was when refugees started arriving in Dundalk from Belfast during the 1969-70 pogroms. They were ordinary families just like mine. They were put up in the Clan na Gael Hall beside me and lived in caravans behind our house and it made me ask questions: Why were these people here; what had happened that they had to leave their homes and move their families to another town? 
I would have been around 15 years of age and found myself with my family helping these dispossessed people and talking to them. These were ordinary mothers, fathers and children who were lying on donated beds in the big hall in the Clans until they were rehoused. I was influenced by the stories they told.
I became associated with Fianna Éireann [republican youth movement] shortly after that and then, on 30 January 1972, news came from Derry of the British paratroopers opening up and killing 14 people and wounding many others on Bloody Sunday. That event lit a spark within me and it seemed like a natural progression to move on to other organisations, to become active in the resistance. Bloody Sunday left me emotional and angry. There was no difference between the people in Derry and the people in Dundalk. We were all the same and the attack in Derry was like an attack on all of us. We were all the same and still are.
I remember if there were any protests, they were always organised by Peter 'The Crib' Duffy. Peter was a councillor in the Quay at the time. If you wanted anything done, you always went to Peter. Pearse McGeough's (current Louth County Councillor) father was great at giving speeches. I remember going to the Square in Dundalk to hear him speak. Tommy Carr was another one. These men were what kept the flame of republicanism burning in Louth and I felt they were doing something rather than just talking about it.
After your capture, what was the impact of going on the blanket and 'no wash' protest?
I had spent time in Portlaoise and Mountjoy and then I was arrested on a boat in Carlingford Lough. I was on remand for about 20 months before being sentenced so I used to see the Blanket Men scruffy and bearded and I knew that was the road I was on. It never occurred to me that I would do anything else but go 'on the blanket' once I was sentenced.
It wasn't an option to wear a prison uniform because I wasn't a criminal so why would I surrender to being treated as one?
I discussed my decision to go on the blanket with my family. That was hard. The decision itself was a no-brainer but having to break the news to my mother was the hard part. When she and my sister came to visit me I knew they were upset but they understood. They always supported me and I will always be thankful for that.
The conditions deteriorated as there was an increase in the beatings and they tried to stop us going to the toilets and the shower. They were trying to control us and break us so from the initial passive protest we were forced onto the 'no wash' due to the intransigence of the prison regime and the system. The conditions in the H-Blocks became horrific.
When Bobby Sands died we were all gutted. I think we all thought some sort of resolution would be found. We weren't asking for much, just five basic demands but, as Frankie Hughes and Ray McCreesh died, we became more determined and battle-hardened and then another death and another and another. We just got on with it as best we could.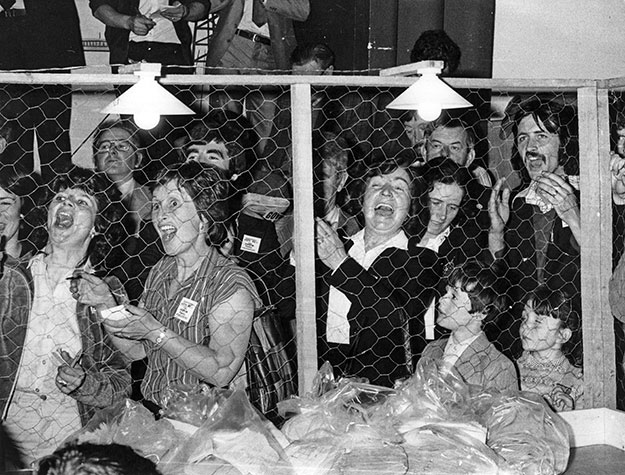 • Paddy's family and supporters celebrate his election victory at the count centre
In the 1981 general election you stood for the constituency of Louth. Did you need much convincing to put your name forward?
Not at all. There was a shortlist of names sent to the leadership outside and my name was on it for Louth. I was proud to stand for the prisoners and the fact I was doing it in my own home county made it more poignant. At the time I wasn't aware of the historical significance of contesting this election, just that we were asking people to vote for the prisoners and support them.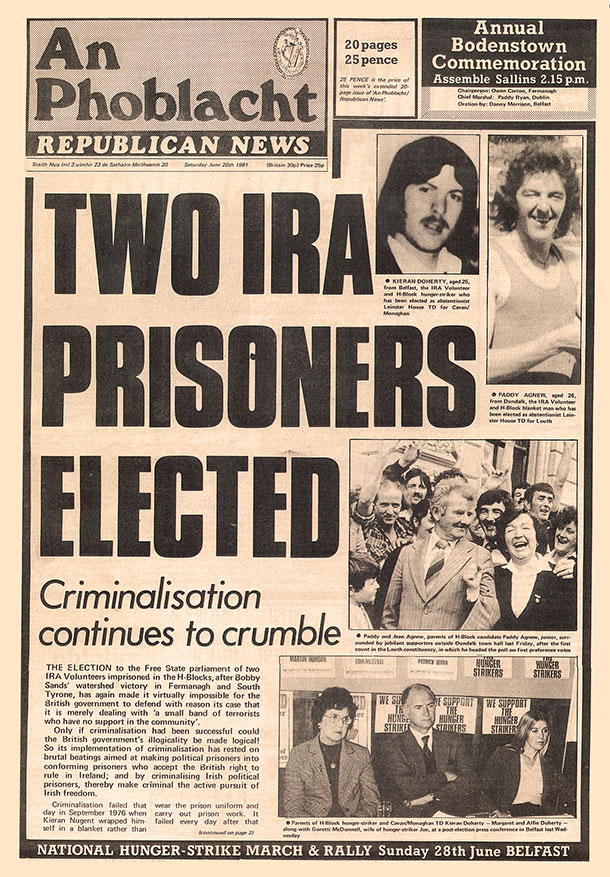 How did you feel when you had topped the poll?
Pat McGeown had a wee secreted radio and heard it on the news. He then used the 'jungle drums' to spread the word, basically shouting over from the other wing that I had won the seat and I had topped the poll, and word was passed on like that until everyone knew what had happened.
I was delighted that the people of Louth supported the prisoners on hunger strike. It added a new dimension to the prison struggle and we felt hopeful. When 'Big Doc' [Kieran Doherty] got elected in Cavan/Monaghan it added to the impetus of our prison struggle. We hoped for an early resolution but on the other hand we were afraid to hope – after all, they had let Bobby Sands die and he was an MP.
We knew our getting elected was giving people, especially our families, hope and we carried that heavy responsibility. Of course, nothing came of the election in terms of saving the men's lives but it rallied people all over the country and that was important too.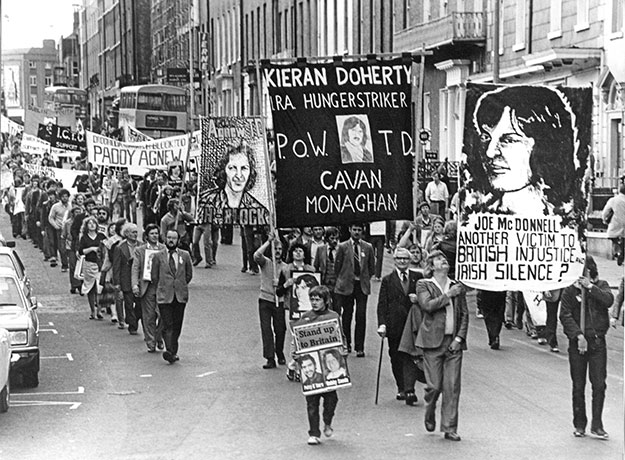 • Protesters carry banners of Anti-H-Block TDs and Hunger Strikers Paddy Agnew and Kieran Doherty
This is the first time the annual Hunger Strike Commemoration will be held in Louth. How do you feel about that? 
This time of year always brings back memories for me as I know it does for others. There were good memories as well as darker ones but I will be very proud to stand in Dundalk on 23 August and say that I was part of that. 
The annual commemoration always reflects the history of that time but this year the young people of Louth can see for themselves that this county played their part in that phase of the struggle and we should be proud of that. It is an opportunity to promote the republican objective and to remember those who died. I am proud to have played my part in that historical era and I'm glad I came through it but I'm also sad for those who didn't. I am aware that when we were growing up we looked to 1916 for inspiration but now the younger generation is looking to 1981.
Unfortunately, as the years go by, the reconciliations with old comrades at these events are getting fewer and it's hard to believe it was 34 years ago but I am looking forward to seeing old comrades.
• Pat McGeown and Kieran Doherty
Sinn Féin now has a major foothold in the South, including holding your old seat. Do you see the party increasing in the years ahead and does it live up to the aspirations you had in 1981 when you stood for election?
I think when I stood in 1981, it was literally to save lives. It was to find a resolution to the prison crisis and to get the five demands. Things have progressed since then. Gerry Adams now holds the seat I had and I'm proud to say that. Since Gerry Adams became president of Sinn Féin, it has become the political organisation it was always meant to be. I believe the party will increase in the years ahead because we are now focused on building the Ireland that the leaders of 1916 dared to dream about – an Ireland for the people.
There has always been a significant support for republicanism in Louth and people are fed up with swapping parties in government for the same policies time and again. They are ready for a change and Sinn Féin is that vehicle.
Sinn Féin has always stood for change and resistance. They are now a major player in the political process both North and South and the state will strongly resist the Sinn Féin mandate but people need to have the courage of their convictions to build a new Ireland for the people of Ireland and they have a right to demand that change. A united Ireland and a new Ireland is possible and the work that we started in 1981 has progressed and it's still the same struggle, just being fought on a different front. When I was released in 1986, I carried on the struggle by joining the local Gerard Halpenny Sinn Féin Cumann. I am still fighting and always will. This is just a new phase.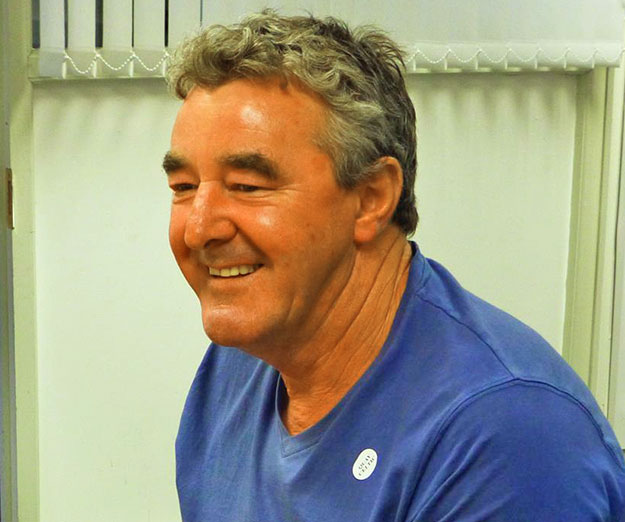 Is there anything you would like to add?
I am so proud to be from Louth and the people here have never let us down. They didn't let the prisoners down in 1981 and they didn't let us down when Gerry Adams topped the poll in 2011. 
I would like to take this opportunity to encourage young people to get involved in making a better Ireland. The beauty about getting involved in resistance now is that you can join Sinn Féin and fight for a united Ireland and you never have to end up in prison or endure what we went through in 1981. You can serve your country and still have your life and freedom.
If you ask me to sum up my time in prison I would say: "I have been in better places but not with better people."