1 July 2015 Edition
Don't single out lone parents
Sinn Féin postcard campaign calls on Tánaiste to row back on attacks on one-parent families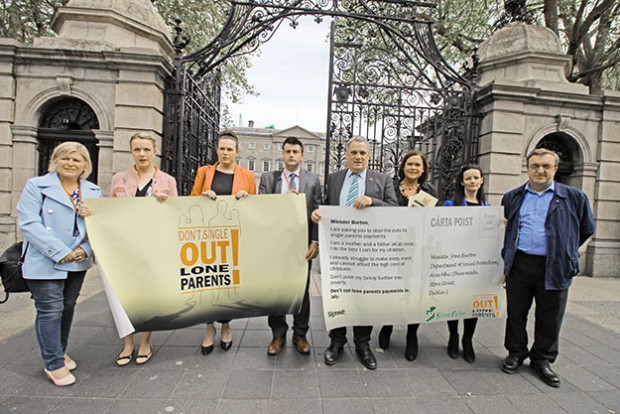 Most of the lone parents who are going to be affected by the July cut are working lone parents
A CAMPAIGN has been launched by Sinn Féin to oppose cuts aimed at the Lone Parent Allowance due to come into effect on 2 July. This cut is the eighth time since coming into Government that Fine Gael and Labour have targeted lone parents with cuts.
"Almost 12,000 lone parents, most of whom are in fact working, will suffer a financial loss of up to €86 per week if Tánaiste Joan Burton proceeds with this cut," Sinn Féin Social Protection spokesperson Aengus Ó Snodaigh TD said. "Cuts to the Lone Parent Allowance will drive some families into poverty."
Describing the cuts as "mean-spirited and unfair", Aengus Ó Snodaigh TD told An Phoblacht at the launch of the postcard campaign outside Leinster House:
"In 2012, Joan Burton, as Social Protection Minister, made a commitment that this cut would not go ahead unless there was a bankable guarantee of affordable childcare and after-school care available, like they have in most Scandinavian countries."
He reminded reporters that Joan Burton stated categorically that "if this is not forthcoming, the measure will not proceed".
"That isn't available, Aengus Ó Snodaigh reiterated An Phoblacht. "So we've launched this postcard campaign to call on people across the state to write to the Tánaiste reminding her of her previous commitments and also to call on her to row back on these cuts."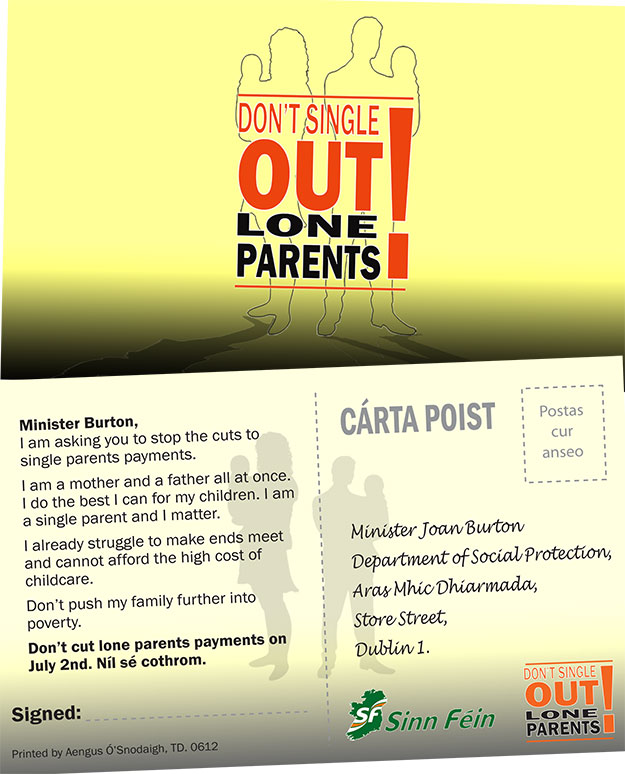 Aengus Ó  Snodaigh also said there has been a recent disturbing increase in homelessness among one-parent families with figures from the Tenancy Protection Service showing that more than 60% of households seeking urgent assistance are lone-parent households: 
"Most of the lone parents who are going to be affected by this are working lone parents. These families are the most socially deprived according to the Central Statstics Office and other studies. Tánaiste Joan Burton needs to live up to the commitments she made in Government."