1 July 2015 Edition
DUP wanted ethnic minorities chief prosecuted – for 'hate crime'
43% rise in racist hate crimes in 8 months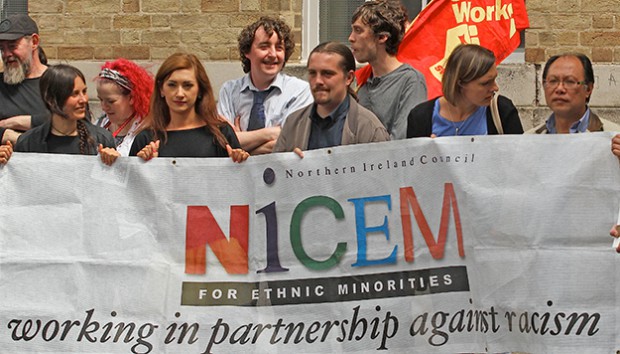 PATRICK YU, Chief Executive of the North's Council for Ethnic Minorities (NICEM), was threatened with being taken to court by the DUP – for a "hate crime".
He had suggested that a 'Holy Cross situation' could occur if pupils from an ethnic background had to move from their school off the Lisburn Road to one in the loyalist Village area.
During 2001/2002, there was a UDA-backed siege by unionist mobs of Holy Cross Primary School in Ardoyne. Catholic schoolchildren had to run a daily gauntlet of hate, including sectarian and sexual abuse as well as fireworks and even a pipe-bomb.
Due to falling pupils numbers, schools in the Donegall Road/Village area may be merged with Fane Street Primary School, near the city's Lisburn Road. Almost two thirds of Fane Street pupils are immigrants from 22 countries, and a third are Muslim.
In a submission to the Education Authority, NICEM has warned there is "a high security risk of racist attacks against ethnic minority and Muslim families if they are forced to move" from Fane Street.
Reacting to Patrick Yu's comments, Jimmy Spratt MLA said on Thursday 4 June that he would be reporting the comments to the PSNI.
Backing the DUP MLA is Belfast City Councillor Bob Stoker of UKIP.
In another strange scene from this 'You couldn't make it up' farce, Stoker, who defected from the Ulster Unionist Party to join the anti-immigrant UKIP, spluttered:
"It's absolutely scandalous that people are making claims of racism as an excuse to oppose constructing a new school."
Parents of children attending the schools in the Donegall Road and Village areas are protesting against the merger, with one woman saying:
"There's ten different languages being spoken at that school [Fane Street]. My child is in a school where the majority of them speak English."
Another maintained:
"Parents won't send their kids to mix with new families because they believe it will hold their education back."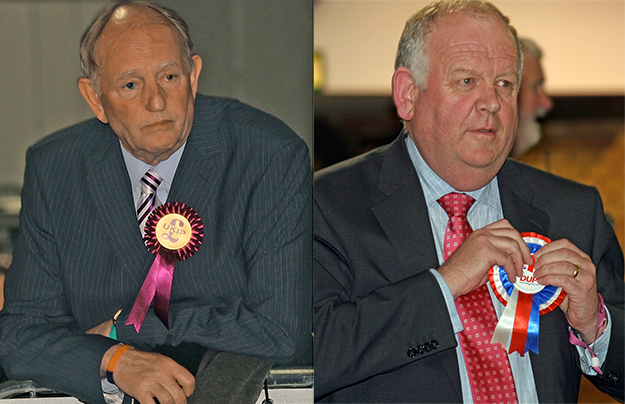 • UKIP Councillor Bob Stoker and DUP's Jimmy Spratt MLA
HATE CRIMES RISE
After NICEM met with community groups from the Sandy Row, Donegall Road and Village areas on Tuesday 9 June, Patrick Yu commented "it was a very poor choice" to cite the Holy Cross dispute in his earlier expression of concern. That said, his initial fears that pupils may suffer abuse or indeed physical attack is a legitimate fear given the number of racist incidents in the south Belfast area.
The PSNI recently released figures in which they have recorded a 43% increase in racist hate crimes in Belfast in the space of eight months.
The PSNI's 'Operation Reiner' was set up in May 2014 to tackle the growing problem of racist attacks across the North.
In the period to the end of January 2015, 383 racially-motivated offences were recorded across Belfast compared to 268 offences in the previous year.
A third of offences recorded last year took place in east Belfast, with the finger of blame being pointed largely at the unionist UVF. 

• The UDA-backed siege of Holy Cross Primary School in Ardoyne forced Catholic schoolchildren to run a daily gauntlet of hate
Also in south Belfast, the number of racist attacks rose from 105 to 125, a 19% increase which would indicate that the fears raised by NICEM are not without foundation.
Ironically, the furore over Yu's remarks came in the days after the Polish Ambassador to Britain visited the North to discuss the increase in attacks on Polish nationals in the North. 
While in Belfast, Ambassador Witold Sobkow met the North's First and Deputy First Ministers, Peter Robinson and Martin McGuinness, who said afterwards "we share the Ambassador's concern about race hate crime and all forms of intimidation".
They also confirmed that proposals for a racial equality strategy will be put to the Executive soon.

PORTADOWN
Meanwhile, in the loyalist Corcrain estate in Portadown, County Armagh, the houses of Portuguese nationals were daubed with threatening graffiti.
The front of one house had "Get Out or be put out! Scum!" painted on it while another was defaced with "Brits Only" and "No foreigners!"
Speaking to An Phoblacht, Councillor Catherine Seeley said:
"The loyalists behind this must be isolated and those in political unionism in the town need to show leadership and confront the racists."