1 July 2015 Edition
Republicans stand with Tone and the people
Wolfe Tone Commemoration addressed by Sinn Féin deputy leader Mary Lou McDonald TD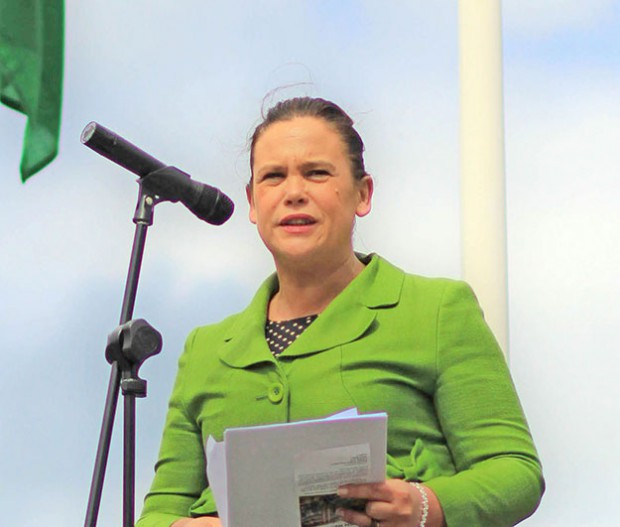 "ONE HUNDRED YEARS AGO YESTERDAY, on 20 June 1915, many of the women and men who went on to participate in the 1916 Rising were standing here where we now stand," Mary Lou McDonald reminded the crowds gathered at Bodenstown in County Kildare for this year's Sinn Féin Wolfe Tone Commemoration.
In that year, the guard of honour was made up of equal numbers of Irish Volunteers and Citizen Army members. A few weeks later they gathered in large numbers to bury the veteran Fenian Jeremiah O'Donovan Rossa.
"This year," Mary Lou said, "on the 1st of August, we in Sinn Féin will re-enact this historic occasion on the streets of Dublin, the first of our national events marking the centenary of the Easter Rising."
The Sinn Féin deputy leader and TD for Dublin Central went on to describe Wolfe Tone as a political man of his time.
"His political struggles would in many ways foreshadow those of later generations," she said.
"As with the Civil Rights movement in the 1960s, Tone's peaceful demands were met with state violence. Sectarianism too was used by the British Government to divide the Irish people.
"The British Government sought to crush the United Irishmen in the 1790s because they challenged the sectarian regime based on landlordism and colonialism, and because they sought Irish independence. London was determined to defend privilege within Ireland and to prevent Ireland from taking its place among the nations."
She said that Sinn Féin is determined to achieve a united Ireland in the spirit of Tone. Wolfe Tone summed it up well, she said, when he declared:
'To say in one word: Ireland shall be independent.
"We shall be a nation, not a province; citizens, not slaves."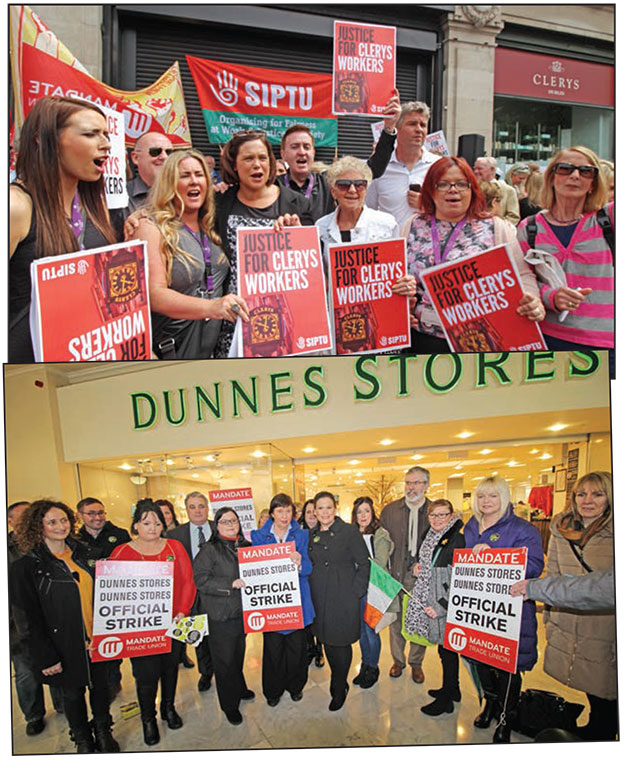 •  Mary Lou McDonald TD stands with Clerys and Dunnes workers 
Coalition 'bluster and bluff'
The Dublin TD said that, as a Dáil general election looms, Fine Gael and Labour "will trumpet what they claim as achievements" over the past four years.
But "behind their almighty bluster and bluff", she said, stands the real record of Fine Gael and Labour while in government.
"Having cut families and communities to the bone, having crippled public services and having dispatched an entire generation to the emigrant trail, they now tell us that there is an economic recovery.
"Tell that to the children living in emergency accommodation, in hotel rooms and B&Bs!
"Tell it to the families who face into the second half of 2015 without a home because of exorbitant rent rises or because sales of their rental homes have left them without a roof over their heads!
"Tell it to the 100-year-old women lying on hospital trollies in A&E!
"Tell it to the unemployed and the working poor, workers struggling on low wages just trying to get by!"
For these people and more, the much-proclaimed 'green shoots of recovery' are not to be seen, she said.
"Real recovery is felt in better public services and in better job opportunities, wages and conditions for workers. What we are seeing is a rise in low-wage employment, zero-hour contracts and total lack of employment stability for working people," she said, pointing to the struggles of the workers at Dunnes Stores and Clerys as just two examples.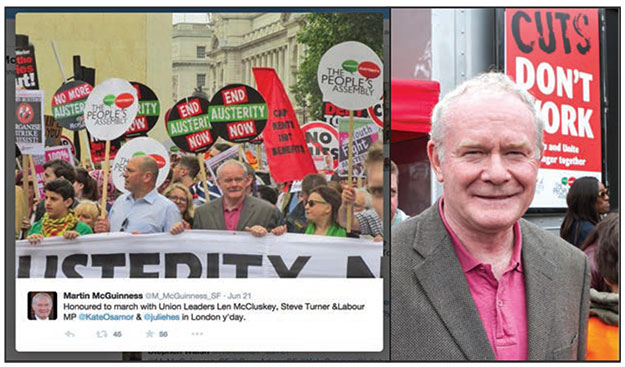 • Martin McGuinness MLA spoke at the massive anti-austerity rally in London
'We know which side we are on'
To sustained applause, she pointed out that, the day before the Wolfe Tone Commemoration, Sinn Féin MLA and deputy First Minister Martin McGuinness addressed a quarter of a million people at an anti-austerity rally in London.
"We stand with communities in Athens, London, Edinburgh and Cardiff and against the Tories in Britain, Dublin and Brussels.
"We know which side we are on.
"We are on the republican side, standing with the people. We will continue to fight Tory cuts – whether they come from Dublin or London.
"And we will fight for a fair recovery – for investment in services and decent jobs, for fair taxation, for secure homes and protections for people at vulnerable times in their lives."
In the recent Westminster elections, Mary Lou said, Sinn Féin's 18 candidates received a strong mandate to stand up against Tory cuts. 
"We will honour our mandate.
"We will stand up and be counted – for a proper budget for the North and against Tory cuts, North and South."
She ended:
"Sinn Fein will actively work for Irish unity and bring about the Republic dreamt of by Wolf Tone. As we approach the centenary year of the 1916 Rising, we ask ever Irish woman and man – Catholic, Protestant and Dissenter – to help fulfill the dreams of those who signed the Proclamation and the vision of Wolfe Tone.
"To stand with us and each other to make Ireland – united and equal - a nation we can all be proud of once again."