1 July 2015 Edition
Media billions undermining press freedom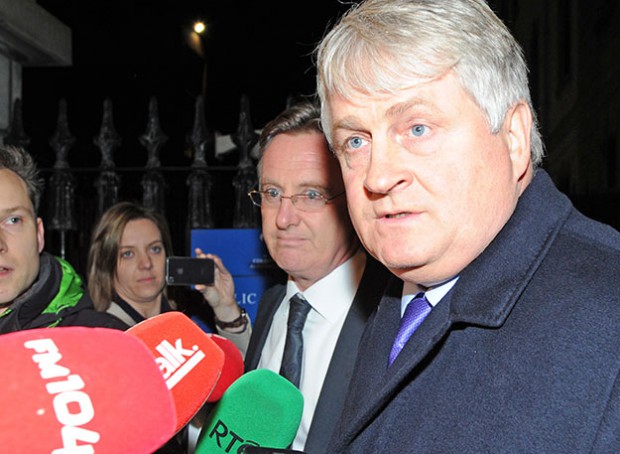 The 'plural media' we are left with of Communicorp, INM, RTÉ, 'The Irish Times' and others (who from January were loudly trumpeting the rights of 'Charlie Hebdo') are the ones who presided over the suppression of media freedom last month when they decided to censor the words of a TD
I WONDER if Denis O'Brien does reminiscence. 
Twenty years ago, Denis was planning a strategy to secure Ireland's second mobile phone licence, a success that massively enriched him when it was sold to BT in 2000, earning him €317million.
I wonder what Denis thinks about how Irish media market regulation has consistently failed since 1995 while at the same time billions of euro has changed hands as companies, infrastructure and licences have been bought, sold, auctioned – he himself often the buyer more than seller.
It is interesting that I don't need to know what Denis thinks of the revelations of his alleged unique banking relationship with the Irish Bank Resolution Corporation. Denis got a 1,800-word article in The Irish Times, a paper that days before would not publish a 924-word Dáil statement by Independent TD Catherine Murphy.
During those heady days in 1995 leading up to the granting of the licence for his ESAT consortium, O'Brien was a regular subscriber and supporter of Fine Gael events. He met with Enda Kenny and Richard Bruton on 17 May 1995. He supported 14 party functions, 'golf classics' and fund-raising lunches from March to 1995 to June 1996, shelling out over €22,000 in donations to Fine Gael.
(You can read about these meetings and events in the Moriarty Tribunal Report. I recommend starting at page 141 in Part 2 of Volume 2.
This is not to suggest that there was any wrongdoing by either the Fine Gael party or Denis O'Brien, but it is an insight into how the relationships between corporate and political Ireland function.
Now, in 2015, there is some distance between O'Brien and the heady days of 1995 and the acquaintances he made then. During that time, the Tony O'Reilly media empire has collapsed, replaced and enlarged by O'Brien's interests in Independent News & Media, Communicorp and Siteserv. At the same time, UTV's presence in the Irish media market across the island has grown into radio and TV holdings from Limerick to Dublin to Belfast.
Rupert Murdoch's News Corp has interests in not just Sunday and daily papers but a BSkyB satellite service that in the 26 Counties has 46% of the total TV multi-channel market. News Corp's nearest competitor, UPC, with a 26% share, is owned by Liberty Global. This multinational is currently undertaking due diligence on buying TV3. O'Brien's INM is kicking the tyres too.
Finally, this year, O'Brien's ESAT, swallowed up by BT, sold to 02, is now part of the Three Network owned by Hutchinson Whampoa, an investment company based in Hong Kong. The Irish side of 02 was sold for €850million.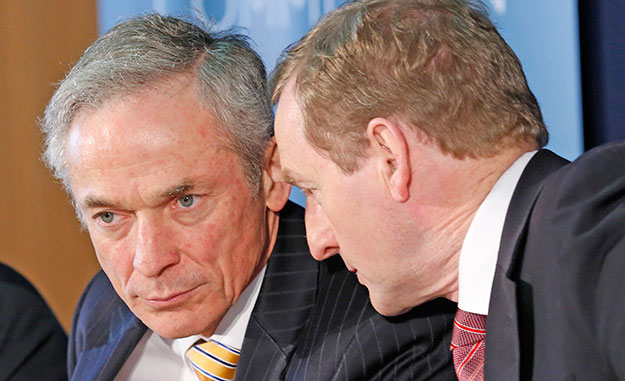 • O'Brien met with Fine Gael's Richard Bruton and Enda Kenny on 17 May 1995 
Media and communication empires are rising and falling in Ireland, with two clear consequences. Firstly, the Irish Government and its regulatory agencies have done almost nothing on these mergers. Secondly, media freedom has been eroded by the trends in media ownership over the last 20 years. The departure of Sam Smyth from INM and the revelations by former Sunday Independent editor Anne Harris that she was prevented from reporting on Denis O'Brien, the paper's largest shareholder, were signs of this happening.
We have taken ads for some fatty foods and sugary drinks off the TV, allowed product placements in TV dramas and light entertainment and begun wrestling with the appropriateness of alcohol sponsoring of sports. There are more ads on TV and radio yet the Broadcasting Authority of Ireland proposes a severely restricted idea of broadcaster objectivity, eroding the right to fair comment.
In June 2015, the Fine Gael/Labour Government finally published media mergers guidelines. The rules only work on new deals and define a 20% shareholding as being a "significant interest" in terms of ownership. The government will decide whether new mergers will impact on 'media plurality'. They don't deal with past mergers or what market share a media business has. You can see the guidelines at: www.dcenr.gov.ie/Broadcasting/Guidelines+on+Media+Mergers.
The 'plural media' we are left with of Communicorp, INM, RTÉ, The Irish Times and others (who from January were loudly trumpeting the rights of Charlie Hebdo) are the ones who presided over the suppression of media freedom last month when they decided to censor the words of a TD.
This was the latest episode in a death by a thousand omissions, deletions, shabby reporting, advertising-driven news and spurious celebrity reporting.
Despite the promise of new guidelines, in another 20 years our already small pool of media moguls will be smaller again.

Irish media facts 2015
46% 
BskyB share of multichannel TV market
26% 
UPC share of multichannel TV market
1.8million 
Communicorp's weekly average audience 
34% 
RTÉ's average weekly 26-County audience share
24% 
Communicorp's average weekly 26-County audience share
50% 
INM share of daily and Sunday newspaper market circulation
54% 
Communicorp's share of the Dublin radio audience