1 July 2015 Edition
Death squads from Downing Street
Collusion

RUC officer John Weir told how he personally and the 'security forces' worked hand in glove with the notorious sectarian death squad known as the Glenanne Gang
BROADCAST on Monday 15 June, Collusion (by the "RTÉ Investigations Unit") prompted some to comment '30 years too late' or 'What took you so long?' The fact that RTÉ rigorously enforced state censorship and tamely took the Government line on collusion being largely republican propaganda also loomed large in many minds.
Having former RUC officer John Weir tell on screen how he personally and the 'security forces' worked hand in glove with the notorious sectarian death squad known as the Glenanne Gang (made up of serving police officers and soldiers with Ulster Volunteer Force paramilitaries) was novel, but Collusion raised more questions that it answered, left more gaps in the narrative than it filled.
Anne Cadwallader's excellent exposé, Lethal Allies: British Collusion in Ireland, forensically pieced together the activities of the Glenanne Gang, showing that they were operating with impunity and with British state aid.
Pulling the strings of the Glenanne Gang were British Intelligence operatives such as SAS captain Robert Nairac and Fred Holroyd of the British Army's Special Military Intelligence Unit, based in Mahon Road Barracks in Portadown.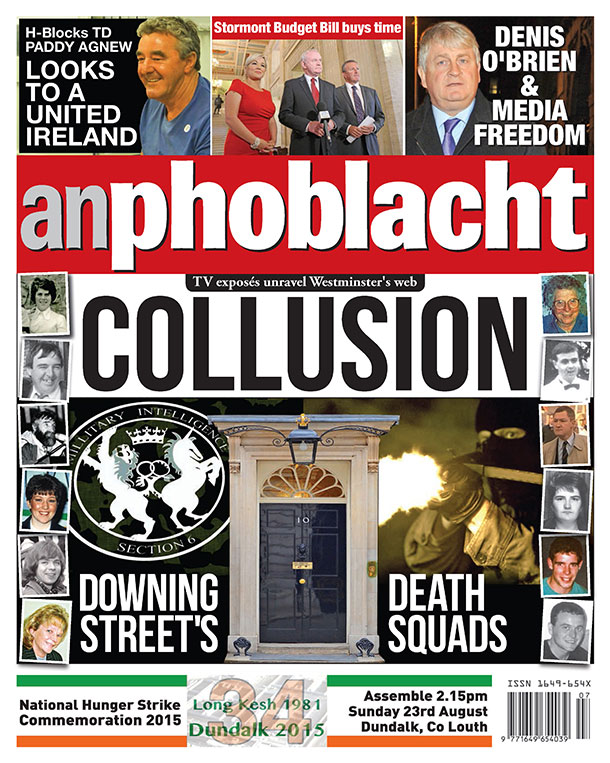 Acclaimed British journalist Paul Foot in his investigative book Who Framed Colin Wallace? (about the psychological warfare specialist at Lisburn British Army HQ convicted of manslaughter in 1981) also delves into the murky world of Britain's 'dirty war'.
Both books take us to the heart of collusion in a way RTÉ's programme failed to.  RTÉ, the state's official broadcaster, was playing catch-up. This is an indictment of the failure of successive Dublin governments (and the Dublin media) down the decades to confront the British administrations at Stormont, Whitehall and Westminster about its employment of loyalist deaths squads.
Retired Irish Government diplomat Seán Donlon said that when former taoisigh Jack Lynch and Liam Cosgrave raised collusion with British Premier Edward Heath, he simply denied it. According to Donlon, "That was it." The British state was let off the hook.
This was despite the fact that the top British general in the North, Harry Tuzo, ignored open displays of weapons by the UDA. British Army foot patrols were seen being accompanied by uniformed and masked UDA thugs brandishing batons and pickaxe handles. It spoke volumes about their relationship. This was a UDA which carried out vicious, sectarian massacres since 1971 but was perfectly legal until August 1992.
As Whitehall wrestled with the problem of its worldwide image as TV crews and photographers recorded the British Army's gung-ho interventions during the Falls Curfew, internment, the Ballymurphy and Westrock Massacres, Bloody Sunday in Derry and the New Lodge killings in 1973, the loyalist paramilitaries of the UVF and UDA became the arm's length cutting edge of British military and security strategy.
• Former British Premier Edward Heath, Colonel Gordon Kerr and RUC officer John Weir
Sinn Féin Vice-President Máire Drumm was assassinated in her hospital bed in 1976.
As the H Block/Armagh protests dominated political life in Ireland, activists Miriam Daly, John Turnley, Ronnie Bunting and Noel Lyttle were shot dead by UDA hit squads while Bernadette McAliskey and her husband were seriously wounded
Civil liberties lawyers Pat Finucane and Rosemary Nelson were 'taken out' because they exposed the legal system for the sham that it was.
As Sinn Féin grew as a political force, leadership figures at both local and national level were gunned down by the death squads.
What was good about Collusion was its line-up of senior figures in policing of that era (RUC Inspector Ray White, RUC Chief Constable Hugh Orde, Police Ombudsman Nuala O'Loan) and Dave Cox, ex-head of the North's Historical Enquiries Team, all reaffirming what republicans have been saying for years – that collusion was a central plank of Britain's war in Ireland.
Hugh Orde said that British Army Colonel Gordon Kerr (head of the notorious Force Research Unit that ran agents such as Brian Nelson, the UDA's intelligence chief targeting Catholic civilians as well as republicans) should have faced trial.
Sir John Stevens, the Metropolitan Police chief who went on to lead three British Government inquiries into collusion, recommended the arrest and prosecution of 24 RUC Special Branch and British Army officers.
Systemic is the word coming into common usage to describe the extent of collusion. Another one should be continuity. Continuity because the thread of collusion runs unbroken through successive British administrations, the Civil Service, the Intelligence services, the judicial and legal apparatus, and the mainstream media which never, contemporaneously, held any British minister to account for what happened in the North.
Collusion is still a big story now, not a thing of the past.
Collusion – Front Page Portraits

Elizabeth 'Betty' McDonald, killed when a no-warning unionist bomb detonated outside the Step Inn pub, Keady, Co Armagh, 1976
Eamon Fox, shot dead while working on a building site in Tiger's Bay, Belfast, 1994
Eddie Fullerton, Sinn Féin councillor, shot in his Co Donegal home, 1991
Sheena Campbell, a law student and dedicated Sinn Fein activist, killed while sitting in the York Hotel, Belfast, 1992
Fran O'Toole, killed in Miami Showband Massacre, near Newry, south Armagh, 1975
Rosemary Nelson, civil liberties solicitor, killed by unionists who booby-trapped her car, Lurgan, 1999
Roseann Mallon, murdered by the UVF, 1994
Peter McTasney, shot dead at his home in Bawnmore, north Belfast, 1991
Patrick Finucane, human rights lawyer killed by UDA, 1989
Sharon McKenna, Catholic taxi driver, shot dead, 1993
Dwayne O'Donnell, killed by the UVF at Boyle's Bar, Cappagh, 1991
Gary Convie, shot dead while working on a building site in Tiger's Bay, Belfast, 1994