7 March 2015
People want change – let's make the change, Gerry Adams tells Sinn Féin Ard Fheis
SINN FÉIN wants to lead the next Irish Government, Gerry Adams said in his Presidential Address at the close of the party's Ard Fheis in Derry on Saturday evening – and the party will not "prop up" either a Fine Gael or Fianna Fáil government.
Calling for a "national conversation" about Ireland's future as we mark the centenary of events from the Ulster Covenant to the 1916 Rising and the Civil War, the Sinn Féin President said:
"I believe all genuine progressive social and political forces across this island – including unionists and working-class loyalists – should develop a common platform for political progress."
In his speech, broadcast live on RTÉ and BBC, the TD for Louth opened by extending a special céad míle fáilte to Jim Cullen and Alan McConnell of Friends of Sinn Féin in the USA and Canada, "and to our comrades" from Australia, from South Africa, Cuba, the Basque Country, Greece, Britain and to all the foreign dignitaries, including the Palestinian Ambassador.
"Tonight, I call on the Irish Government to act on the Sinn Féin motion adopted unanimously by the Dáil and to recognise the state of Palestine.
"Mar a deirfear, Bobby: 'It's good to be back home in Derry'."
And in an aside to Enda Kenny, leader of Fine Gael "The United Ireland Party", Gerry Adams was cheered and applauded when he said:
"Taoiseach – if you're watching – Dia duit, greetings from the North.
"Taoiseach, mar eolas duit, this is not a foreign country. This is Ireland."
He described Derry as "a special place". The attack on the Civil Rights march at Duke Street in 1968, the Battle of the Bogside, and Bloody Sunday (representatives of the Bloody Sunday families were in the audience) are key events in the history of modern Ireland, Gerry Adams said.
The Sinn Féin leader sent best wishes to "son of Derry" and former SDLP leader John Hume "who was central to the Peace Process, and to Martin McGuinness for his continued courageous and visionary leadership".
● Sinn Féin's Gearóid Ó hEára introduces the Londonderry Bands Forum
He also welcomed the unionist Londonderry Bands Forum and said that the accommodation reached in Derry on loyal order parades "stands out as an example of what can be achieved when citizens have the will to solve problems. Let's see the same approach to contentious parades in Belfast and elsewhere."
Gerry Adams outlined the protections that Sinn Féin had achieved in the Stormont House Agreement for the most disadvantaged.
"We negotiated that there will be no reductions to any benefits under the control of the Executive. That is fundamental to this Agreement and Sinn Féin will hold to that and hold other parties to that commitment."
Progress was also made on the issues of parades, flags and emblems and the past, he said. "Dealing with the past is very difficult," he acknowledged, pointing out that the opening day of the Ard Fheis on Friday was the anniversary of the Gibraltar killings by the SAS and, "Today is Sam Marshall's anniversary."
Every day marks an anniversary for someone, for some family, for some community, he said, as the former MP for West Belfast acknowledged the presence of the Ballymurphy Massacre families.
"I hope the Stormont House Agreement will bring closure to victims. That is the intention."
He also welcomed Liam Shannon, one of the 'Hooded Men' whose torture cases during internment in 1971 are being reopened before the European Court.
Returning to the Stormont House Agreement, Gerry Adams said:
"There are those who attack the Stormont House Agreement. They attack Sinn Féin.
"Let us be clear – that Agreement did not resolve the issue of British Tory cuts to the block grant. Over one and a half billion pounds has been stripped away by London. Those who opportunistically attack us should be focused on that.
"Why should a British Government of millionaires have the authority to impose economic punishment on citizens here?
"Sinn Féin will continue to oppose austerity – North and South.
"Those who argue that power should be handed back to London need to get real. That would be the road to disaster. Instead there needs to be an island-wide campaign to promote progressive policies and Sinn Féin will build a positive alliance with everyone else who has this position, including other parties, the community and voluntary sector and the trade unions."
He continued by saying that austerity is not the solution but is part of the problem.
"Sinn Féin is not the problem. We are part of the solution.
"Beidh muid ag obair as lámh a chéile le daoine eile i ngach cearn den oileán seo chun bealach eile a chur chun tosaigh seachas an déine." He said that supporting austerity in the North is a logical extension of Fine Gael and Labour policies.
"Their Budgets have been among the most regressive in the state's history. There has been a huge growth in social inequality. A third of our children now live in consistent poverty." He said that public money which should be used to end the scandal of patients lying on trolleys, to house our citizens, and to create jobs is being used to repay private bank debt.
"That's Labour's way.
"That's Fine Gael's way.
"That's Frankfurt's way.
"That's not the Sinn Féin way."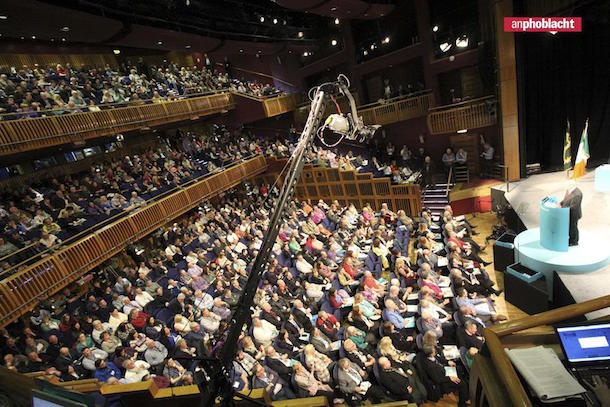 ● The Ard Fheis opening session in Derry on Friday evening
He said that Fianna Fáil wrecked the economy, drove hundreds of thousands out of work, and forced many of our young people to emigrate.
"Fine Gael and Labour made a bad situation worse by delivering Fianna Fáil policies. They made working people, senior citizens, patients and children pay the price for private banking greed.
"It is corrupt bankers and corrupt politicians who should be in jail, and not water charge protesters."
Wherever people live – in rural or urban Ireland, "whether they live in the Bogside or Baile Mhuirne, or on the Shankill or Southhill" – they deserve the right to a health service, to an education system, to quality childcare, to a home, to a job, to a clean environment and to civil and religious liberties.
They are entitled to equality before the law, regardless of background, sexual orientation or gender, he said.
"On 22 May I am calling for a resounding YES vote."
Partition came about because the revolutionary period from 1916 was followed by a counter-revolution, he said.
"Two conservative states with narrow-minded, mean-spirited elites were created. Our people suffered, emigrated and died as a result. Our potential is stunted – our communities divided.
"It's little wonder that the response of the Irish Government to these centenaries has lacked ambition and substance. It is little wonder they don't want to celebrate the Proclamation. For their part, they are embarrassed by its relevance for Ireland today; for our part, the 1916 Proclamation remains the mission statement of modern Irish republicanism."
Gerry Adams called for "a new Citizens' Charter", encapsulating fundamental principles which could take us towards a citizen-centred, rights-based society.
"It could be a new departure in Irish politics," the Sinn Féin leader said.
"The people of this island, whether urban or rural, from whatever background or tradition, share a common history and our futures are bound together.
"We need reminded again and again that our flag is orange. Orange as well as green. Orange is part of what we are.
"That is our potential. And our challenge – to unite Orange and Green in equality and mutual respect."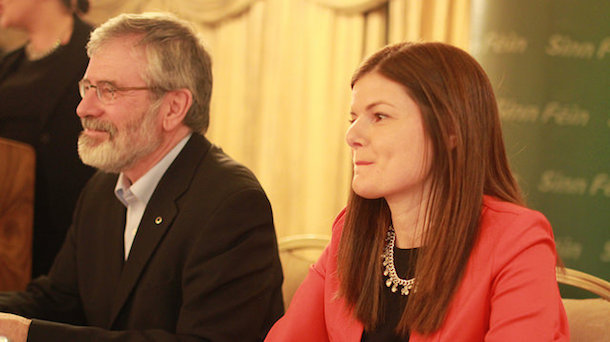 ● Gerry Adams and Kathleen Funchion (Carlow/Kilkenny)
Flagging up the Westminster elections on 7 May, and the Carlow/Kilkenny by-election caused by former Environment Minister Phil 'Water Charges' Hogan being contested by Sinn Féin's Kathleen Funchion, Gerry Adams said the imposition of an unfair water charge has been the final straw for many families in the South.
"The huge demonstrations are proof of that.
"The water charge protesters should be released."
He praised Sinn Féin elected representatives and activists for their "diligence and hard work", saying:
"It's little wonder that Enda Kenny and Joan Burton are worried" and he warned Sinn Féin supporters:
"They and their cronies will be even more strident in the run-in to the election – so brace yourselves.
"They know the people want change.
"Sinn Féin wants a mandate for government.
"I believe we can win that mandate.
"Sinn Féin wants to lead the next Government. We will not prop up either a Fine Gael or a Fianna Fáil government.
"I am confident that when it comes to making a choice, the people will make the change.
"The future hasn't been written yet. Let's write it together. Let's make it happen!
"Make the change. Ar aghaidh linn le chéile."  
An Phoblacht Magazine
AN PHOBLACHT MAGAZINE:
Don't miss your chance to get the second edition of the 2019 magazine, published to coincide with Easter Week
This special edition which focuses on Irish Unity, features articles by Pearse Doherty, Dr Thomas Paul and Martina Anderson.
Pearse sets out the argument for an United Ireland Economy whilst Pat Sheehan makes the case for a universally free all-island health service.
Other articles include, 'Ceist teanga in Éirinn Aontaithe', 'Getting to a new Ireland' and 'Ireland 1918-22: The people's revolution'.
An Phoblacht on Twitter

An initiative for dialogue 
for reconciliation 
— — — — — — —
Contributions from key figures in the churches, academia and wider civic society as well as senior republican figures