2 March 2015
Gaza Toy Drive appeals for your help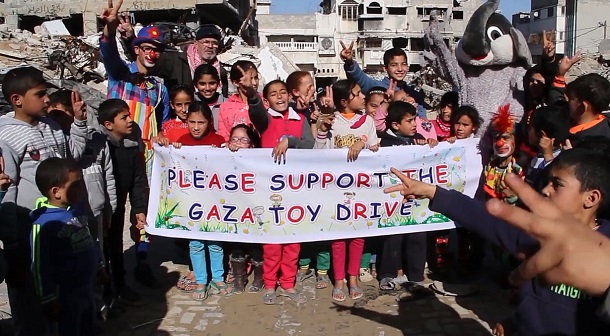 PALESTINIAN SOLIDARITY activists are calling on support from the public to ensure that thousands of toys collected for the children of Gaza as part of the 'Gaza Toy Drive' campaign can be delivered as soon as possible.
People across Ireland moved by the plight of the suffering of Palestinians raised funds and donated toys for the children of Gaza who bore the brunt of Israel's murderous onslaught. 
As well as toys, the donations include medical supplies, blankets, clothing and baby items – all of which are desperately lacking in Gaza.
Funding is now needed to cover the storage and shipping costs associated with the Toy Drive. It is planned that at least seven containers filled with donations will be shipped to Alexandria in a three-week journey at the end of March.
Sinn Féin MEP Martina Anderson, who is chairperson of the EU's Delegation to the Palestinian Legislative Council, urged citizens to get behind the campaign:
"It is important that these toys get to the children in Gaza and bring some joy into their lives and let them know that the international community cares."
Mental health expert Professor Jahmeel al-Tahraway thanked the people of Ireland for their support, saying that play therapy is extremely important for all children to develop emotionally but particularly for children in war zones who are denied the chance of a normal childhood.
"Childhood is being attacked in a horrifying manner. In Gaza children are extremely oppressed compared to normal circumstances.
"I want to emphasise the importance of play in daily life, without war. It helps develop a child's personal foundations."
Speaking to An Phoblacht, Gaza Toy Drive's Eileen Carr says she is confident the donations which will be shipped at the end of the month will make it to Gaza via Egypt but that public support to cover the costs is needed urgently.
To make a donation towards the cost of the shipping, please visit GazaToyDrive.org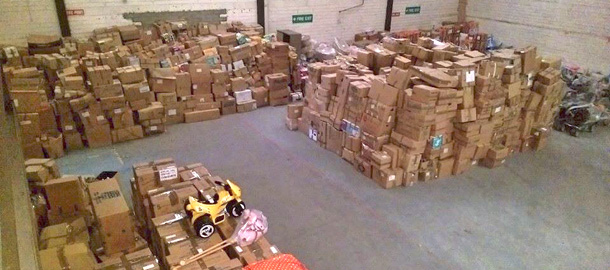 • Some of the donations to the Gaza Toy Drive waiting to be shipped from Dublin
Video report from the Gaza Strip
An Phoblacht Magazine
AN PHOBLACHT MAGAZINE:
Don't miss your chance to get the second edition of the 2019 magazine, published to coincide with Easter Week
This special edition which focuses on Irish Unity, features articles by Pearse Doherty, Dr Thomas Paul and Martina Anderson.
Pearse sets out the argument for an United Ireland Economy whilst Pat Sheehan makes the case for a universally free all-island health service.
Other articles include, 'Ceist teanga in Éirinn Aontaithe', 'Getting to a new Ireland' and 'Ireland 1918-22: The people's revolution'.
An Phoblacht on Twitter

An initiative for dialogue 
for reconciliation 
— — — — — — —
Contributions from key figures in the churches, academia and wider civic society as well as senior republican figures