2 March 2015 Edition
'Conscience Clause' – not pro-Christian, more anti-LGBT – John O'Doherty
UNCOMFORTABLE CONVERSATIONS
There is no culture war between the people of faith and the LGBT community – we do not oppose Christian values of love, compassion and charity
IN DECEMBER 2014, Paul Givan MLA of the DUP launched a consultation into a proposed 'Conscience Clause' amendment to The Equality Act (Sexual Orientation) Regulations (Northern Ireland) 2006. If passed, the Bill would allow businesses to refuse service to LGB people if they feel they would be affirming same-sex relationships in violation of their faith 'conscience'. 
This could include refusing service to a same-sex couple in a restaurant, a hotel/B&B or even a landlord refusing a tenancy to a same-sex couple and their family.
I am a firm believer that when you hate the only person to lose out is you, simply because half the people you hate don't know it, and the other half don't care. 
We live in a democratic society, the price of which is diversity and an expected tolerance for that diversity. And, to the large part, most of us accept that. Many of us go through our day-to-day lives without much consideration of what others think of us since, in most instances, we don't know or we don't care.
Lesbian, gay, bisexual and transgender (LGB&T) people often don't have that luxury. 
Those who oppose us for who we love or who we form relationships with are not backwards about telling us. They have many colourful terms to define us such as 'disgusting', 'obnoxious', 'sin-filled' and 'abominations'. The LGBT community actively oppose this language as it is harmful to the health and well-being of our community as well as narrowing the views of Christians overall down to the views of a very loud minority.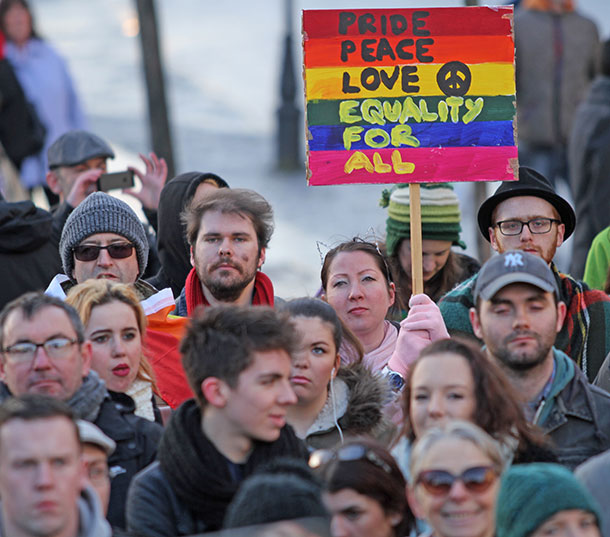 The idea that these views are reflective of all Christians is offensive to our community, our families, our friends and our allies – many of whom are Christians themselves. Despite what the media or certain politicians may present, there is no culture war between the people of faith and the LGBT community. We oppose homophobia, transphobia and heterosexism in all its forms regardless of the motivation – we do not oppose Christian values of love, compassion and charity.
The drive behind this proposal is not pro-Christian – it is anti-LGBT. 
It is to ensure that those who believe they have a moral authority to dictate right and wrong have the ability to turn that opposition into action. 
On BBC TV'S The View, Mr Givan suggested that the proposal would also provide business owners the ability to refuse service to unwed heterosexual couples, despite this not being part of the proposal being consulted on. Either Mr Givan is lying or he actually has no idea what it is he is proposing.
"Why is it that, as a culture, we are more comfortable seeing two men holding guns than holding hands?"
Ernest Gaines
The question we must ask ourselves is, if passed, where will this end? 
Should it be legal for a Protestant landlord to refuse a tenancy to a Catholic if they believe it is contrary to their conscience? 
Should a dressmaker be able to refuse to make a Holy Communion dress or a hotel to refuse to host a wedding party of someone who was previously married? 
Do we really want to go back to the days of no dogs, no blacks, no Irish?
Additionally, we cannot forget about the rights of workers in such businesses.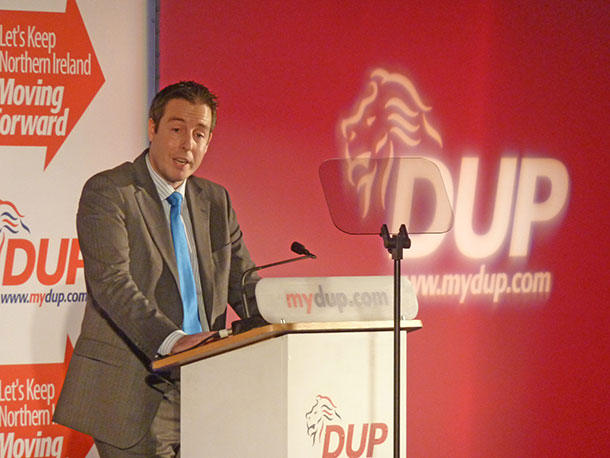 • Paul Givan MLA of the DUP proposed the clause to legalise discrimination against gay people
Should I, as an LGBT person, be required to treat customers or members of my community based on my employers' conscience? 
If I work for someone who refuses to serve same-sex couples, how would I feel as an LGBT person within that workplace? 
We as a community have experienced criminalisation, prejudice and discrimination for decades. We have watched our brothers and sisters lose their lives due to hatred, invisibility and isolation. We are never going back!
We can never build a truly shared society on the premise that one person is better than another, regardless of why. We cannot achieve true peace while there are those who impose moral authority on what it means to love. 
I ask that you stand with us in opposition to this licence to discriminate. Stand strong and share the love, 'cause hating is just a waste of time.
•  JOHN O'DOHERTY is Director of The Rainbow Project. For more information on The Rainbow Project's campaign against the 'Conscience Clause', please visit www.rainbow-project.org/noconscienceclause