2 March 2015 Edition
Decent pay for decent work
Trade union leaders, NGOs and campaign groups attend Sinn Féin 'Living Wage' conference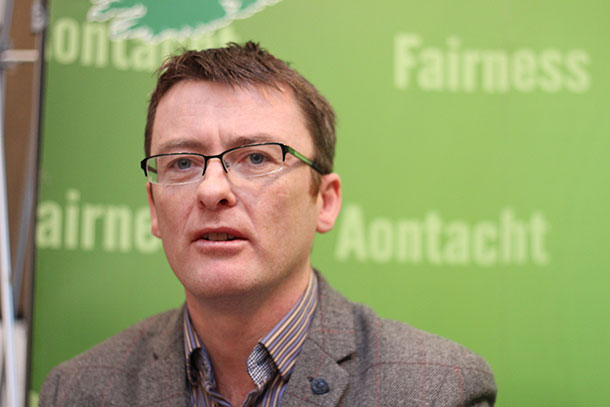 Independent think-tank TASC says Ireland's income inequality is worst in EU and quickly approaching levels of inequality seen in the United States
TRANSFORMING society and  ending of the phenomenon of the working poor needs a strong workers' movement which encompasses trade unions, political parties and progressive groups, says Sinn Féin Workers' Rights spokesperson Senator David Cullinane.
The Waterford senator was speaking to An Phoblacht just after he'd hosted 'The Living Wage – A Way Forward' conference in Dublin which was attended by trade union leaders including Irish Congress of Trade Unions President and Mandate General Secretary John Douglas, SIPTU Vice-President Patricia King (incoming General Secretary of the Irish Congress of Trade Unions from 9 March) and Unite Regional Secretary Jimmy Kelly alongside a number of NGOs and SYRIZA MEP Kostas Chrysogonos.
Speaking to An Phoblacht, David Cullinane said the problem of low pay is a major issue that isn't going away and is something that needs to be tackled if we want to see real and equitable economic growth.
"There's a huge problem in this state with low pay," he says. "Precarious employment and under-employment too – that's people who want to work more hours but can't get them. Income inequality and economic inequality levels here are really quite shocking."
• Lynn Boylan MEP, Senator David Cullinane, SYRIZA MEP Kostas Chrysogonos and Mary Lou McDonald TD
TASC, the independent progressive think-tank whose core focus is economic equality and democratic accountability, issued a report just days after the conference showing that Ireland's level of income inequality is the worst in the EU and is quickly approaching the levels of inequality seen in the United States, leading to poverty and social exclusion.
While the minimum wage in the 26-County state is €8.65 an hour, many trade unions such as SIPTU and IMPACT argue that a living wage which allows a person to meet their basic needs is €11.45 an hour.
The Waterford senator notes that sustainable economies are built on decent pay:
"We need to tackle this notion, often bandied about by Fine Gael, that building an economy on low pay is a good thing and marks us out as being competitive."
He says that increases in pay for lower earners disproportionately benefits local communities as much of the increased income goes straight back into the local economy.
"We're about an economy which serves the citizens, not the other way round. We in Sinn Féin want sustainable growth and decent pay for decent work."
He says this will be a major issue at the next Dáil general election:
"We would increase the minimum wage and incrementally implement a living wage. But that's not the only problem. We need to tackle precarious employment and low-hour contracts or zero-hour contracts, so strengthening labour laws is a must in society."