2 March 2015 Edition
Michelle Gildernew for Fermanagh & South Tyrone
Michelle was dramatically elected MP for Fermanagh & South Tyrone in June 2001, 20 years after the historic victory of hunger striker Bobby Sands MP
MICHELLE GILDERNEW, the Sinn Féin candidate in May's Westminster elections and the sitting MP for Fermanagh & South Tyrone, hopes to win again and this time be joined other republican women.
"It still bothers me that Constance Markievicz was the first Sinn Féin woman MP and I am the second," Michelle says. "There is a massive gap in between. I have been in Westminster now since 2001 and I haven't been joined by another woman yet. I would love to see other women like Cat Seeley (Upper Bann) and Caoimhe Archibald (East Derry) joining me in Westminster."
Michelle was dramatically elected MP for Fermanagh & South Tyrone in June 2001, 20 years after the historic victory of hunger striker Bobby Sands MP. Michelle was returned as MP in 2005 with an increased majority of over 4,500. In 2010, however, she won by a margin of just four votes against a unionist unity candidate given a free run by the Democratic Unionists, Ulster Conservatives & Unionists, and Traditional Unionist Voice with the sole objective of unseating her even though the Times Guide to the House of Commons 2010 reported "Gildernew is popular across the sectarian divide in one of Northern Ireland's most polarised constituencies".
Michelle's family grew up with polarised politics, learning at first-hand about the Civil Rights campaign and her own family's central role in the campaign with the squatting and eviction in Caledon in the 1960s which prompted widespread protests about discrimination in housing allocation.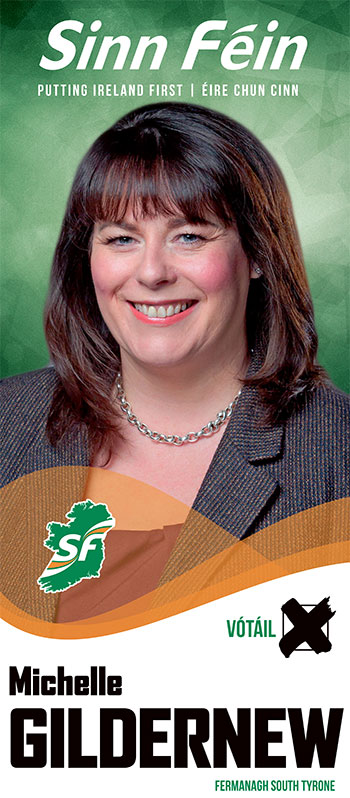 "My parents, grandmother and others were involved in the squatting protest in Caledon in the late 1960s, which culminated in the eviction of my aunt, and my mother getting physically lifted and dragged out of the house during the eviction.
"The first Civil Rights march, from Coalisland to Dungannon, happened on the back of that."
Subsequent events copper-fastened nationalist views of the repressive Orange State.
"Hearing about Bloody Sunday, I had a very clear idea of right and wrong, the imperatives of justice and equality as well as campaigns for human dignity and rights. This was compounded as I watched what was unfolding in the late 1970s. 
"The 1980s and the H-Blocks Hunger Strike was a real political awakening for me. You couldn't but help be politically aware growing up in our house and there were always great discussions around the kitchen table at teatime with all of us sitting around talking about what was going on in Ireland and the world."
That exploration of ideas and direct experience of discrimination and inequality has shaped Michelle's political outlook and the way she approaches the issues affecting the people of Fermanagh & South Tyrone, whatever their political or religious persuasion or none.
"When I'm engaging on a regular basis with people of all shades of political opinion – nationalists, republicans, unionists and others – they're all saying the same things: 'Keep fighting for the working poor and the vulnerable. Make sure punitive cuts to lifeline benefits don't come in.'
"They point to the very sad situation in England where disabled people have taken their own lives as a result of the Bedroom Tax and the degrading assessments for disability benefits.
"They tell me that the unionist parties don't understand poverty; that they don't understand how hard it would be to cope if you were to be down £10 per week on your meagre benefit entitlement and the catastrophic impact this could have.
"They state that the unionist parties don't appreciate the fact that many parents now have to make very difficult choices on whether to properly heat their homes or give their children nourishing food.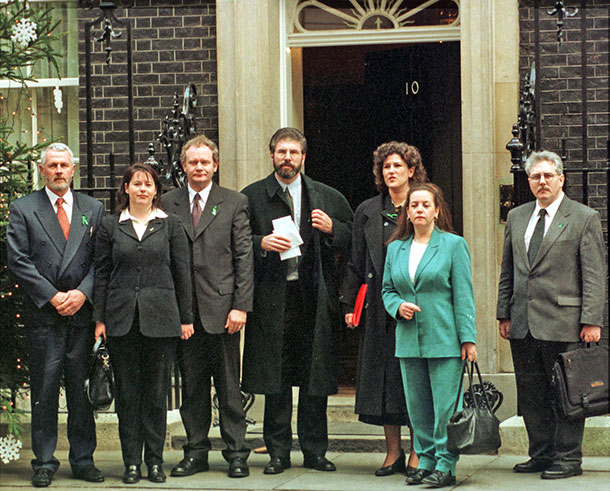 • Michelle Gildernew with the Sinn Féin negotiating team at Downing Street in the 1990s
"Poverty wages, childcare and fuel costs as well as the precarious nature of employment with zero-hour contracts are all impacting negatively on the lives of hard-working families."
To seriously address the economic and social pressures on people in the North, Michelle Gildernew says Sinn Féin MPs will step up their fight to wrest control of the levers of financial power from a self-centred Westminster elite that rarely gives the North of Ireland a second thought despite its professed attachment.
"Sinn Féin's focus will be on the transfer of a full suite of financial powers from Westminster that would benefit the Executive and allow for a fully progressive taxation and spending policy," Michelle says.
"If all the parties can embrace the potential contained within the Stormont House Agreement, including both governments, it can serve as a road map to restoring political stability to the democratic process and the political institutions in the North and assist with remodelling the regional economy while protecting the most vulnerable and the advancing the emergence of authentic reconciliation.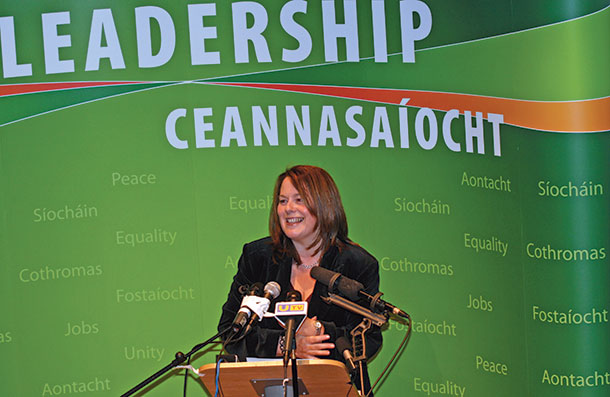 "We need fiscal powers here in Ireland. We need to introduce levers for growing our economy and the provision of first-class public services."
As a former Agriculture Minister, Michelle is alert to the dangers posed by the unionist parties' drive to allow fracking. 
Speaking to An Phoblacht ahead of the first-ever conference in Ireland on fracking, one that she had organised with Sinn Féin MEP Martina Anderson at Lough Erne in Fermanagh in February, Michelle emphasises that Sinn Féin is at the forefront of the campaign across Ireland to block attempts by multinational corporations and their cheerleaders to introduce fracking. 
"The negative consequences for our growing agri-food sector and for local tourism industry would be immense as well as for our environmental and public health. I am pleased to be working closely with my party colleagues in the European Parliament, including Martina Anderson, on this important issue.''
• Michelle holds the seat won by Bobby Sands and Owen Carron
Following in the footsteps of not just Constance Markievicz  but also Bobby Sands and Owen Carron, both MPs for Fermanagh & South Tyrone, is something Michelle carries with her always and with immense awareness of their legacy.
"It's very humbling. I met Owen Carron as a child. While I never met Bobby Sands, he was this person on our TVs and talked about at home. The Hunger Strikers, not just Bobby but Martin Hurson and all others, were held in huge esteem in our community and to be asked to do this job and to represent the people of Fermanagh & South Tyrone is very gratifying. It's challenging and there are big shoes to fill. Who could do any more than Bobby Sands did for the cause of justice and equality?
"The fact is the people of Fermanagh & South Tyrone went out in their tens of thousands and voted for Bobby Sands, more of them came out and voted for Owen Carron; then for 18 years they were misrepresented by former Ulster Defence Regiment major Ken Maginnis and the Ulster Unionist Party.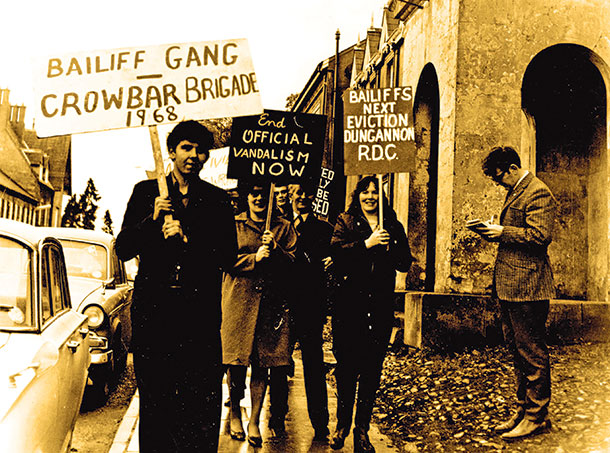 • The Gildernew family were central to the campaign against housing discrimination in the 1960s
"When I stood in 2001, the candidate I was up against then, James Cooper, said to me that if he'd won he'd be part-time in London and part-time in his law firm.
"The people of this constituency need a full-time MP. I know it's a massive challenge but it's a huge honour to be asked to do that role.
"The people of Fermanagh & South Tyrone are brilliant, brilliant people. It is a very special place to be from.
"When you meet people across the world and you tell them you hold Bobby Sands's seat they smile. For people around the world to know of this place, the people and the legacy, it's very special.