2 March 2015 Edition
No peace without women
International Women's Day 2015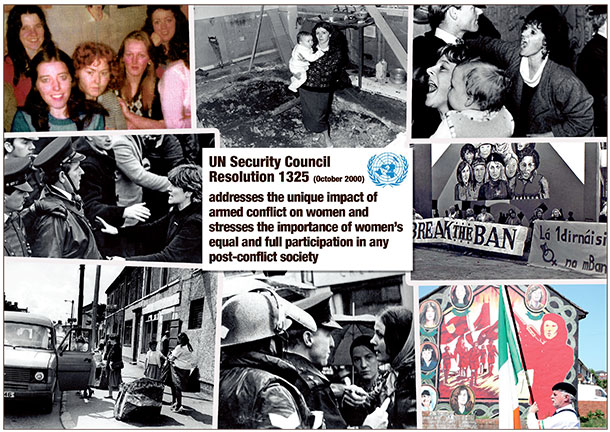 Peace building has been for too long an activity for men alone
'DEALING WITH THE PAST' – how many times have we heard that phrase in recent times? Indeed, it has dominated the political agenda and been centre-stage at talks, sparking intense debate.
To date, we have never acknowledged in a meaningful way the differential impact the conflict has had on women.
Indeed, gender is mentioned only once in the draft agreement published following the Haass/O'Sullivan talks. Despite the significant contributions of civil society groups representing women and women's interests, strategies designed to further our transition from conflict toward a truly peaceful society (such as Cohesion, Sharing and Integration and Together: Building a United Community) are completely gender blind. 
Women's contribution to upholding society during conflict has been largely ignored, as is the notion that we could play any significant role in peace building. 
This is despite an important international recognition that women are not only relevant to peace and security but essential. UN Security Council Resolution 1325 (UNSCR 1325) was passed in October 2000 as a landmark document which addresses the disproportionate and unique impact of armed conflict on women while recognising the under-valued and under-used contributions women make to conflict resolution and peace-building. 
It also stresses the importance of women's equal and full participation in any post-conflict society. Yet, almost 15 years on, it has yet to reach its full potential, as implementation is absent from the North.
Women and men experience war differently and unfortunately modern 'warfare' has become increasingly sinister. The nauseating truth is that it is now more dangerous to be a woman in conflict than a combatant. UNSCR 1325 has become increasingly important worldwide in terms of conflict prevention and resolution.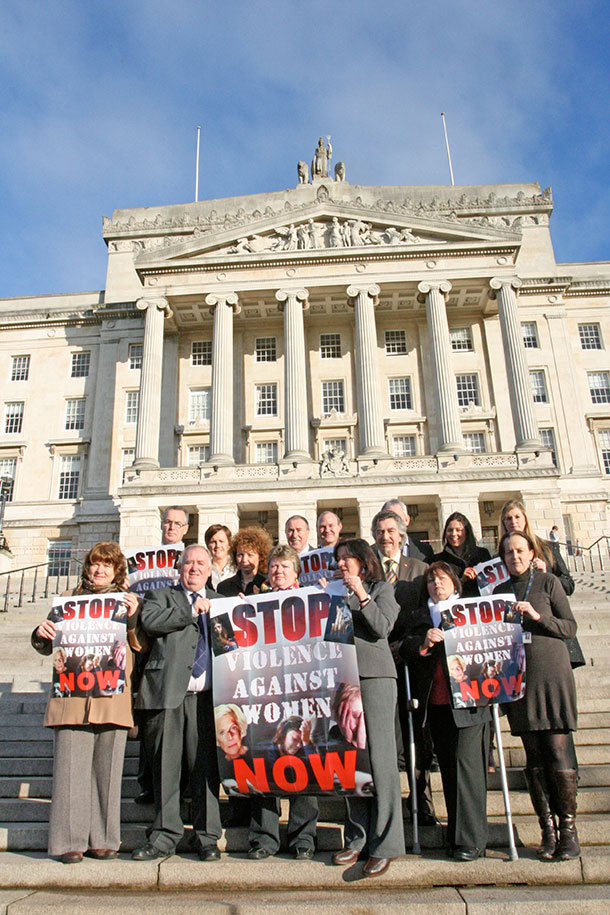 • Women's Aid and Falls Women's Centre representatives join Sinn Féin MLAs at Stormont calling for an end to violence against women
The British Government, whilst signing up to this resolution, have refused to implement it in the North. Despite being a key protagonist in the past and a supposed co-guarantor of peace, the British Government does not agree that the years of conflict here meets the definition of "armed conflict" under international law – a shameful position supported by the DUP and Peter Robinson. Full implementation would mean adopting a gendered perspective to transitional justice, allowing our whole society to heal.
As a society, we tend to identify our main problems by what is most visible, for example flags and parades. Shouldn't we dig deeper? 
Post-conflict societies often experience higher levels of violence against women and we are no different. Last year alone saw almost 28,000 REPORTED  incidents of domestic violence in the North, and over 2,500 reported sexual offences or rapes. That's an average of 83 incidents per day while under-reporting is still recognised as a huge problem. 
This proliferation of violence against women, in our own backyard, is nothing short of an epidemic. What's missing from this picture? The urgency to address the issue, the headlines, the inclusion of women in decision-making action.
UNSCR 1325 recognises that conflict has an inordinately different impact on women leading to vastly different post-conflict needs, yet closer to home, women have been largely excluded from our own Peace Process. A quick look around our political institutions will confirm this. While Sinn Féin has a decent representation of women, I would caution any of my comrades in thinking that we have anything close to gender equality. Being the best of a bad lot is nothing to celebrate. We need to set ourselves a higher standard.
The Good Friday Agreement recognises "the right of women to full and equal political participation" and encourages the pursuit of "the advancement of women in public life" but still women represent only 19% of MLAs and in key negotiations expect to see a substantial drop (e.g. in Cardiff 2013, women accounted for just 3 out of 30 participants).
The Good Friday Agreement was much more than just a power-sharing accommodation, despite our preoccupation with the institutional arrangements. 
• Women must be involved in the political and economic restructuring of Ireland
The demand for socio-economic rights has not been advanced with the same gusto and it is the realisation of those rights, through a justiciable vehicle like the Bill of Rights, that would deliver real and meaningful change in the lives of women.
As it stands, women don't even have equal access to our inherently unequal economic system. Failing to involve women in shaping our society and economy is not only dangerous for the future but unjust given austere economic decisions disproportionately affect women.
After visiting last year, the UN Special Rapporteur on Violence Against Women called for "the increased participation of women at all levels of decision-making" in the North.
Real action is needed and it is needed now.
The Stormont House Agreement reaffirms the Assembly's dedication to the (so far) unfulfilled Good Friday Agreement commitment to advance women in public life. Pessimism aside, it presents us with a real opportunity to change the political landscape by harnessing the untapped potential of women in our society. We have the opportunity now to develop a gendered framework to deal with conflict resolution. 
Peace building has been for too long an activity for men alone, but leaving out half of the population will build only an unsustainable peace on rocky foundations and lead to the reproduction of existing disparities.
It is true that the British Government are senselessly denying women their just place in post-conflict Ireland with their unwillingness to implement UNSCR1325 but that cannot be an excuse for the consistent disinterest shown to women. 
Women must be involved in the political and economic reconstruction of Ireland. There is an onus on all key actors in our Peace Process and our political process to shuffle down and make room at the table.
We need to have honest and "Uncomfortable Conversations" to prevent the legacy of our past being handed down to yet another generation.
The message is simple: we cannot and will not build lasting peace or shape the society we want for our children if we do not actively prioritise women in that process. 
The genuine involvement of women would undoubtedly act as a powerful force for much-needed change.
It is our duty, as republicans, to ensure this happens. After all – Ní saoirse go saoirse na mBan.